Within our global operations, the commitment to providing support is the bedrock on which rests everything from project development to program participation. Support means fostering an environment where everyone feels safe, equal, and capable in all aspects of work and life in local community contexts and at GVI bases. Through providing support in various ways and capacities to all our stakeholders, we aim to facilitate independence, self-empowerment, and mutual learning. We work toward this with our Ethical Commitments of Primum Non Nocere and Children and Vulnerable Adults Protection.

Primum non nocere
Meaning, 'first, do no harm', we are committed to ensuring safe and ethical practices in everything our stakeholders do. Learn about our policies that ensure no harm comes to pass.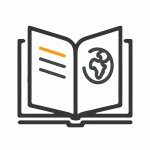 Engaging ethically with children abroad
Read our policy for ethically engaging with children, as we aim to advance the United Nations Sustainable Development Goals by running child education and well-being projects with local organisations.

Child and Vulnerable Adults
Protection
The welfare and ethical treatment of children and vulnerable adults is one of our most important priorities in all of our operations globally. Read about how we implement our protective policies.
Download our program brochures