Locally Driven, Collaborative Projects
Our stance on partnerships
Our partnerships with various stakeholders are core to GVI in every single aspect of strategic development and operation. They mean everything to us, for different but equal, reasons. The types of partnerships we have are massively diverse. Below is a non-exhaustive list of partner types in our global network:
Local schools

Local universities

Local religious groups

Local government social work agencies

Local government conservation agencies

Local non-governmental organisations

Local community groups

Community Based Organisations (CBOs)

International Youth Groups

University Chapters

International schools

International universities

International non-governmental agencies

International charities

International travel agencies

Study abroad agencies
Every one of our partnerships represents a unique relationship. But what's uniform across all of them is GVI's commitment to working hand-in-hand with them to bring about empowerment through the implementation of ethical best practices. Read further about our Five Empowerment Principles here to understand the framework within which GVI and our partners interact.
This process of empowerment starts with defining what the partner needs to empower themselves and how they can help to empower those in their care. If this is an international organisation, this means clarifying what they want to achieve, and ensuring that is can be achieved ethically, in a way that is empowering to all involved. If this is a local organisation, the relationships starts with establishing what they see their own developmental needs to be. In both situations, GVI's role is to act as collaborator and organiser towards achieving those goals by providing what we can do as an organisation. This is most often unskilled or semi-skilled labour in the form of international participants who want to learn and develop from their own contributions to achieving partner goals.
In some contexts and situations, even though the objectives are set and owned by the partners, GVI needs to take on the role of leader. This is particularly the case when it comes to partner organisations who aren't necessarily as advanced as GVI in ethical best practices.
Local versus international - the difference
We make a distinction between 'local' and 'international' partnerships purely to define those stakeholders that are within a country where GVI has operations, and those stakeholders that are based externally to those countries. It is a matter of definition semantics, and unfortunately it is a binary relationship that cannot be overcome.
We treat all of our partners with the same core values and within the same framework of empowerment principles, whether they be termed local or international. Every partnership we enter into, no matter where they are located, is done so in the GVI spirit of collaboration and mutual growth and learning.
Partner organisations that aren't as advanced in ethical best practice
As an organisation in the sustainable development sector (among other sectors), GVI is at the cutting edge of working according to ethical best practices. This is because, since GVI's founding, a core characteristic of our organisation has been the desire to constantly improve our practices through active learning and reflection. This is exemplified by the Badge of Ethics, which you can read more about here.
We are amongst the leaders in ethical best practices in the different sectors GVI operates in. When it comes to the sustainable development abroad sector, we are significantly more advanced than most. And in the education abroad and sustai, we are right at the forefront of ethical best practice along with other leading organisations and institutes.
A difficulty arises from the commitment to be leaders. Often, we to work with organisations and institutions that are at differing levels of in their own ethics journeys. Whether local or international, there are organisations that are still learning about ethics and current best practices in international development. There may be instances where organisations know what the best practices are, but don't have the resources to transition away from outdated practices just yet.
As a leader in ethics, we have to consider our own role in either condoning or giving a green light to practices within our sectors. When and where we do draw lines, we ensure we communicate the reasons for our decisions to our partners and discuss the reasons why we believe they should make the same decision. We choose to work collaboratively, within our human empowerment principles, and work with them to educate, motivate and encourage them to do the same. Our goal is always to educate and motivate and support as possible, as opposed to criticise and alienate.
It is our duty as leaders in ethics to provide any education or assistance that is possible for organisations that are still learning or can't yet transition. However, unfortunately, there are also some cases where a responsible withdrawal from the partnership is the most ethical and effective way forward. When situations like this arise, we enact responsible, context-specific exit strategies.
How To Contribute Ethically
Volunteer tourism or 'voluntourism' has recently come under much media scrutiny. International visitors, while hugely beneficial to a local economy, can also put fragile local resources at risk. They engage even more deeply with environments and communities when studying, interning, volunteering or working abroad, which means even higher standards should apply.
However, volunteering organisations are not currently as highly regulated as international sustainable development charities. Compounding the potential risk, many developing nations might not yet have sufficient resources and infrastructures in place to ensure that their own and international protection policies are implemented effectively. This means that whoever aims to participate abroad, must do their own vetting to ensure they choose an ethical sustainable development organisation.
This places a lot of responsibility on the international participant who is aiming to do good work abroad, but is not necessarily well-versed in sustainable development best practices. Without access to this knowledge they are at risk of inadvertently supporting unscrupulous or neglectful organisations that disrupt local efforts, halting their progress, and, in severe cases, causing more harm than good.
We believe in the value of travelling abroad. In a world where people are divided by fear driven by misunderstanding, participating abroad allows people to see one another, as just that — people. Moreover, we believe in the value of high quality international service learning programs where experiential education is encouraged through engagement with sustainable development projects abroad. This gives participants insight into global issues through a local lens and fosters the cross-border collaboration which is required to achieve the key 17 Sustainable Development Goals listed by the United Nations.
Our checklist below is designed to help those looking to make an impact abroad check to see that a organisation operates according to the latest learnings and best practices in sustainable development. We hope that it starts prospective global citizens off on the right foot by putting learning before service and focusing on collaboration and equal partnerships with local community members and organisations on global issues.
How To Vet A Volunteering organisation
Impact
Q: Is how they measure impact related to tangible results or behavioural and structural changes?
A: Their impact should be measured on behavioural and structural change.
Reason: There is a pervasive belief that contributing to sustainable development efforts involves the donation or creation of tangible resources — new books, computers, bathrooms, classrooms, or a larger area of land for wildlife to roam free. However, in reality, these resources mean little unless they fit into a locally driven sustainable development strategy. While additional school resources help, in order to combat real problems such as low literacy and numeracy rates, other kinds of support are often required. For example, it might be that local schools have a higher proportion of students than teachers can effectively accommodate. A solution to this problem would involve finding out why more local people are not becoming teachers to support the need in the community. Another example is of an area of land donated to a local conservation organisation. It might be overrun with foreign plant species and the soil might be poor due to over farming. A solution to this problem would be to engage in long-term environmental rehabilitation before any wildlife can be reintroduced to the area. Any organisation seeking to create real change will speak to the community about what they believe the root issue to be. They will then work collaboratively with local community members and organisations to develop a plan and, if necessary, seek to find volunteers who can help with addressing it.
Our Answer: Learn more about how what kind of impact we measure on our Impact page.
Q: Do they first ask local communities and organisations what their goals are before they set up their objectives and related projects? Do they work to build local capacity by supporting local partners?
A: They should.
Reason: No reputable sustainable development would ever assume what a community or local environment needs. Their first step is always to find out which organisations are always present in the area, what their goals are, and how the international organisation can support their growth. Through collaboration, international organisations can provide the resources needed by highly knowledgeable and skilled local organisations, to achieve their goals. By ensuring that all sustainable development projects are locally lead, the international organisation can ensure that their collaborative work with these local partners, lead to the enhancement of local capacity for growth.
Our Answer: Learn more about our commitment to building local capacity by reading about our principles of human empowerment, then visit our Partners Page to find out more about our local partners.
Q: Do they show how their short-term volunteering projects tie into long-term goals set by local organisations or communities?
A: They should.
Reason: Short-term volunteering is convenient and personally impactful for the volunteer but in order for it to be effective in making an impact it needs to tie into a long-term sustainable development plan lead by local sustainable development organisations. Any reputable volunteering organisation should be able to tell you how your specific tasks tie into the long-term project goals of a local community or organisation.
Our Answer: All GVI projects are linked to at least one of the objectives of the 17 Sustainable Development Goals set by the United Nations. Learn more about how this works on our Impact page.
Child Protection
Q: Do they offer orphanage volunteering?
A: They should not.
Reason: Decades of research have shown that institutional care is harmful in both the short and the long term to the physical, cognitive, emotional, and social well-being of children. It has been shown that children who grew up in a family environment, whether biological or foster, are more able to reach their full potential. Across the world, orphanages, and the demand for orphans to fill them, has grown, as unsuspecting international visitors travel to assist orphans in countries other than their own. More recent academic studies have shown that the demand from international visitors to work with orphans is a driver for family separation and human trafficking in these countries. Any organisation that does not acknowledge this trend and is not putting preventative measures in place is contributing to trend that is harmful not only to children but nations.
Our Answer: In 2017 we made the commitment to responsibly transition away from any and all activities at orphanages by the end of 2018. Read more about our Stance on Orphanage Volunteering here.
Q: Do they have a protective measures in place to ensure the protection of local children and vulnerable adults?
A: They should.
Reason: Any reputable organisation should have a Child and Vulnerable Adult Protection Policy in place and provide training in the theory and practice of the policy.
Our Answer: Our Child and Vulnerable Adult Protection Policy is regularly updated by our Child Protection Officers.
Q: Do they require participants to complete a background check, or ideally a police check?
A: They should.
Reason: Any any good Child and Vulnerable Adult Protection Policy would require participants to complete a background check, ideally one conducted by the local police of the prospective participant.
Our Answer: All GVI participants are required to complete a background check before arriving on the program and all receive training on our protection policies before engaging in any project work. Learn more on our Child and Vulnerable Adult Protection Policy page.
Q: Do they use images of children with more than one identifying factor, such as their face, their teacher's face, school uniform, location, or a name, in their marketing?
A: They should not.
Reason: Posting images of children which allows them to be identified exposes them to real-world and online threats.
Our Answer: Our Child and Vulnerable Adult Protection Policy extends to our marketing. We ensure that although we encourage international participates to assist with child development we do not put children at risk.
Economic Protection
Q: Do they aim to use local providers?
A: They should.
Reason: In order for tourism to foster local economic growth, the organisation should aim to make use of locally owned businesses rather than ones owned by persons outside the country. Any accommodation, food, and transport the organisation provides or recommends should ideally be locally owned. In this way, they will be assisting with building local capacity, which should be their main aim.
Our Answer: We make local providers our first choice. However, in some cases, this is not always possible, sometimes because of safety requirements, for example, purchasing EFR training manuals and kits from the international organisation, or the convenience of our participants, when they need to stop to buy medication at an regionally owned pharmacy chain. In selecting accommodation, food, and transport, we always aim to keep our providers local. If you would like to know more about how our operations are structured around this be sure to read our Responsible Travel Policy.
Q: Do they have measures in place to ensure donations are allocated, dispersed and managed responsibly? Is the impact of these donations reported on?
A: They should.
Reason: Any volunteering organisation that allows or encourages donations to local efforts should have a registered charity which is open to external vetting in place. This is to ensure that projects receiving funds are selected carefully by experts in sustainable development and that the funds are dispersed and managed responsibly by those well-versed in financial management. In addition the charity should have a reporting system in place to ensure that the impact of the funds on the objectives of selected projects can be measured.
Our Answer: GVI has such an organisation in place, known as the GVI Trust, a charity registered in the UK.
Q: Is the training of local persons part of their objectives and operations?
A: It should be.
Reason: The only way to build local capacity is to invest in local persons. While an organisation might help international persons build their skill set they should also offer those learning opportunities to local persons. Moreover, offering training to local persons should not be an ad hoc practice, but one that is at the core of their mission, their objectives, and their operations.
Our Answer: Training local community members and those employed at local organisations is a key part of many of our programs. For example, on education programs we train local teachers and on our women's empowerment programs, we support vocational training, like computer skills classes, for local women. We also offer internship programs to locals through our National Scholarship Program. Learn more here.
Cultural Protection
Q: Do they educate volunteers about culturally appropriate practices?
A: They should.
Reasons: International visitors can have a major impact on the culture of the destinations they visit. When these are isolated communities in remote locations, the impact can be even more intensely felt. The unique cultures of these destinations are precious in terms of our global cultural diversity. Preserving these cultures is also important for future economic growth as the unique culture is often the reason for attracting international visitors to these destinations. Organisations that value global diversity and local capacity building should ensure that international volunteers are educated about how to dress and behave in ways that are appropriate for the cultural context of the region.
Our Answer: Where necessary, in location where participants work in culturally sensitive contexts, like in Laos where they work with Theravada Buddhist monks, or in Thailand where they work in a Karen village, we provide training on how to behave and dress in a culturally appropriate manner. To learn more, view our Responsible Travel Policy.
Prevention Of Harm
Q: Do they allow you to carry out tasks that you would not legally be able to perform in your home country?
A: They should not.
Reasons: Many volunteering organisations offer participants the possibility of growing their skill set while abroad. While this is possible, they should not offer that you are able to do anything in another country that you are not able to do in your own. They should also certainly never allow you to perform any tasks that require a qualification you do not have. A good example of this is medical volunteering. An organisation should not allow you to perform procedures that you would not be qualified to perform in your home country.
Our Answer: We do not allow participants to work on any projects that they would need to be legally qualified to do in their own home country.
Q: Do they provide training and on-the-job support to assist you with fulfilling your responsibilities?
A: They should.
Reasons: If an organisation claims to offer you the ability to grow your skill set and experience while abroad they should provide you with training presentations and workshops as well as access to experienced personnel who can guide you through your responsibilities.
Our Answer: Each of our projects worldwide includes training beforehand and ongoing support and guidance. On each of our program pages you will find a list of training provided. Learn more about our commitment to training on our Ethical Commitments page.
Q: What are they doing to ensure that their operations are aligned to the latest thinking in sustainable development?
A: They should be actively seeking to ensure that their operations and policies are up-to-date with the latest best practices.
Reasons: Sustainable development is a constantly developing field. If the organisation is not committed to evolving along with the current thinking around best practices they run the risk of causing harm. They should regularly be partnering with external experts to assist with reviewing their processes.
Our Answer: We are committed to United Nations SDG #17, Partnership for the Goals. It is our mission to "build a global network of people united by their passion to make a difference" and part of this means establishing working relationships with government agencies, NGOs, and educational institutions. This integrative approach ensures that we are always facilitating the spread of best practices around the world as well as gaining this knowledge to apply to our own policies and processes. We also hold internal training sessions within GVI where external experts discuss best practices and facilitate best practices concerning specific subjects by connecting our own experts around the world with one another. In addition, we partners with leading sustainable development researchers from around the world through our Fellowship program. Learn more here. In everything we do, we are always striving toward the latest thinking in sustainable development abroad best practice and it is part of our 10 Ethical Commitments.
Q: Can they show you where the money you donate or pay goes? Are their financial records publicly available?
A: They should be.
Reasons: It almost goes without saying that any reputable organisation, for-profit, not-for-profit, and charity, will be open about their main expenses. You can check their financial records by requesting them from the country in which they are registered.
Our Answer: We value transparency and aren't afraid to discuss finances. Take a look at our Where Does Your Money Go? chart for an overview or chat to an Enrolment Manager for more specifics.
Personal Safety
Q: Does the organisation use their own staff in the country to manage the project and support participants?
A: They should.
Reasons: Some organisations will pass on participants to another organisation in the country. Not only does this place unnecessary strain on the local organisations who could be using their time more effectively to improve their impact on the ground, but this also does not ensure the safety of the international participant. It also means the participant is less likely to contribute effectively, as they may feel uncomfortable, lacking in training and guidance, as well as understanding of risk protocols. A reliable organisation will always have their own expert staff employed in the country of participation.
Our Answer: All GVI staff are selected, vetted, trained, and managed by GVI Central Support. Many were also previously GVI participants, so they fully understand the journey of being an international participant, having dealt first-hand with many of the challenges and successes themselves. All GVI staff are trained by us, in processes and procedures we have perfected over two decades of successfully running high quality programs and managing risk in remote locations. All staff have completed Health and Safety Training, including Emergency First Aid training, Child and Vulnerable Adult Training, and volunteer management. In some cases, other relevant qualifications are necessary, such as when a staff member who leads a dive is PADI certified. Our staff to participant ratio is incredibly high, at least one staff member to six participants, but can be up to one staff member to three participants in many locations. The staff team features a mix of international staff and local community members to facilitate intercultural communication, the mitigating of cultural misunderstanding, and local capacity building. View our Meet The Team page, to learn more about our staff in each location worldwide.
Q: Do they have a policy in place to ensure that risk is mitigated for participants?
A: They should.
Reasons: Traveling abroad can be risky. This is why an organisation that encourages you to do so should be able to show you how they are actively trying to mitigate the risk. Ask to read their Health and Safety Policy, find out how they vet their accommodation and transportation providers, and learn what kind of plans are in place in case of emergency.
Our Answer: From the start we've always taken safety incredibly seriously. All our staff around the world receive training on how to carry out our Health and Safety Policy. This includes carrying out Dynamic Risk Audits of all third party suppliers including lodgings, transport, tour operators, and work activities, as well as ensuring that Emergency Action Plans for principal foreseen scenarios, and Crisis Management Plans are created for each location. Every quarter, or after any incident, major or minor, even if there was a 'near miss', the Risk Audits, Emergency Action Plans, and Crisis Management Plans at each location are reviewed by staff on base and results are reported to the Regional Manager. Incident reports are collated and a safety audit is them run.
Marketing
Q: Are local persons fairly and accurately represented?
A: They should be.
Reasons: Any reputable volunteering organisation will not represent local persons in deplorable circumstances pleading for help or donations. The idea that developing nations are in crisis is a pervasive concept, but incredibly harmful. Not only is it disempowering, but it is also highly offensive. It contradicts the reality, that local people and organisations are the main drivers of change in their countries, not international organisations, donors, or volunteers. Ideally the organisation should represent local actors as the heroes in images, stories, and videos. They should also teach volunteers about how to speak about their work in these countries in a way that shows how local peoples and organisations are working to improve the local circumstances.
Our Answer: Learn more about our dedication to ethical representation on our Ethical Commitments page.
Wildlife, Domestic Animal And Environmental Protection
Q: Do they offer riding, touching, or bathing of animals for a reason not related to conservation, veterinary medicine, or animal welfare?
A: They should not.
Reason: When an organisation offers an animal volunteering program it is important to ask what the purpose of program is. If they are simply offering you a way to get close to an animal then you should be suspicious. If the organisation is working with wild captive animals they should not only be able to show that their main goal is conservation, they should be able to provide documentation that proves their success rate for integrating wild captive animals back into their natural environment. If the organisation works with domestic animals they should abide by commonly accepted animal welfare principles.
Our Answer: We only support the touching of animals if it is for a conservation purpose, or for the health of the animal in the case of a domesticated species, and these are the only projects we offer to international visitors. Learn more by reading our Stance on Animal Handling.
Q: Do they have an animal captivity policy in place?
A: They should.
Reason: Animal captivity and breeding is a controversial topic. While the practice is not ideal, it does help to conserve certain species under threat. That being said, an organisation should have a policy in place to prevent the exploitation of animals. It should help volunteers ensure that they only work with organisations that support the conservation of the species in captivity.
Our Answer: We only support animal captivity for conservation purposes. Learn more by reading our Stance on Animal Captivity.
Q: What type of protection policy do they have in place to protect the local environment and wildlife? Do they educate their volunteers about this?
A: They should.
Reason: An influx of international visitors who are not knowledgeable about how they might inadvertently cause harm to a remote natural environment can negatively affect the habitat. Any organisation that aims to move conservation efforts forward will make an effort to educate volunteers about how to protect the natural environment.
Our Answer: We educate all participants about the conservation issues in their location and how to further conservation objectives throughout their stay. Learn more by reading our Responsible Travel policy.
Download our program brochures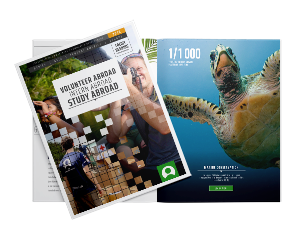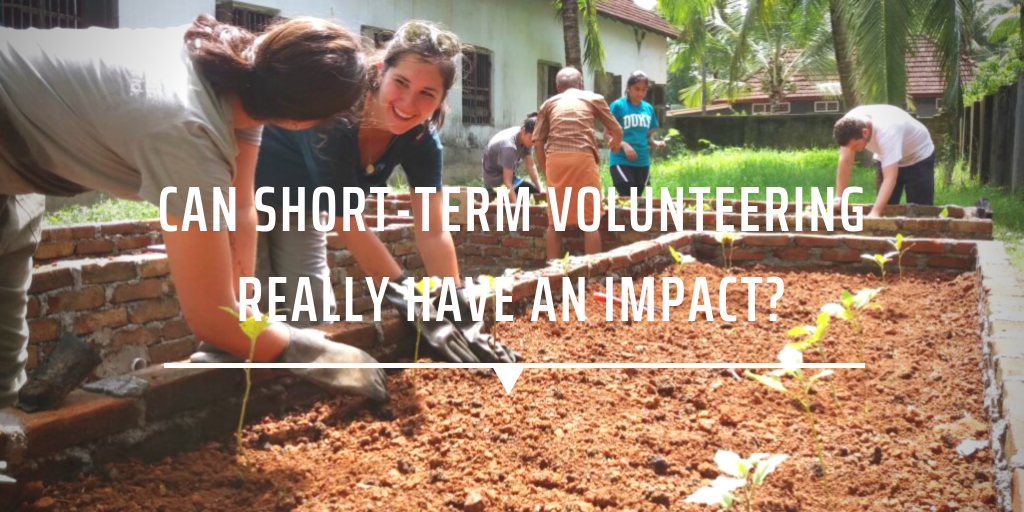 Short-term volunteering is multi-faceted. There are certain criteria that volunteer programs need in order to ensure that volunteers can make the most of their time abroad. At the core of effective short-term volunteer programs are ethical and sustainable principles that put local communities first.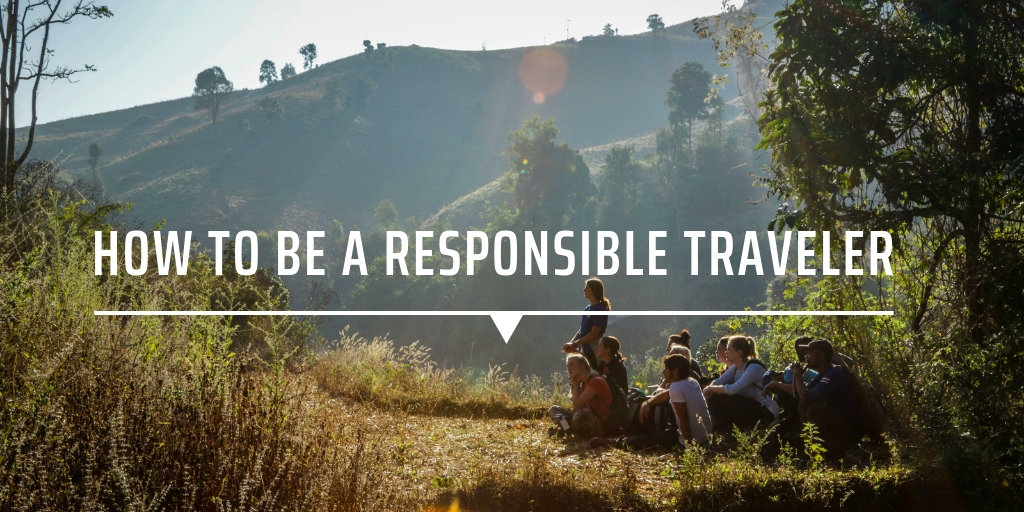 As travelers, it's our responsibility to make sure we support sustainable travel as much as possible. Being a responsible tourist will help support local communities and conservation efforts around the world. Learn more about how you can support sustainable tourism for World Tourism Day.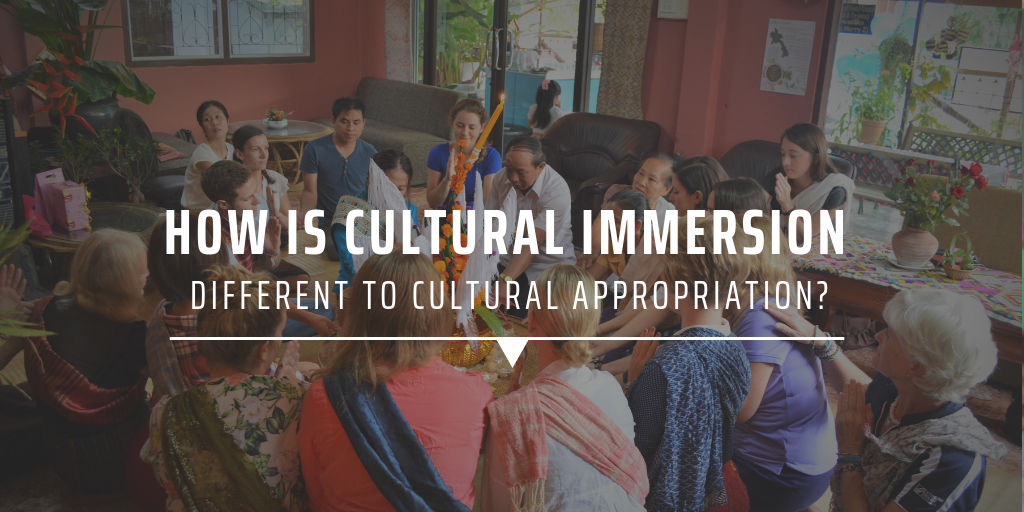 HOW IS CULTURAL IMMERSION DIFFERENT TO CULTURAL APPROPRIATION?
Traveling abroad with an open mind means exploring the customs, cuisine and fashion of another culture, but loving another culture and trying to make it your own aren't always the same thing. Find out more about how you can be immersed in another country's culture without appropriating it.