Clear Roles And Specialized Training
GVI's attitude towards transparency
Transparency is key at GVI. Our mission to build a global network of people united by their passion to make a difference and our Five Empowerment Principles call strongly for transparency. We don't compromise when it comes to our mission success and sticking to our empowerment principles.
Successful partnerships and collaborations require trust. Trust allows increased security in relationships and creates a safe space for all stakeholders. It is only when there is safety and security that we can all focus upon learning and implementing best practices to the best of our collective ability.
Trust requires a level of transparency that allows people enough insight and knowledge to understand both their role in a given project and the role of the other stakeholders. This insight empowers them to decide if they are happy both with the state of the relationship and the direction. Empowerment is key because when everyone feels empowered, it is a sure sign that each stakeholder is operating within a horizontal power dynamic. This is where no one person or organization is exerting excessive pressure or expectation from another.
Ultimately, each stakeholder needs enough understanding to decide if feel they are being treated fairly. We believe in open conversations, ensuring our stakeholders have enough information to make informed decisions. We do our best to admit our mistakes if and when we make them. Finally, transparency is always key when discussing our objectives and steps forward.
Our attitude towards confidentiality
We also believe in confidentiality where applicable. Our stance on transparency drives us to higher degrees of openness than is necessarily required by legislation. In the same vein, our attitude towards confidentiality demands a higher respect for legal and moral requirements to protect all stakeholders.
Confidentiality represents the opposite side of the same coin. That is, what is ethical when it comes to transparency is the same as when it comes to confidentiality. It's all about trusting that we operate with everyone's best intentions at heart.
Things that are legally and ethically confidential could include, but are not limited to:
the personal data and sensitive information of any individual or legal entity with which we interact;

remuneration packages;

details of disciplinary proceedings;

and competitive organisational intellectual property.
We are transparent about what we cannot or will not divulge, and the reasons for that. When it comes to organisational strategy, the information we will freely divulge or keep confidential relies heavily on the benefit or the potential harm to any given stakeholder.
We are a social enterprise - what does that mean?
Social enterprises are at the meeting point between the private business sector and the non-governmental or charitable sectors. Social enterprises may make a profit results from their activities, but this is not their primary goal or the primary measure of success measurement for these types of organisations.
With the founding of the United Nations (UN) Global Compact, the UN sounded a call to businesses of all kinds. This call is for businesses to use their talents, entrepreneurial and innovative spirit, professionalism and funds to help tackle the key global issues. These are the issues that all must come together to solve, and will require collaboration between for-profit, social entreprises, not-for-profit,international agencies, and governments.
Though we were formed well before the UN Global Compact, today we are a registered member and work across sectors and with a broad partnership base to bring individuals and collaborators together.
As an organisation, we measure our success in terms of our mission, not our finances. Our mission success is the first item on the agenda of every GVI meeting. By putting our mission front and centre in all things we do, it guides all of our decision-making.
If it becomes clear that anything we are doing does not contribute positively towards our mission, we will either change how we work, or stop doing it all together. Every single one of our stakeholders is here to do good, and to do it well. All GVI staff and partners are encouraged to challenge our decisions and activities on that basis.
We choose to make a profit - but why?
GVi initially took the decision not to establish itself as a nonprofit for exactly the same reason the UN reached out to companies through UN Global Compact. No matter your stance towards them, for-profit organisations develop a culture or mentality of speed, innovation, professionalism and capabilities that many government agencies and nonprofits struggle to offer.
As an organisation, we have always been entrepreneurial in our approach, and from our global employee base, we call for a mindset of peak performance and professionalism at all times. Likewise, we drive towards success, which to us means to creating the impact we want to see in the world.
Our finances are relevant and important to us because our projects and initiatives depend upon long-term investment to achieve long-term change. Delivering quality, sustainable development projects therefore requires that GVI is itself sustainable.
GVI needs to be a financially self-secure organisation in working towards our mission and this requires us to pay attention to our finances. Financial success allows continued and deeper investment into operations. It allows us to implement best practices in a rapid, agile manner that is not encumbered by availability of external funding. We therefore work actively on developing and maintaining financial health.
All that said, financial success is not why we are all here, it is how we are here! When there is competition between the two needs – the mission and the finances – the mission always wins. This is a long-term approach to business and it is a part of why our culture is so strong and our staff are so passionate about their work.
Voluntourism versus participating in sustainable development programs abroad
International volunteerism, also called 'voluntourism' in some cases as a concept began sometime during the 1990s. It's defined as a form of tourism whereby travellers participate in voluntary work, typically for a charity. In the years since, voluntourism has boomed as a sector of both the travel and the international development industries.
With this boom, criticism over the effectiveness and ethics of voluntourism grew too. At present day, there are many valid concerns about harm being done by poor practices in voluntourism. These poor practices are conducted sometimes unknowingly but with good intentions. Sometimes they are conducted sometimes knowingly, without care.
We unpack these potential issues and how we mitigate against them in more depth in the upcoming story of GVI's coming-of-age.
In GVI, we don't use the term 'voluntourism' to describe the work we do. This is because of its association with poor practices. The term does not recognise the absolutely critical element of collaboration between local and global entities to achieve mission success.
To conduct long term sustainable development projects is complex, and more so when international participants are involved. There can be benefits for all, but only when all stakeholders work collaboratively towards clearly defined and mutually agreed objectives.
When done well, all stakeholders, including the international participants, are working towards empowering themselves and each other. When done poorly, all parties can be disempowered. The latter is typically perpetrated by voluntourism organisations that do not share GVI's commitment to ethical best practice. And this is why what we do is so much more than the concept and reputation of voluntourism can encompass.
The value of taking part in a sustainable development program abroad
The value of taking part in a sustainable development program abroad is manifold - when it is done well according to the best practice highlighted about. It lies both in the emotional, psychological, and societal benefits of travel, and in local sustainable development efforts.
Travel, exploring new places, learning about new people and practices and immersing into new cultures, is immensely beneficial and can have a positive impact on the traveller and the communities they visit.
In terms of participating in the programs, the value lies in how personal perspectives can shift and expand through such experiences.
This expansion of perspective happens when the person - international participant or local - realises that there is so much more to the world than they will ever be able to fully comprehend. The shift happens when a person comes to know their individual place within a global context. This happens through the deep cultural immersion that these programs abroad provide. Few other travel options can match this.
Through cultural immersion, a person can and does go from having a narrow or sheltered understanding of the world, to having a more nuanced appreciation for the many different versions of reality that exist. This is valuable, not only for the individual participant, but for the world at large.
If more people were to become more aware of differing contexts and subjective ways of looking at the world, there would be room for more tolerance for those differences.
In terms of the impact a participant can have on local development programs, there is value here too. When managed effectively with a long-term view, individual participants' project work can contribute to an overarching whole. That whole is the collection of all the small bits of work each individual participant has done. This collective is greater than the sum of its parts. This will be elaborated on further below.
Our stance on cultural immersion
Cultural immersion is the process of participating deeply in a different culture. It can look like learning the local language of the foreign country that you are in. It can take on the shape of ensuring that you are dressing and behaving in accordance with local customs. It might be the opportunity to reside with locals in their own homes and learning about their traditions, cuisine, or music.
GVI's stance on cultural immersion is that it is immensely beneficial for expanding people's understanding of the world - both for local and international citizens. It gives them new and increased perspective on the issues facing other countries and communities and how local people are working to resolve them. More so, it helps people begin to situate themselves in a broader context.
We actively encourage cultural immersion on our programs, because it is a great way for people to take part in cultural exchanges in a safe, respectful, supervised context. All of our programs take a community-driven, collaborative approach. We have long-term GVI staff at every one of our bases around the world who develop and nurture the relationships we have with local organisations and communities. This allows participants the unique privilege of living in the heart of a welcoming, caring local community.
Local community members are happy to teach GVI participants how to speak their language and behave respectfully within the community. This helps achieve a deep sense of integration, allowing participants to see local life with an insider's eyes.
On cultural appropriation
Cultural appropriation is the process or act of taking a facet of a different culture - for example, a traditional garb or a traditional food recipe - and using it to 'virtue signal' or to otherwise appear trendy or fashionable. Virtue signalling happens when someone does something virtuous for the main purpose of being seen by others as a virtuous person. An example of trying to appear trendy or fashionable while committing cultural appropriation can be when someone takes a traditional outfit and wears it out to a public event or posts about it on social media.
GVI does not condone cultural appropriation by anyone on any of our bases. We prevent cultural appropriation in many ways. We educate international participants in their first week on how to respect the particular culture they are entering. We impose strict rules at many of our bases on photo or videographic usage, and will take appropriate action against repeat offenders. Our long-term staff supervise interactions while participants are doing their program work.
Most importantly, however, is that our participants frequently develop deep respect for the local communities. This more often than not means that they would not want to do anything to harm or disempower them.
For further reading on the difference between cultural immersion and appropriation, please read this blog on the topic
The impact of short-term sustainable development programs
Without mincing words, and as a general rule, the longer a program, the more impactful both for the projects on the ground and for the participant themself. However, short-term programs – of one to two weeks – can be extremely impactful, if they are planned and conducted well. There is a great demand for short term programs and it has a defined and important place in sustainable development efforts. Additionally, as a resource in sustainable development, it has significant potential value that should not be ignored. However, sometimes, this resource is poorly used through poor practise.
In GVI, we have designed and developed programs specifically for participants who can only join shorter term. They are all based around our long term programs. The impact is mostly about contributing a small part to a bigger picture, and the personal and professional growth of the participant.
Our highly trained staff on the ground act to oversee long-term projects, which participants on short term programs can plug into. Working with local partners, they plan, manage, and track programs wherein short-term participants play a vital role by completing incremental micro-tasks that all add up.
This is not to say that we and our partners design projects with this as the main factor - not the case at all. However, these types of projects are naturally present at all of our bases.
For example, data collection programs at some of our conservation bases work using participants to collect and capture data after they have been properly trained in the technique. Another example is that of construction. Short-term participants can complete a micro-project (only those requiring little to no previous experience in construction), such as painting a classroom in a bigger school reconstruction program.
Taking part in a short-term program also still inspires individuals to become more active and engaged global citizens. It helps them to gain a better understanding of international development and to broaden their understanding of different cultures.
While many criticise short-term programs as being purely about the participant, this is not the case in well managed, ethical organisations. There exist other organisations who will cater once-off projects purely for a short-term group to come in, do something with their time, and then leave. Those types of projects tend not to serve the local communities or ecosystems. More so, the participants in those non-impactful programs are often oblivious to the fact that they are not contributing to anything meaningful.
This is antithetical to our core beliefs and is not how we have or ever will operate. We do not condone other organisations in the volunteering and interning abroad sector to operate in this unethical, unimpactful manner.
Participating in a short-term program, when managed properly and conducted with the right intentions, can be just as effective as longer term programs. The world needs more people who are aware of global and local contexts and issues, and have the drive to want to do something good.
For further reading on whether short-term programs can have an impact, read this blog post.
Since we opened our doors in 1998 GVI has spent over 65% of all funds directly on our projects.  It is our mission to support field operations in the long term.  Rather than abandon programs that recruit fewer participants we strategically invest from our fully staffed sites to help maintain our presence across the globe.
The remaining 35% that is not directly invested in our programs covers the cost of participants recruitment, the operations of our head offices, and the support of projects indirectly through the GVI Charitable Programs.  Our offices are of vital importance to ensure the safety and well-being of all our participants and our charity is an essential tool for providing financial support to our ongoing efforts.
Be sure to have a look at this interesting blog article about Why You Should Pay To Volunteer Abroad.
Download our program brochures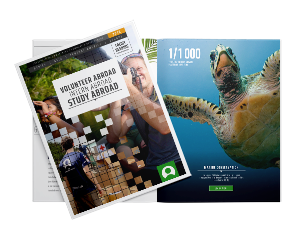 Here's a list of where most of our participant fees go:
Over 100 fully funded, long term sustainable development projects globally
Over 200 staff worldwide
A senior staff member

for

each country of operation to ensure continuity in the project implementation, direction and impact
An experienced operations team on hand to manage development, issues and emergencies for each region
Review and improvement of our protocols and procedures for participant support, training, and health and safety issues
Implementation of health and safety

procedures including

medical kits, fire extinguishers, communication channels and transportation
Emergency operation funding in times of low recruitment
Field staff costs, including recruitment, training, development and accommodation
Food and accommodation for our participants
Orientation and training for our participants
Project equipment including vehicles, boats, utensils for schools, building materials and more
General operating expenses like gas for vehicles, participants transfers, included excursions and travel
Administration and marketing costs.