Back in England, I was bored with work. I felt stressed and under pressure working between 60-65 hours a week. I would rush from my supervisor position in retail to my work with a local youth centre with very little 'me time' in my life. I would have loved to work more hours with the youth but unfortunately, I couldn't afford to do so. One day, I found the GVI website and instantly decided it was me. I applied straight away without so much as a pause for reconsideration. My friends thought that I was crazy when they found out. I had applied for a six-month internship on community development and I moving to the other side of the world.
I arrived in Fiji very jetlagged and luckily arrived a few days before the other volunteers so I managed to catch up on some sleep before our meetup with GVI. I loved the two-hour travel towards the base. We drove through mountains with views which could only be imagined.
Project work begins
My first week in Silana consisted of inputting data which was collected by our local nurse into a work laptop. The following week, I was sat down by the programme manager and staff where we discussed me developing a youth programme with another member of staff. Although the assumption of my time volunteering in Fiji was that I would possibly be working on projects I had no prior experience in, I would greatly excited for the opportunity to be working with youth once again.
My partner and I quickly got to work discussing ideas on topic areas and sessions which we could run. Due to my work partner being Fijian, it gave a good balance of us having local knowledge and experience in comparison to me being from a westernised country. I designed and wrote up forms and was also busy creating an introduction presentation to present to our local school Master to get his approval of the youth programme. I can honestly say it was the most nerve-wracking time I have ever been through! Luckily, we got approval and the school Master was very happy with our presentation.
The aim of the programme
The main aim of the programme was to support communicative aspects of a wider project that aims to build confidence and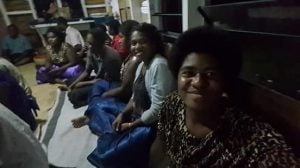 skills in Youth in the District of Dawasamu and Bureiwai. To introduce and explore values-based concepts with 'Youth', through structured workshops. The workshop consisted of interactive activities that allow participants to engage in challenging topic matter in a safe environment. Provide youth access to development programs and activities where they will develop the knowledge, skills, and attitudes to reach their full potential and lead healthier, productive lifestyles.
The short-term outcomes are to increased self-esteem, personal identity, and self-confidence and decision making. With the long-term outcomes discovering leadership and group dynamics in teams. I would confidently say that it certainly did by the time I left Silana. At the very start of the programme, it was difficult to get the youth to participate in conversation within a group, or to speak up or participate in activities, but by my last youth session, it was amazing how their confidence had grown and how they enjoyed participating in the sessions, plus my confidence had also grown in the process.
Hopefully one day I can return after COVID 19 to continue with my internships and add to the work I had the opportunity to start. Vinaka Silana Youth it was a pleasure to work with you. Hope to see you soon.