The Andes in Peru are one of the main sources of agricultural production in the country and one of the most outstanding ones, we are very proud to share with the world over 3,000 varieties of potatoes. However, it is important to extend production for new markets and diversify the diet for nutritional purposes. 
Some context
Back in December 2019, GVI was invited to visit the Huaynas de Pumapata association in Pongobamba, in order to have a field experience about their needs for future projects with volunteers. GVI has worked with Huaynas doing a reforestation project during the last rainy season and they were very keen to continue that work during 2020. As we walked around the community's fields, we checked a few family greenhouses. Just a few months ago, the local government had funded and trained some members of this association so they could start their own greenhouses. The main objective was to start diversifying their food and the nutrients in their diet. For the association, this was a way to assure their own food supply and give more nutritious meals to their families. In front of our eyes, we saw so much potential to develop these greenhouses for organic markets (all the greenhouse production is organic) and maybe some sort of income for the families in the long run.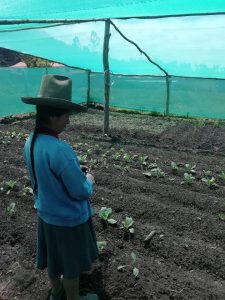 Visit to Huaynas de Pumapata in December 2019
What did we decide?
We agreed with the Centro Bartolomé de las Casas to begin a baseline investigation of the production of the families' greenhouses. First of all, it was essential to check their production, how much was consumed by the family, how different was from their production in their regul  ar fields and whenever possible, if this excess of production was sold at the market. All of this information will give us a first look of the potential to get production running for more specialized markets. Alongside CBC, with their base studies, our volunteers created a questionnaire to be put on the field for about 4 to 6 weeks, in which volunteers visited the families, the greenhouses and evaluated their production.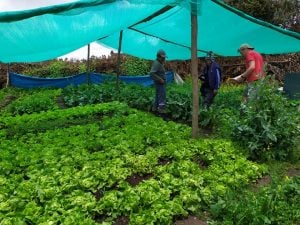 One of our volunteers visiting a family greenhouse
What did we find?
The research shows that families are using the greenhouses' production for their families nutrition, diversifying their diet to vegetables, with direct benefits for children. For example: they are growing lettuce, broccoli, carrots, among others which diversify their production from potatoes, quinoa and local tubers. On the other hand, there is already a surplus of production and many of the families already think about selling it in local markets, especially seen in lettuce that grows in a short time. However, there is a misunderstanding about how to sell a better organic product from the regular products at the market. Besides, there was a particular case of a family related to tourism, that is using the greenhouse's production for the meals offered to tourists. In this case, this makes them save costs and gives a special value for their customers. Also, the greenhouse will allow them all-year around production instead of stational production from the outdoor fields. Finally, there has been a learning curve of certain products that are not growing as fast or as good as they expected, such as broccoli.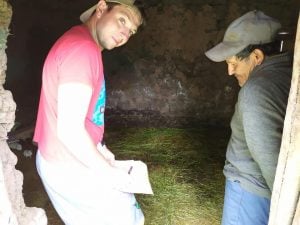 One of our volunteers performing the survey
What is the next step?
CBC and GVI will share all the knowledge from this research with the association, in order to make decisions to better understand how to improve the greenhouses and make it part of the family income in the future. Volunteers have left a plan of surveys for the following years, in order to take the information from the baseline and continue the work with the families and finally see them enter markets independently. It is important to point out that during the coronavirus pandemic, these greenhouses have been essential to maintain the families' food supply, and they are very keen to continue our work to improve their production.