While women should be celebrated every month, Women's History Month is a reminder for us to celebrate the remarkable women making their mark in the conservation and sustainable development sectors.
Here at GVI, we want to use this month to highlight the powerful, bold and compassionate women who have created a better world for us all through their efforts to make an impact.
And, who knows, maybe these five women will inspire you to make an impact of your own too?
Women who've made an impact in conservation
1) Jane Goodall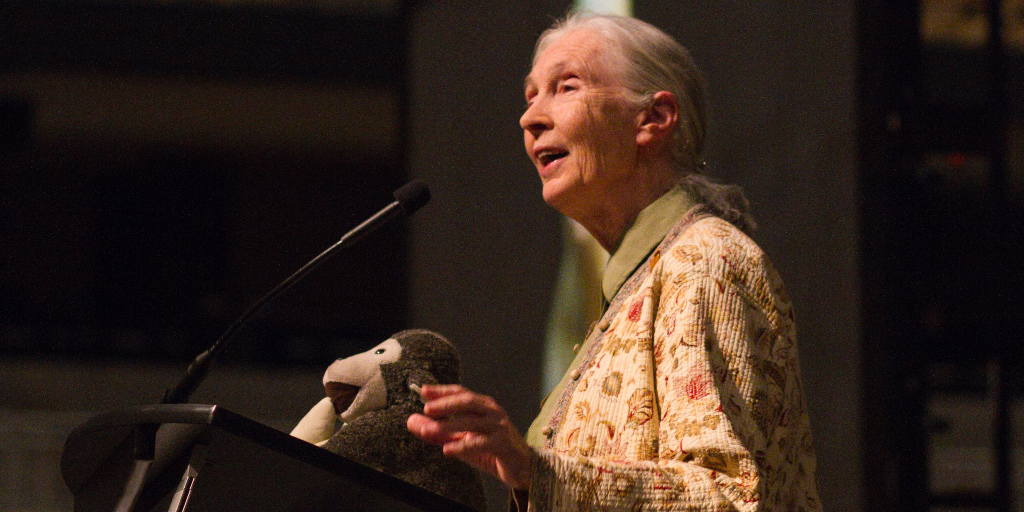 Original photo: Jane Goodall at MU by Mark Schierbecker is licensed under CC BY-SA 2.0
One of the most prominent figures in wildlife conservation is 86-year-old English primologist and anthropologist, Jane Goodall, who is most famous for her studies and expertise on chimpanzees. 
Jane is the founder of the Jane Goodall Institute, through which she has spent her life working tirelessly on animal conservation and welfare issues. 
The Jane Goodall Institute is a non-profit organisation which focuses on community-centred chimpanzee conservation programs. 
Jane has also been a board member of the Nonhuman Rights Project – a civil rights organisation in the United States dedicated exclusively to securing rights for animals – and is an honorary member of the World Future Council. 
Her life's work in the conservation and research of chimpanzees, as well as her contributions to the conservation of other wildlife, has led to her becoming the recipient of more than 44 awards. The most notable of these include: 
Medal of Tanzania

National Geographic Society's Hubbard Medal

Kyoto Prize of Japan

Prince of Asturias Award for Technical and Scientific Research

Benjamin Franklin Medal in Life Science

Gandhi/King Award for Nonviolence. 
In 2002, Jane was named the United Nations Messenger of Peace, and a year later in 2003, she was conferred the title of Dame of the British Empire by Queen Elizabeth II at Buckingham Palace. 
Now, we're not sure about you, but the achievements made by this powerhouse conservationist make us want to play our part in wildlife conservation.
2) Greta Thunberg
Original video: Tom Mustill
She may be small, but Greta Thunberg packs a massive punch – exploding into the international environmental activism scene in late 2019 at the UN climate action summit in New York. 
Her words were simple but filled with power. 
"You have stolen my dreams and my childhood with your empty words."
This tenacious teenager is seemingly unperturbed by any audience and is willing to do whatever it takes to spread her message and increase the urgency at which climate change is being dealt with. 
The Swedish-born environmentalist first gained local attention in 2018 by founding a movement aimed at addressing the lack of urgency surrounding climate change called "Fridays for Future", also referred to as a school strike for climate. 
Further reading: Environmental awareness and how you can get involved
Greta used these protests to build climate awareness, initially standing alone, but as each week passed she gained more and more support from her peers and students all over the world.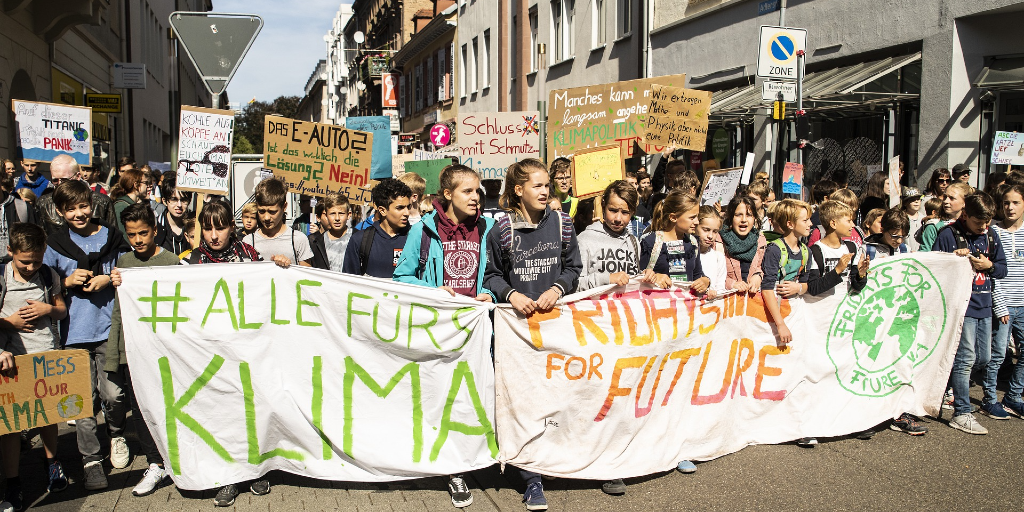 Original photo: "Climate Change" by cubicroot is licensed under CC BY-SA 2.0
Shortly after these "Fridays for Future" protests, Greta's name became increasingly popular and she was invited to speak at climate conferences across the world. But, it was her words at the UN climate summit in New York that made the rest of the world aware of this influential young woman.
Greta has been recognised for her efforts in environmental conservation and activism, receiving the following awards:
Right Livelihood Award

Glamour Award for The Revolutionary

Rachel Carson Prize

Ambassador of Conscience Award

International Children's Peace Prize

Nordic Council Environment Prize

Shorty Award for Best in Activism.
If you want to follow in Greta's footsteps, but aren't too sure where to start, GVI offers a diverse range of teenage volunteer opportunities that contribute towards sustainable development and climate awareness. 
3) Isatou Ceesay
Original video: Max Riché
Isatou Ceesay – or the "queen of recycling" – was born in the small village of N'jau, Gambia in 1972. Here, she grew up among towering heaps of rubbish and plastic bags polluting the area which started to cause more serious problems in the village as the years passed. 
Goats would mistake plastic bags for food, and get plastic stuck in the lining of their stomachs – which often turned fatal. There were malaria outbreaks from the shallow pools of water collected by plastic bags polluting the streets, and worst of all, people had started to burn the plastic bags to start fires, letting off toxic fumes. 
Having learned how to crochet from her sisters, Isatou started to upcycle the problematic plastic bags – making bags and purses that could be sold to generate an income, while reducing the plastic pollution problem.
Further reading: Seven facts about plastic pollution and how you can minimise your contribution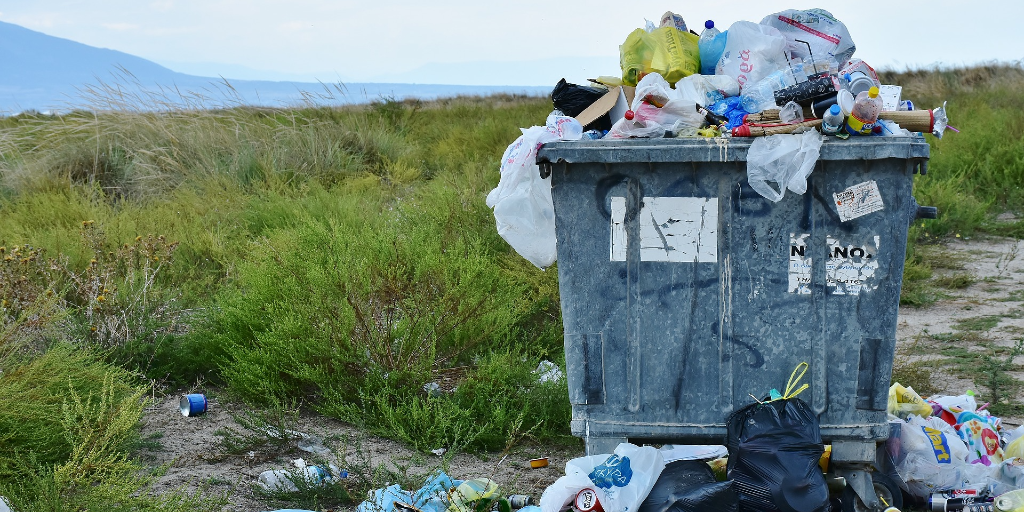 Original photo: "Garbage" by RitaE is licensed under CC BY-SA 2.0
In 1997, determined to do more about the issue of waste, Isatou sat down with four of her friends and founded a recycling movement to reduce the amount of plastic bags littering the streets of N'jau. Together they collected plastic bags, washed and dried them and used the bags to create "plarn", or plastic yarn, to create more purses and bags. 
After only 12 months, Isatou's small recycling project had grown to over 50 women and she named it the N'jau Recycling and Income Generation Group (NRIGG). 
In 2012, Isatou won the Making a World of Difference Award from the International Alliance for Women. Two years later, the NRIGG became the Women's Initiative Gambia. Today, Isatou has trained and educated over 11,000 people throughout Gambia on the dangers of plastic pollution and the opportunities that can come by upcycling waste. 
And, what was her biggest achievement? Well, in 2015, Gambia's government officially banned the import and use of plastic bags in the country – a definite win for the environment. 
Further reading: Five ways to reduce your plastic pollution while travelling
Women making an impact in conservation at GVI
1) Zoe Biggs
Zoe Biggs is the program manager at GVI Limpopo, but grew up in central Queensland, Australia where she completed her Bachelor of Science degree majoring in Zoology.
Zoe's first experience with GVI was way back in 2016 when she signed up to a 6-month wildlife internship and, well, just never left. 
Now she's been working at GVI for over three years, and has recently joined our GVI Virtual Internship team as the remote intern supervisor for wildlife conservation. 
Her role on Karongwe Private Game Reserve involves conducting research like collecting data that helps the reserve management to understand the impact of predators on prey in an enclosed reserve, and therefore maintain a healthy ecosystem with a balance of natural resources. 
Under her guidance, volunteers are taught how to use radio telemetry equipment to track and collect data which is then presented to Karongwe reserve management and landowners on a weekly, quarterly and annual basis.  
In addition to this, Zoe and GVI participants assist with rhino anti-poaching efforts through tracking as well as maintaining the park's roads and fences. 
Not only does Zoe contribute directly to wildlife conservation herself, but through her role as project manager, Zoe facilitates the next generation of conservationists – inspiring the participants who become part of our GVI family to pursue a career in conservation. 
2) Jazzy Taberer
Jazzy has been with GVI Curieuse for almost two years now, after previously working on another island in Seychelles – Aride Island. 
She has been a keen diver for many years and completed an undergraduate level degree in Geography and a master's in climate change before moving out to Seychelles in 2018 to pursue a career in terrestrial and marine conservation. 
Jazzy now coordinates research and volunteer projects focused on tagging and biometric collection of a number of different animals including sicklefin lemon sharks, sea turtles and Aldabra giant tortoises. These research and volunteer projects aim to:
increase scientific knowledge and baseline data on the health of ecosystems on Curieuse Island 

increase awareness of GVI Seychelles projects and the ecological value of the Curieuse Island National Parks 

build local capacity to support long-term conservation of biodiversity and sustainable community development in Seychelles

continue to minimise our environmental impact on Curieuse Island and raise awareness of environmental issues among participants and visitors.
Jazzy is also the remote marine internship supervisor for GVI Virtual Internships.
So, if any of these five incredible women have inspired you to want to make an impact yourself, why not join us on Saturday 20 March for a women-inspired GVI Virtual Open Day.