Don't get me wrong I enjoy 5 stars, fluffy towels and a well-stocked mini-bar with the best of them. I quite fancy taking a dip in an infinity pool and spending time exploring European cities. I thoroughly enjoy frolicking by the seashore on a majestic island. But the truth is, after an hour by the pool, lying on a white sandy beach, or wandering around a city where I don't understand the language, my enjoyment and enthusiasm tend to wane. When I can only glean any level of insight about the local culture from reading the brochures in the museums or listening to the well-scripted and rehearsed descriptions of a tour guide, I get bored. I think that surely I could be doing something more productive with my time.  My go-to is then to get back on my laptop and start working…hmm so much for the relaxing holiday and culturally rich experience I so desired?!
After being fortunate enough to live abroad on a number of occasions in my life, learning the local languages and finding myself immersed in the culture, I now find many holiday experiences quite unfulfilling and shallow. I'll never get bored of visiting beautiful places in nature but as for poking around cities, towns or villages, peering in from the periphery and learning only tit-bits of local culture from hotel staff, I'm over it.  My Instagram profile does rock though! There are lots of great images of beautiful temples, amazing food and fancy hotel pools, but honestly, it all feels a little soulless.
Volunteering however, has given me that incredibly rich experience of being immersed in a culture. It's given me the opportunity of meeting and having genuine relationships with locals, relationships that are based on a mutual curiosity of one another's culture.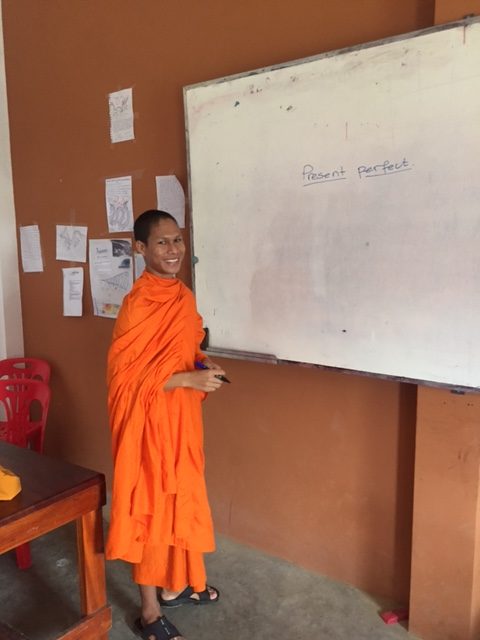 Volunteering with GVI, even on short assignments, has had me feel like I'm playing an important part in the development of a country, shortly after I land on a project.  Given the significant quality work that GVI does to ensure it is delivering local communities what they need most, whether it be education or environmental conservation assistance, you always know you're doing something truly meaningful to the communities you assist. Solid inductions to the local culture and working with local representatives mean you quickly gain a fantastic education on the culture and history of the country in which you're volunteering. As for the volunteer work itself, I have to say dancing to Christmas songs in a nativity play in a slum on the outskirts of Cochin Kerala, India, is not something that previously would have been high on my list of fun things to do. But it was! Dancing and laughing with the beautiful children in the slum, I had a whale of a time and couldn't wipe the smile off my face the whole way back into town in the rickshaw. Teaching the present perfect grammar to monks in 36-degree heat in Luang Prabang, Lao, wasn't on my bucket list either, but it was awesome.  Seeing the students quickly understanding the grammar principles and incorporating them into their speech was really rewarding. As for the staff and my fellow volunteers, I've yet to meet anyone that was less than super lovely, smart and compassionate, not to mention fun to hang out with.
As a Westerner in some countries I feel I can often be perceived as a walking dollar sign and I find that when I volunteer, that's not the case: I'm giving to the local community but in a way that is more beneficial than simply handing over cash.  GVI's projects create sustainable change in developing countries across the world and it's such a joy to be a part of creating this change. 9 times out of 10, I'd swap the infinity pool for hanging out in the GVI guesthouse. And hey, you get weekends off, the local waterfalls in Luang Prabang beat a fancy-pants hotel pool any day.