Angkor Wat isn't the oldest religious structure that still exists today. So, why do millions of tourists flock to see this 9th century temple every year? Education coordinator at GVI Cambodia, Avi Stone, looks at why this is the case, and why you should visit this Southeast Asian hotspot too.
Old temples and ruins are scattered across Cambodia and the world. Back in the UK, many village churches rival Angkor Wat in age, so why don't millions of travellers cross the globe and spend a whopping $38 entry fee to visit St Nicholas' Church in Thames Ditton, Surrey? It was built in the same century? And St Nicholas' Church still works… Instinctively, I reckon it's because Angkor Wat is much bigger and has a cooler name, but I did some googling to substantiate these claims.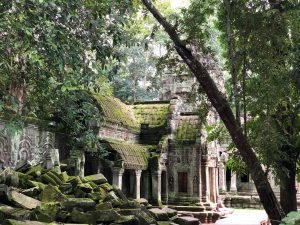 Yep – It's pretty big
Built in the 9th Century CE and functioning for four hundred years, Angkor was a megacity – the capital of the Khmer empire that stretched over much of Southeast Asia. One title that is unlikely to ever be taken from Angkor is its record as the largest city ever built until the dawn of the industrial revolution.  With historians arguing over exact numbers, there is some consensus that between 1 and 2 million people called the colossal city home. At the time, this population represented 1 in 1000 people that lived on the planet at the time. By comparison, London has roughly the same ratio today. Plus it has to be taken into account that throughout most of history the vast majority of people worked on the land – large cities are a relatively recent phenomenon.
As the city grew, King Suryavarman II who ruled the Khmer Empire in the 12th century grew richer and when kings get richer, they tend to spend their money on temples, palaces, gold and other things to show off their wealth. As such, when the King of an unrivalled megacity decided to build a temple, the colossal structure of Angkor Wat sprung into existence.
Today Angkor Wat still holds the record for the largest religious structure in the world!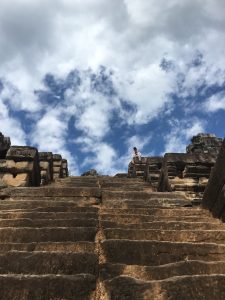 Temples
Despite the colloquial use of 'Angkor Wat' to describe the site, Angkor National Archeological Site (i see why they use a shorter name) sprawls far beyond the majesty of the titular temple. In fact, when you see photos from Angkor Wat, its very often from another of the spectacular temples in the national park (as is the case in this blog up till right now):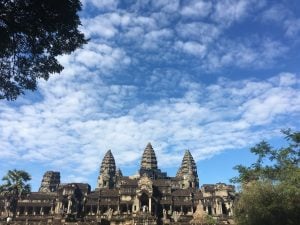 Across the ruins of Angkor city there are a multitude of breath-taking temples, each of which has its own history and context within the city. Each draws crowds of its own, irrespective of the collective pull of the ruined city. For instance, there's Bayon – the temple with the iconic four-headed smiling statues atop every turret: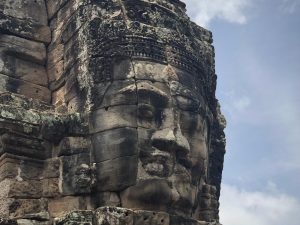 The tourists
In 2018, 2.6 million people descended on Angkor National Park – that's 7,300 per day! As part of this blog I wanted to understand more about why Angkor? It is stunning, but there are many stunning places that do not receive that many visitors.
Breaking down the numbers of tourists who visited Ankgor, 43% of entry tickets went to Chinese tourists with Vietnamese, Lao, Thai and South Korean tourists jostling it out for 'Angkor's #2 fan'. Given that these five countries represent one-fifth of all people, perhaps Angkor Wat's geographical location gives some insight into why the site is quite so popular.
Often occupying the No.1 spot on 'must-see' lists published by Lonely Planet and Trip Advisor Angkor Wat has also become a staple destination for Western backpackers 'finding themselves' in Southeast Asia. With good transport links to Bangkok, many visit Angkor Wat en route from Thailand to Laos, Vietnam, or other locations in Cambodia.
Top tips
Angkor Wat is a truly magnificent site and well worth visiting. To finish this blog I have two suggestions to anyone thinking of visiting the temple complex:
Learn more about it before visiting – unless you plan hiring a tour guide (which is advisable but expensive and understandably many chose not to). Most tourists travel around the national park by tuk tuk and although the drivers know the sites and conversational English, you may find yourself stunned by the temples but none-the-wiser as to why each temple is important.
If possible avoid trying to pack the entire experience into one day. Although many people I've spoken to have agreed that 'one day was more than enough', this is often because of the predicament I've explained in the first point. I think that the experience of waking up early and cramming 9 different sites into one day leaves everyone feeling truly saturated – no one has that much temple stamina. Instead, I suggest buying a longer pass and visiting the temples more leisurely. Perhaps take a book about Angkor to read inside the stunning park, or do a Sudoku – whatever floats your boat.
Thanks for reading and I hope this helps any future Angkor enthusiasts!