Kampong Cham City – the heart of GVI's Cambodian operations –is quite unique. Big enough to have its own quirks and the hussle and bustle of urban life, but small enough to be unlike the other Cambodian cities you've probably heard of. Three hours to the east of Phnom Penh and six from Siem Reap, Kampong Cham is relatively off the beaten track for most tourists. With that in mind, I thought I'd share a little history of the city, so you know what you're getting yourself into when you sign up to come here and volunteer with GVI.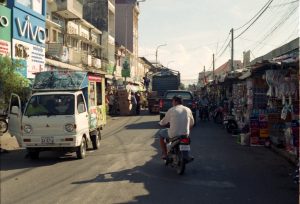 We are the Champa-ions
The Kingdom of Champa may be gone, but its memory lives on here in Kampong Cham. The name alone proves that! As a Kingdom, Champa covered most of what is now Vietnam and a sizable portion of Eastern Cambodia – which was then the centre of the Angkor Empire. Skirmishes over Kampong Cham and the surrounding area happened frequently but the Kingdom, with our city a part of it, survived until it's collapse and annexation by modern day Vietnam in 1832.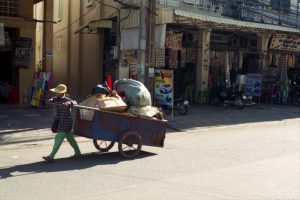 With Cambodia and Vietnam both emerging as nation states after this, wars over territory occurred regularly until Kampong Cham eventually became a Cambodian province in roughly 1907. A mere 50 miles from the Vietnam border (a quick cycle for GVI staff and volunteers looking to raise money for school supplies (yep – that is a shameless plug)), it's not surprising that remnants of the Kingdom remain. In fact, a sizable proportion of the people who live here identify as Cham. Often members of this group are generalised as being Muslim. While it's fair to say that a great deal of Cham people are Muslim and this is an easy way to identify them among the many Buddhists that dominate society and culture here, its actually a misconception. The Champa Kingdom was initially a Hindu Monarchy. That was until Islam began to spread in the 10th Century and was formally adopted when the royal familied converted to the religion during the 17th Century. Not to mention the fact that Buddhism was tolerated within the Kingdom and some practiced their own variations and combinations which are generally referred to under the banner of 'Cham Religion'.
Kampong Cham Today: What to Expect
Access to education remains poor in Kampong Cham. That is, after all, why GVI is here. But that doesn't make the city any less exciting.
Our guest house is situated on the riverside meaning we get the pleasure of watching a beautiful sunset every evening; if you don't get distracted by things as street level. Zumba is hugely popular here with outdoor classes happening up and down the corniche every evening. Stalls and carts blare Khmer phrases to entice locals to buy from them and provide a great opportunity to try local street foods. (I'd recommend the cockles. Less so the chicken feet!). Alternatively, if your missing home and want some comfort food you can get the best mozzarella sandwiches in town from one of our partner restaurants down the road. If you're feeling fancy and want to relax you could get a drink at one of the cities three (yes THREE) rooftop bars (beat that Siem Reap!). Not your cup of tea? Maybe pool and volleyball with the locals is more up your street. Finally, the always bustling night market is a great place to pick up mementos or presents for friends and family back home.
Don't worry about the weekend either. If you're not in the mood for a trip to another city or province, the sustainable tourist villages are a fantastic way to make memories. Out in the countryside you can learn how to weave the traditional Khmer way or make noodles, as well as a plethora of other activities. Likewise, you could visit the nearby Hanchey temple and learn to meditate while you're there.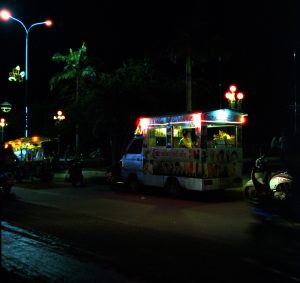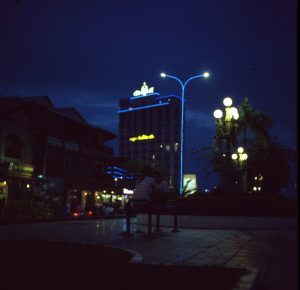 Overall, Kampong Cham has changed a lot over the years. It's moved back and fourth between empires and countries. It's people, as is the case all over Cambodia, were badly affected by the Khmer Rouge. Support from NGO's like GVI remains essential for its continued development. Nevertheless, the people are friendly, the opportunities for new experiences are plentiful and you will not regret coming.