First week of GVI Jalova in Costa Rica: complete! Time flies when you're having fun, and there sure was a lot of fun to be had.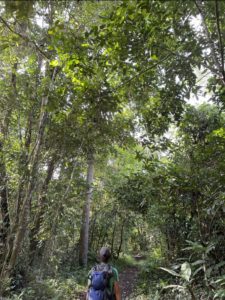 Upon arriving in the aptly named country of the rich coast, I was greeted with heat, humidity, and lack of daylight at 7:00 pm, despite it being summertime. Maybe it was the jet-lag from travelling for a whole day, but I was definitely thrown off. After making it through customs and baggage claim, I was greeted by Kas and Abby. The pair kindly guided me to our taxi as they briefly shared their backgrounds and what brought them to GVI. During the car ride, the driver was extremely positive and energetic; I definitely needed his energy. From the car window, I was completely lost – lost in something so familiar. San Jose, with its bright city lights amidst mountains and lush green, tropical vegetation; it was all too similar to Manila. Then again, what could I expect in the capital of a country with similar latitude.
At our hostel, I was finally greeted to my first meal: a delicious serving of Casado, the local dish of Costa Rica (vegetarian, of course). There, I also met Andres; his cool and collected demeanor perfectly reflected the personality of the country I was about to live in for 6 months. Fast forward through a bunch of logistical preparations, our group took a trip to Siquirres. In this small town, I finally managed to get a much a needed sim card as well as another delicious meal. It was amazing getting to see all the different shops and businesses as we walked along the streets. Soon, we were on the road again to Jalova. But that road quickly turned to canal as I excitedly hopped onto the boat.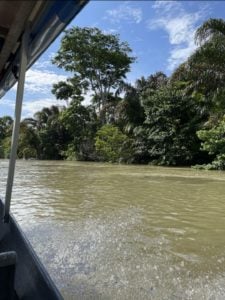 Here, my eyes couldn't believe what they were seeing. The fresh air, the bountiful plants and trees, the euphonious, natural sounds of birds and mammals only disturbed by the roar of the boat's engine, it was all so breathtaking, like something out of an Uncharted or Tomb Raider game. Once we arrived on base, I met an incredibly friendly and diverse cast. Tom, the happy-go-lucky and chill character; his free-willed personality matched naturally with his free-flowing, long hair. Henry, the local guapo, whose humor was equaled only by his heart. Rose, charismatic, sweet, and approachable – perfect for someone with a name like hers. Despite being in Central America for the first time and worrying constantly about my Spanish, it was wonderful to meet so many people from the United Kingdom and Europe as a whole. Their diversity really gave me a culture shock, but in the best way possible.
As the week continued, I was overwhelmed by all that there was to see, hear, and appreciate. Between managing a base camp in the middle of the jungle, identifying species during surveys, studying for the next test or training, and immersing myself in the local culture of Tortuguero, my brain and body were being challenged on every front. And even though my perception of living in the jungle meant being as far away from people as possible, the people here are, without a doubt, my favorite part. To travel around the world and meet such endearing, welcoming, and supportive human beings (who have also left everything behind), it speaks volumes on how important conservation is. They say first impressions make a big impact. Well, when you meet someone from across the globe who is also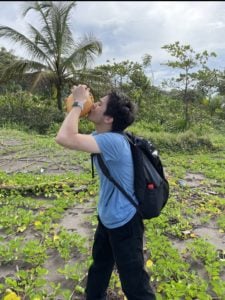 passionate about the planet, it's safe to say that you're in good company.
All in all, my adventure is only beginning. I've already experienced so much, and I still have 5 months and 3 weeks left to go! I'm extremely thankful to be in this beautiful new home with equally beautiful culture, nature, and people. Costa Rica, show me what you got.
– Calvin Go