I signed up with GVI on the 9th of December 2017. Some people come with an expectation, but I didn't really have anything. No teaching experience and first time in south east Asia alone. All I knew is that I was about to experience something that was going to push me outside my comfort zone, and there are now two things I can advise you and you will learn quickly about the Laos lifestyle.
1. Be open-minded and adapt
2. Be flexible
I received my timetable that first Sunday morning and it read "945 buffalo farm".  What? Farm? Umm okay? We are going to be out teaching English on a farm Stef. It was kind of weird because growing up I had this dream of being a vet and owning 100 animals. No joke, I would print and print pages at primary school, borrow farm books and wanted to be farmer Stef and live this simple country life…but after the age of 10 the fantasy kind of dissolved and the thought was completely erased from my mind. And there I was, about to work at the farm doing this 360 circle. Lesson 1: be careful what you ask the universe, because you shall receive.
Jumping into a van or a tuk tuk, well not jumping but off we went in a van with staff member Lizzie, Intern Nin and another volunteer to the farm. A 45 mins journey, with a person, aka me, who gets mild travel sickness, can be a little difficult. This however can be overcome because  the country side and beautiful green scenery on the way kind of keeps you distracted. Once you arrive at your destination, there is an ice cream kiosk right at the front. Warning: with daily cheap access to awesome ice-cream, you're probably going to indulge in trying all them by the end of the trip or by the first week of the trip like me. Peanut butter and the lemongrass is the bomb FYI.
Anywho, enter the gates of the farm and here you are. It's a more refreshing atmosphere than working in a class room, and nice getting out of the city environment of Luang Prabang. The farm is pretty impressive, recognizing the people running the farm who have literally created something out of nothing and they have done a sensational job. They are providing an income for the Laos locals and helping the farmer community but also introducing the first dairy concept in Laos. This is pretty amazing considering they started with no farming experience and 5 years ago learnt how to milk a buffalo on YouTube. If you get a chance, get a tour of the farm where you'll be given the rundown about the history and objectives of this outstanding project. The actual location is beautiful, there are plenty of animals – chickens, piglets, calves and rabbits, and the daily nod from buffalo Lola kind of makes you think about being a vegetarian.
Class begins and the farmers arrive for their lesson greeting you with an enthusiastic "sabadiiiiiiiiii" "good morning teacherrrrr" and it's hard not to smile with the energy in the room. They're pretty special.  Playing charades, acting out "milking, digging, weeding, sweeping" is something that I know a little too well now. Lessons include teaching the farmers about conversation and giving them the conversation skills to interact with tourists and explain their role on the farm. While the students are copying the board, look out into the left window and you will see there is this amazing imagery of greenery and countryside, which defiantly beats my windows at work back at home with their car parks.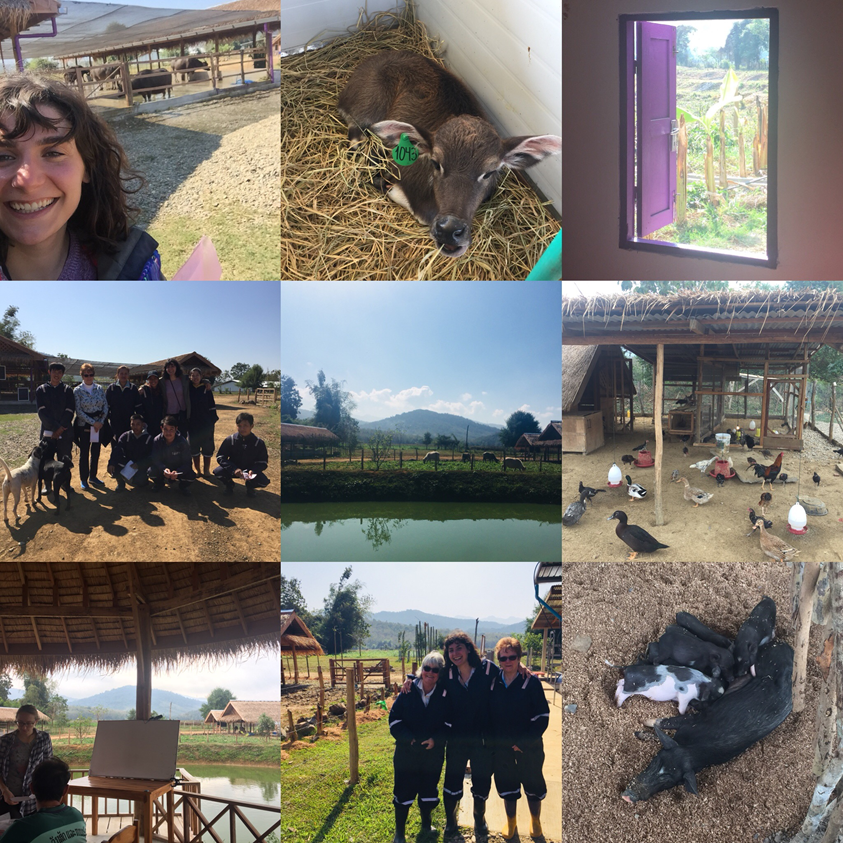 After the staff lesson ends, my next lesson is more intimate with the lovely kitchen interns.  Don't be surprised though if you've planned for two students and then randomly the three vets daughters will join you or the nurses down the road. Remember: be flexible and just go with it.  Showing someone the world map and teaching them where they live or basic geography, or the word "Mexico" is pretty rewarding when you see your student's face of accomplishment. I think it makes you realize the western culture sometimes takes education for granted and you can identify here that most of the students in Laos thirst for knowledge and want to learn. During my placement I have also taught them utensils, pronunciations, right and left, and I'm not going lie, I will never look at a spatula the same way again because I have said that work at least 153 times here. SpAt-Ula.
Working at the farm, after the first week, you will develop friendships and bonds with your students and volunteer peers quickly. Communicate clearly with your fellow teacher and work out which teaching method works well for you as a team. Some days may feel draining and repetitive, but like any job that's just how life is. The best advice I can give you is be open, be enthusiastic, don't be afraid to make a fool of yourself. Embrace it and get to know and remember your students names, build a positive and friendly relationship with them to make your experience more enjoyable. You will be surrounded by incredible people, and GVI and your team mentors have your back, credit to Lizzie and Nin for being awesome. Be present and be patient, and make the most out of the experience.