The images in this article were taken pre-COVID-19.
When enrolling onto a GVI program, most participants expect to make an impact on the ground, and learn and grow through the experience. But many are surprised by the ways in which their GVI journey shapes them in the months and years to come. Melanie Thomas shares her experience.
At the end of 2019, I agreed with my company to take 4 weeks out of my role to volunteer with GVI in Kerala, India on the women's empowerment program, before spending a further week meeting with business partners around the country. A little over a year later, I find myself reflecting on how the experience shaped and challenged my perceptions, my approach to business and my career. 
At the start of the trip, the Program Manager , Paul, told us there'd be experiences we'd learn from immediately while in India. He also told us that other lessons would come later: once we'd connected the dots between our experiences. A year later, I'm still having "aha" moments, and spotting insights and patterns from my experience volunteering with GVI.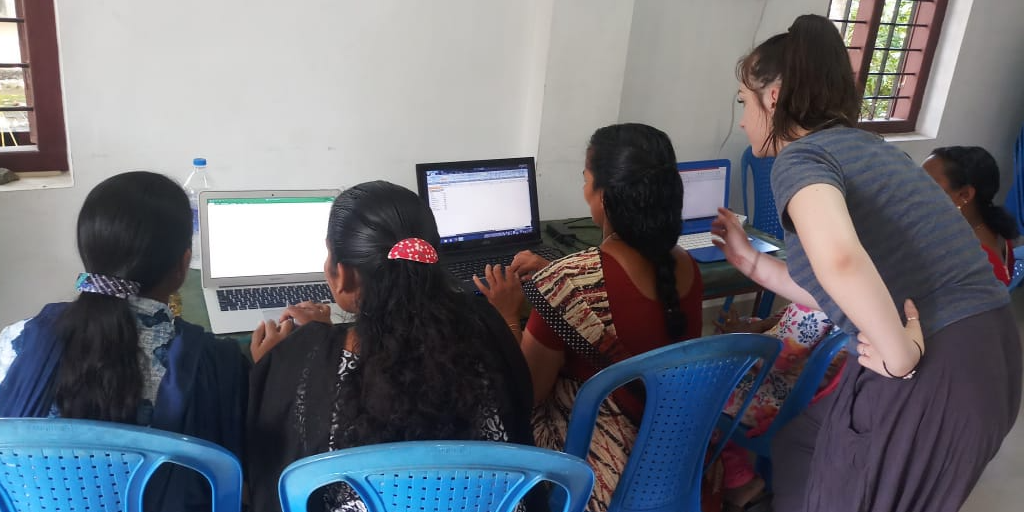 Shattering limiting beliefs
By far the strongest and most obvious shift I can see is how GVI transformed my confidence and shattered many limiting beliefs I hadn't even realised were holding me back in life and in my career. 
I entered the corporate world straight from university, with an undergraduate degree in history and French under my belt. Although it was a fantastic degree program, in the early years of my career I often doubted my ability to "fit in" among a sea of corporate employees with business, management and marketing qualifications. And this insecurity continued to plague me many years later.
Yet, by day 3 in India, I found myself in a completely different context, and feeling out of place in a different way. I was standing in front of a group of Keralan women assisting them with their English language skills and delivering on a GVI curriculum.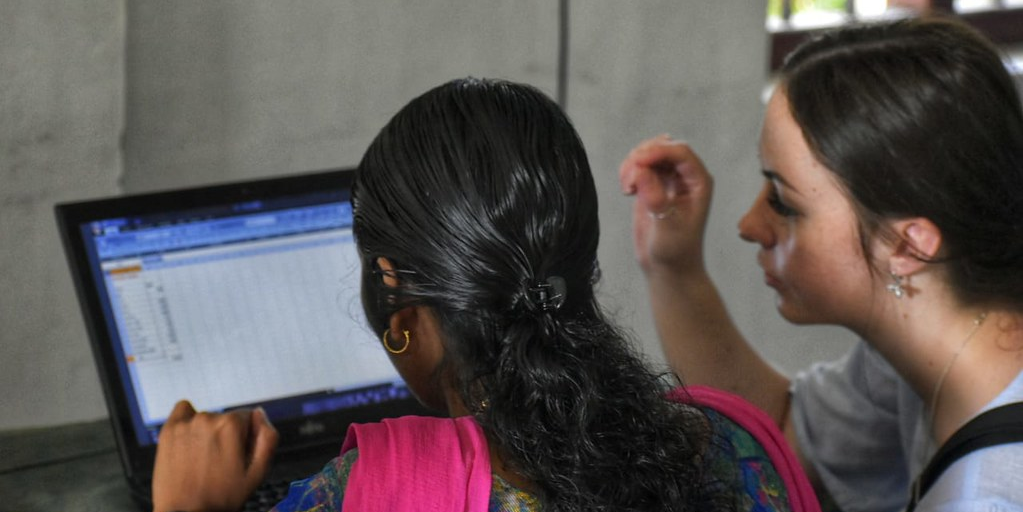 I'm not an English teacher, and – except for a summer spent teaching history to A-level students – I had no teaching experience. But I quickly realised that you don't need to be an expert, with all the answers, to have value to offer. At GVI, the experts were those permanent staff running the program, identifying the community needs, putting together the strategic plan, and training us to deliver workshops. 
As volunteers, we were the worker bees, yet we each brought a unique flavour to the program and a different set of life experiences to draw upon as we collaborated together. 
Uncovering transferable skills
Conventional careers advice often talks about "transferable skills". This can feel irrelevant when job adverts include a long sets of complex skills even for junior roles. Yet in Kerala, I drew upon skills from my life experiences in myriad ways. 
I used my understanding of linguistics, grammar and language structure from my French degree. This helped me to explain English language concepts to Keralan learners. My experience in product development helped with planning a curriculum in line with the end user need – in this case, Keralan women. Marketing training helped me to build compelling and engaging presentations, and I, in turn, was able to practise my delivery and build up my communications skills. 
And I drew on a myriad of skills and strengths that until volunteering with GVI, I wasn't aware I even had! 
Public speaking was an area I was particularly worried about prior to volunteering in India. Earlier that same year, I found myself in the Middle East for work, stood in front of a room full of CEOs and MDs who had flown in from around the world for a conference. And it wasn't until the moment I took to the podium that the stage fright kicked in.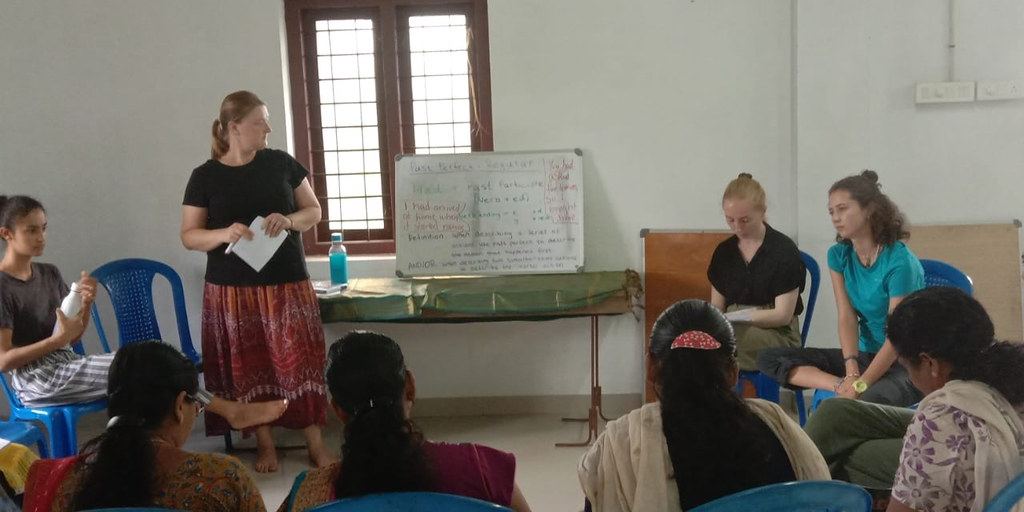 That memory of freezing and stammering mid-presentation was still haunting me when I stood in front of the room full of women in Kerala. This time, the women were looking to me to share my knowledge, and I knew I would be doing them a disservice not to step up to the plate. It's incredible the resilience you can find when you are called upon by others to find it. 
The power of cultural interaction and exchange
Volunteering with GVI gave me a fresh perspective on the importance of sharing skills across cultures. On one of the last days of the trip, I was talking to one of the women on the empowerment program. She explained that when she first came to English lessons, she would sit at the back of the classroom and never dared to speak or raise her hand. Over the course of a year, she found more confidence and now spoke up in every class. 
Outside the classroom, she signed up to a multi-level marketing company selling household products to her network and had even travelled outside the state for the first time for additional training in sales. 
Crucially, she told me that her mindset was changed by meeting new, independent women every single week who'd flown in from around the world to volunteer with GVI. 
In that moment, I realised how powerful it is when cultures connect. Exposure to another culture can change your entire life trajectory by changing your perception of what you believe to be possible.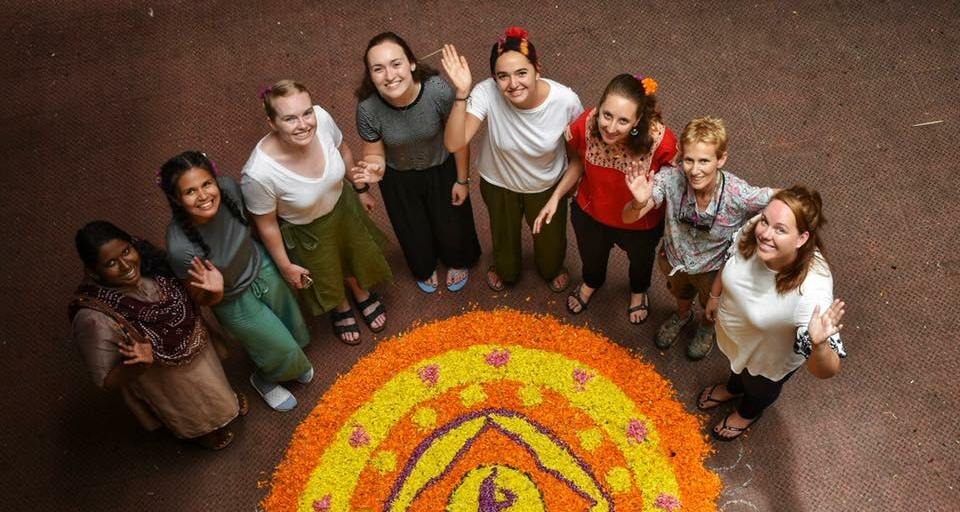 The importance of role models: a vision of the possible
This conversation gave me a renewed sense of how important role models are in building a world where talented employees can thrive. It's not enough to simply change policies to enable minority groups to apply for more senior positions. 
Taking a job in sales and travelling out of state were opportunities already available to the women we worked with in India, but they didn't see a path forward until they saw other women demonstrate an alternative path, and were able to engage with the idea of change in a meaningful way.
Corporate takeaways
Returning to the corporate world, my takeaway is this: diversity among senior leadership teams should be an immediate priority for all businesses hoping for longevity. 
There are competent, capable people from minority groups in all walks of life who could right now be hired to boards and senior leadership teams. Their experiences would not only offer new insights and perspective to those teams and boards, but as role models, they would help expand what's possible for those who'll come after them.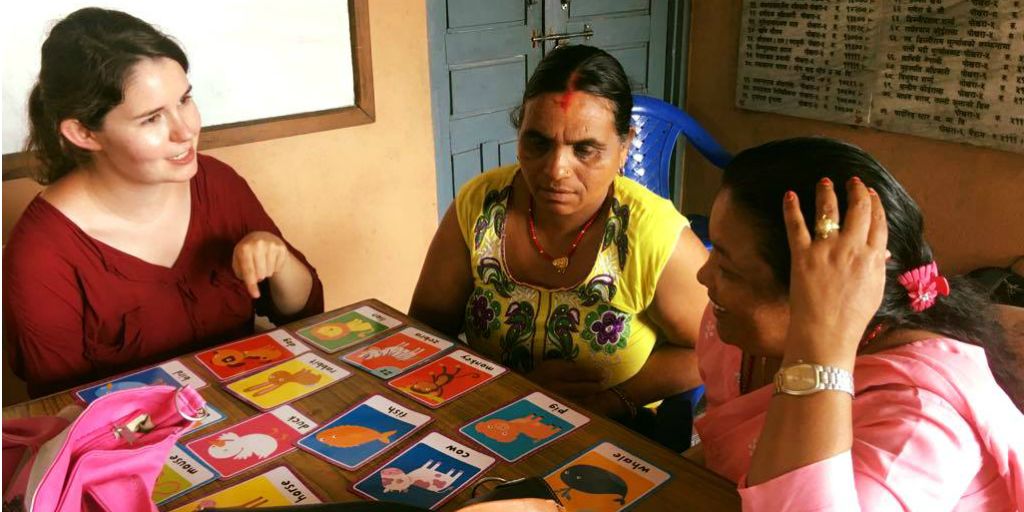 As a result, those who, like me, join an industry in the minority and without a wealth of qualifications to support them, can expand their sense of what's possible. And much like the woman I spoke to in Kerala, these individuals can change their lives in response to the new and different ideas to which they're exposed.
A challenge for managers
If you're in a management role, I challenge you to pioneer and facilitate programs that develop employees outside of their immediate roles. Taking 4 weeks out of my immediate role gave me enough mental space to step back and work out what my priorities are in life and where I want to focus my energy in my working career. And the experience of volunteering built my confidence and helped me develop skills I would not have had the opportunity to do through my role at work. 
The prospect of employees taking time out can be terrifying for managers – who would risk 4 weeks of productivity and output? Who would even risk 2? 
Well, I've got news for you: If your business won't survive an employee's absence for a few weeks, then you have bigger structural issues you need to address. 
And above all, we must challenge the culture of presenteeism in corporate business. If the past year of remote working has taught business anything, I hope that it's that being present in the office between the hours of 9:00 and 17:00 has no correlation to employee productivity.
Managers, you must actively encourage employees to explore hobbies they're passionate about and develop skills for their intellectual curiosity alone that have no obvious, immediate application to their existing role. Not only will their mental health and well-being improve now, but you may just find them to be more productive, skilful and resourceful leaders in your industry in the future.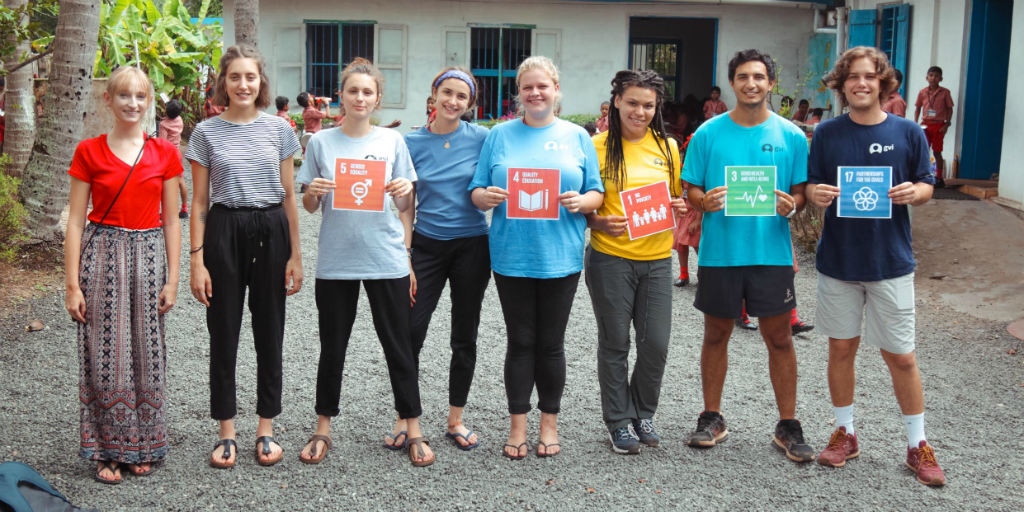 And if they decide to turn their passion project into a new career? The world doesn't need more miserable employees stuck in jobs they keep only to pay the bills. The world needs creatives, inspired thinkers, explorers and above all, leaders. Let them fly. 
To embark on a journey like Melanie's, take a look at our programs in India and in women's empowerment.