In Kampong Cham our days are centred around children. We work with them all day and when we're not with them we're planning on what we can do to help them learn!! When people say working with children is unpredictable – it's not a lie, it's definitely a cliché for a reason! We never know what we're going to walk into or what might happen. Even as I write this, I have a child trying to play with my laptop at the same time – this job really develops your multitasking skills. Despite it not being easy it is a worthwhile job and volunteering opportunity.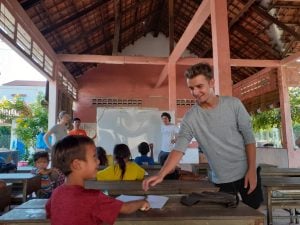 One of the hardest elements of the job can be the attitude or behaviour of the students we work with. Through our partners at BSDA we work with children from diverse backgrounds, who often aren't used to a schooling structure – as you can imagine this can be quite challenging!! The students we work with feel free to express how they're truly feeling, which you have to learn not to take personally. They're not afraid to let you know that they're bored or don't want to come to class altogether. Some volunteers can struggle with this attitude, but often the ones who cause the most "trouble" are the ones that need our help the most. Volunteering here, is all about perseverance – and you will be rewarded with a level of satisfaction you didn't realise was possible.
Now, why do you need to persevere? Well… things that you witness whilst working with children, you simply couldn't make up! From teenagers refusing to come to class because they have to brush their teeth, to young children bringing puppies to class that they can barely carry – let alone know how to look after, students fighting over the chance to partake in a seemingly simple/boring activity, a young child having the ability to turn anything into a "deadly weapon", students lying about having their books or the blatant cheating in tests and games despite the fact they're actually helping out their competition! Clearly, you can never take your eye off the ball when it comes to volunteering and working with children, they can truly test your patience but there's something about it that makes it all worthwhile…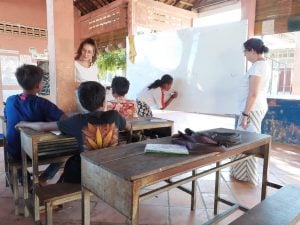 Often, as I mentioned before the ones who act out the most are the ones that really need that extra support and on top of this, their cheeky nature can be pretty endearing (but don't let them know that). Even on their worst days, you know that you're working towards a bigger picture and you're helping open up their future prospects, by working towards breaking the cycle of poverty through English. But the good days are really what makes the difficulties more than worthwhile. Whether it's a child learning your name to say they love you, students grasping a concept you have been working on for a long time, kids picking flowers as gifts for you, students turning up to class after being absent for a long time or asking after you when you've been absent and the look of joy when they see you return! There are so many funny and endearing moments when working with children and as a staff member it's great to see the volunteers take full advantage of this and build a rapport with the children we work with.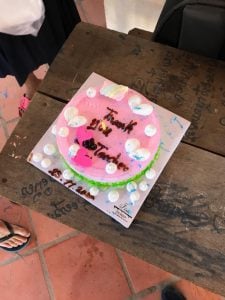 Working with children definitely has its difficulties – especially when trying to write on project, a laptop really attracts them! The sense of elation you get from having a good lesson or interaction with our students is indescribable. Not only are you actively helping children reach their full potential, whether they started off enthusiastic or they ended class on that note – you get a sense of achievement and satisfaction from this positive hands on experience. Nothing quite makes your week like a successful day of reaching out to children!