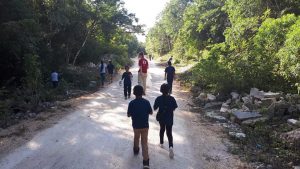 Samantha and children helping with the plastic removing from road
I have been on mission and volunteer trips all over the world. This was my first time volunteering for GVI Playa del Carmen and it has been the best experience of volunteering I've ever had. GVI has a nice balance of structure and freedom. During the week we are working with the organizations and children and the weekends we are free to see and experience the beauties of Mexico.
Working with and teaching the children of Playa del Carmen for the past month has been the most rewarding experience of my life. I have seen these children grow in their confidence as well as knowledge. Ive seen these kids go from not knowing where their country is located, to naming 20+ countries in the world. I have seen girls go from not being able to jump rope, to jumping 20 times in a row. I have seen these kids go from knowing no English, to being able to have an entire conversation with me. Their hearts and eagerness to learn inspires me everyday.
The staff of the organizations we worked with as well as GVI's made me feel like a part of the community. Their love for the children and excitement to teach is what makes this program so great! Everyday you can see how you and those you work with are making a difference. From planning lessons, presenting them, helping with homework, teaching a new game, it all contributes to something.
GVI is the greatest volunteer program I have been a part of. The staff and volunteers have such zeal for making a difference. You will be so encouraged everyday by the work you do, it is an unforgettable experience!