Thinking about your next diving adventure? Not sure what dive equipment you might want, need, or even what to look for? In this series we will have a look at the essential pieces of dive equipment every diver needs ranging from SMB and reels to fins, BCDs, regulators, and dive kit accessories . The aim, to give you knowledge on what to look for in dive equipment and how you might go about selecting your own.
The divers mask
Today, we are going to have a look at the divers mask. Owning the right mask can make your underwater experience unbelievable. They are vital for seeing important hand signals and reading your equipment such as your SPG (submersible pressure gauge) but also allows you to wonder at the amazing life underwater.
What makes up a mask?
Lenses: Tempered glass.
Frame: Gives the mask its strength and form. Possible to have frame-less masks.
Skirt: Seals the mask against the skin. It runs around the complete edge of the mask.
Strap: Helps keep the mask in place. They can be different materials or have covers to allow further comfort.
Buckle: Allows mask strap to be adjusted.
The mask fit
How the mask fits is the most important factor of owning a mask. If you find the best fitting mask for your face then you have a mask to last.
The best bit of advice we can give is to try on as many masks as possible until you find the right fit. There are many different types of masks out there to fit all shapes of heads, faces, and noses.
There are a few methods to see if it fits. This is just one of the methods used:
Tilt you head back and place the mask on your face. Run your fingers around the skirt of the mask where it meets your face. There shouldn't be any breaks in it. If there are, then this is where you'll find a leak when you're underwater. If there are no breaks, breath in through your nose and your mask should hold against your face. Feel if there is any pressure on your nose.
Now try the mask with the straps on around your head. Feel for any pressure points around the head, ears, and the bridge of the nose. You don't want to feel any facial discomfort. Feel around where the skirt of the mask meets the face again to make sure there are still no more breaks.
From the masks that you have tried on and fitted, you can then narrow them down and look at the other options that may benefit you during your dives.
Lenses
There are 3 main types of lenses within masks; single, double, and multi.
Single lenses are just one pane of glass due to part of the frame being removed from above the nose. They are normally lighter and give the wearer a wider view underwater.
The double lens can mean the mask could be a little bulkier but on the plus side may be compatible with corrective lenses for those divers who wear glasses.
The multi-lens mask uses panels on the side opening up a whole new field of vision for divers underwater but definitely adds to its size.
When choosing the lens it is worth thinking about your future diving trips and even how you feel underwater. If you feel nervous underwater or are new to diving then an unobstructed view may be best for you. If that is the case, a single lens might be best. Similar, if you are planning on taking lots of photos and want an excellent view of the scenery around you a single or multi-lens mask would be a good option.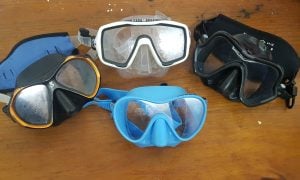 From right to left:
Scubapro framed double lens with black skirting. Aqualung framed single lens with clear skirting. Mares framed single lens with black skirting. Cressi frame-less single lens with coloured skirting.
Frames
There are pros and cons to both frames and frame-less masks. Cost, durability, comfort all come into it. The framed mask is seen as durable, a tried and trusted design, and allows use of prescriptive lenses. The downside to the framed mask is that they can place pressure on the bridge of the nose, can be less flexible, and are heavier than their frame-less counterparts. The frame-less mask allows a good field of vision, a comfy skirt seal, and can reduce mask squeeze. But with these benefits, the frame-less masks can be more costly, have weaker strap clips, and are not an option if you need prescription lenses.
Skirt
Mask skirts are made out of silicone and the majority come in two colours, black and clear. The clear skirts allow for light to come into the mask where blacks reduce the light and therefore the glare. A small benefit to the black skirt is that they hide the dirt and mold on the mask skirt that the clear ones normally show.
Straps
Most of the straps are made out of silicone and they can normally feel tight or uncomfortable against your head and hair. It is worth investing in a neoprene mask cover to make it more comfortable and easier to put on and take off. It is possible to look at some mask straps that are similar to ski mask straps allowing for much more comfort and much less hair pulling.
What does our Cap Ternay team have to say…
"A good fitting mask can last a long time. I've had the same mask since 2013 and have completed over 500 dives with it. It fits perfectly on my face with no pressure points and a good seal around my face stopping any leaks."

Luke – Program Manager
"My mask is the first bit of kit I pack as it's comfortable and I know it doesn't fog. It's also nice to know someone else hasn't tried de-fogging it the personal way."

Andy – Science Coordinator
Next up in our series… Finding the right fins!