When our bodies travel across the globe, among many challenges it comes that one of adapting to a new location. GVI Phang Nga welcomed 16 students from Duke University and they didn't take long to make Thailand feel like home. Because home is where we find comfort, joy, family and friends. Their first week was intense: a lot of novelties, a lot of introductions and training, but certainly it was also packed with fun moments. And all doctors must agree: laughter is an efficient medicine against jetlag and homesickness.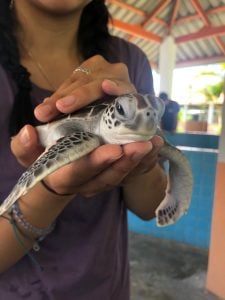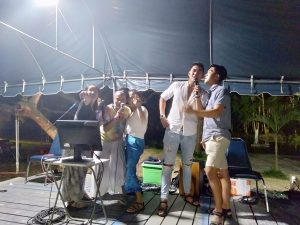 Jalen Gibbs is the youngest of the students. His karaoke choice is Strawberry Fields Forever. And already in his third day in Thailand, he had the chance to sing it in a weekly food market at the Royal Navy Base, one of GVI's Phang Nga partners. After a hard day of work, scrubbing and cleaning tanks, the students got a warm welcome from the navy officials, that were very grateful for all their help and engagement with their sea turtle headstart program. Not only delicious food and good company, but also music for all tastes. There was a couple of microphones and a stage that was never empty, and everybody lined up to give voice to their favorite songs.
Here is what Jalen has to say about his adapting time.
In many cases of travel, time spent in a particular area often seems longer than reality.  For us here in Thailand, that's definitely the case.  We have only been here a week and the work we've done in a few days is astounding!  After the introductions to ThaiLife, GVI, and the local village, we got started on the service projects we've been assigned to.  The Sea Turtle Restoration Program at the navy base has its benefits, including Uncle Jimmy's amazing personality, permission to take morphology assessments of baby sea turtles, as well as a welcome dinner and karaoke with the NAVY COMMANDER!  At the same time, turtle maintenance threw several challenges our way and will continue to do so over the next couple weeks.  Besides the manual labor, we are having a difficult time accepting that our success in cleaning one tank is short lived.  For example, a tank we clean Monday would be filthy again in less than two days. 

Our second community project has gotten off to a great start as well.Teaching English as a Foreign Language, or TEFL training, is something we are providing to the staff at Thai Life.We are focusing on four departments: reception, housekeeping, restaurant, and spa.We conducted our first lessons and I must say that our pupils show much promise.

Next week, you may hear about additional plans for service projects we hope to set in motion. For now, know that we are excited to spend our time here and are making significant progress towards lasting contributions to the Ban Nam Khem community.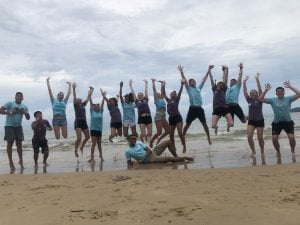 To find out more about our work in Phang Nga, click here.