Day 11- Back to Pokhara
Today we are going back to Pokhara. Our last night was the only night in the mountain. We woke up at normal time in 7 had breakfast and start walking in around 8. We were planning to have lunch in Pokhara so it was not a long walk today. We walked for about 2 hours which were in dirt road for a while and stone steps downhill for like 1 hour. Our vehicle was already at Phedi. We had 45 minutes drive back to Pokhara. I was happy to be back but i know i will miss those mountains as well. We had lunch at local restaurant in lakeside. I thank my guide and porter for all the support they gave me for my trek. They were a great person and help me a lot.
I'm back and already start working. I am happy to go back to project at Pame and Hemja.
Thanks each and everyone for supporting me and my project. Namaste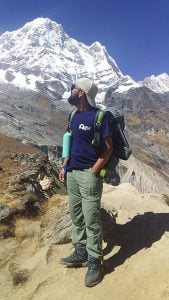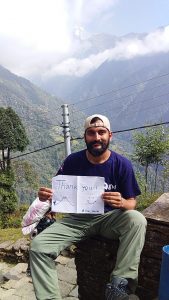 Day 10- Dhampus
Today is the last day in the mountain. I was little excited to go back to Pokhara and share my experience but little sad to leave mountain as well. Woke up in usual time had breakfast and started our walk to Dhampus. It's a beautiful big village near Pokhara. We followed the dirt track again for like 45 min and hike uphill in stone steps for about an hour to the top of the hill, place called Pitam Deurali. We had a tea break in Pitam Deurali. We saw a beautiful view of mountain, few villages terrace field from there. After the tea break we again start walking in jungle to reach the place Pothana for lunch break. Pothana is near to Australian camp ( where we pick trash few weeks ago). We ordered Pizza because our guide said the pizza in that place is delicious we waited for so long and we were starving and bored to wait for food. After the long waiting we got our pizza and it was really delicious so we were happy even it was late. When we start walking i saw so many trash again in that place where we pick trash few weeks ago. I felt so bad seeing that. After 1.5 hours walk we reach our tea-house for the day in Dhampus. After few hours rest, we played card and had dinner and went bed early. Ready to go back to Pokhara tomorrow.

Day 9- Tolka (tolga)
We had an amazing time in Jhunu, the most highlight thing was hot spring pool. Today we woke up at 7 again had breakfast and start our walk to place called Tolka. The starting half an hour was like very downhill steps and cross the longest suspension bridge in Annapurna region. And after that we walked gently downhill. And meet the river, cross small suspension bridge and we were in other side and start walking in another hill. The trial was little damage but it was not worst, after walking about 3 hours we had lunch break at Landruk. Landruk is a beautiful village. After lunch in Landruk we followed the dirt track all the way to Tolka for like 1.5 hours. The tea-house was the most beautiful with big garden. We got good room, the place was little busy. It was the last and main day of the festival Tihar so, the local youth came there to play Deusi ( play music and dance in traditional song). Everyone was dancing and enjoying the festival till late night in the mountain. The day went well. Thank you !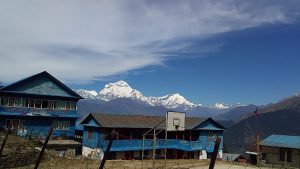 Day 8- Jhunu danda ( Hot spring)
We woke up at 7 again and had breakfast at Bamboo where we slept. In Bamboo there is very few tea-house. We walked the same way up to Chhommrong had lunch and spend about an hour, it took us about 3 hours to get there, it was more downhill but little uphill as well. After lunch we took different way to the place called Jhunu Danda. The trial was pretty similar to the usual. It was more of a downhill and a little Nepalese flat. Jhunu Danda is almost in the bottom of the big hill, there is also few tea-house. We put our bags in the room, rest for few minutes and walk down to river where the Natural hot spring is. There were so many people sitting in small pool and few young lady with tiny bikini.( Please mindful of the cultural in Nepal mainly in the rural area where people are more religious so wearing small bikini is not very respectful). I changed the cloth and went into that hot pool. It was really warm. I had a good time, relaxing in that pool for more than an hour. Put my cloth again and walked back to tea-house, the tea-house was full of people it is quit famous place because of that natural hot spring. Had a delicious dinner and went back to bed after a card game. Tomorrow we will be going to Tolka(tolga). All set for tomorrow. Thank you .!
Day 7- Annapurna base camp (ABC)
ABC is not too far from MBC. We had a very short day today because we were in high altitude and because of that we don't walked a lot and go more high.
I woke up quite late and had breakfast at 8:30. After the breakfast we walked to ABC, we were walking toward ABC and the mountains were seeing closer and closer, I was so happy to see those mountains very close to me. It took us about an hour and half to be in Annapurna Base Camp(ABC). I took few picture, while I was taking picture i drop my sunglasses down in the glacier, it's gone now
. I was keep staring to those mountains. We were due to stay at ABC camp for the night but as a group we decided we would keep walking to a place called Bamboo to stay. It was the longest day so far. We walked around 8 hours plus to reach there. I was little tired today, walking around 8 hours plus in downhill was not easy but seeing these beautiful views was more worthy than anything else. Straight after we reach we had hot shower and had dinner played card and went to bed. Tomorrow is an exciting day. All set and see you tomorrow. Thank you.!
Day 6- MBC ( Machhurpchhre Base Camp
I had to share a room with 5 random people so woke quite early because of noise but it was fine, had a good sleep though. After breakfast we walked to Macchhupuchre base camp MBC (3700m) or as its also known, Fishtail base camp. Macchupuchre or Fishtail is 6993m. We walked through bamboo forest and alongside the Modi river which comes from the Annapurna range. We were walking in altitude so we were walking little slow and less than usual, it was a beautiful day we were walking in between big mountains. We had a tea break at Daurali which is roughly in elevation of 3400m. It took us about 3 hours to reach there and we were not that hungry so we decided not to have our lunch there. Anyway after the tea break we walked to MBC. It was bit challenging to walked in straight uphill in rough trial but we keep resting and finally reach MBC. From MBC we saw a beautiful mountain, Fishtail is too close from us, Annapurna south, Himchuli, Annapurna First and few others. We had lunch, seeing the mountains. Padma, our guide took us to a little walk around and show us the glacier which looks little scary. We had a free time till dinner. The tea-house was too busy so I had a room where I need to share. I am super excited to go to our final destination Annapurna base camp (ABC).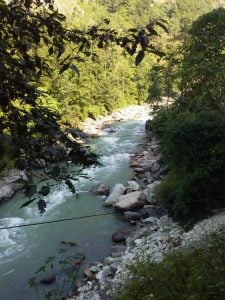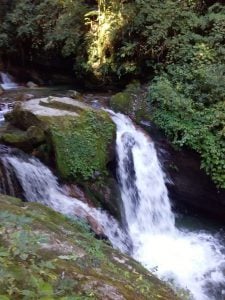 Day 5 – Himalayan (2900m)
Today we walked all the way to Himalayan from Chhomrong which was the longest day than other day till now. We get up and had breakfast and start walking at 7:30. We walked 45 minutes downhill and then 1hr30 minutes uphill stone steps to upper Sinuwa, we had a tea break there and then gently down sometime and gently up sometimes to our lunch place called bamboo and it took us about 2 hours. As our guide said it's the hardest day and we have to drink plenty of water and so I did. Next to the trail in the bush I saw so much trash. People normally throw the trash out in the bushes and the least I liked about was people play music very loud in the trial which is not very good for other people as well as wild creatures. So, I request all to be a responsible trekkers. Today we walked through small village and then walked in bamboo forest through out the day. It was the beautiful day walking next to high mountains and waterfalls, saw many birds and monkey. I tried to take pictures of that beautiful view but my cheap camera didn't capture as much as I see in real. So I can't really explain and even show pictures to tell to people about how beautiful it was. After the lunch break at Bamboo we walked again about 3 hours to get to Himalayan our tea-house for the day. It was a basic sharing room here onward but it was okay because we were in mountains and here are only three tea-houses because of conservation area rules people can't build more, so you have to be flexible and happy for the bed atl east. All set for tomorrow and excited.
Thank you .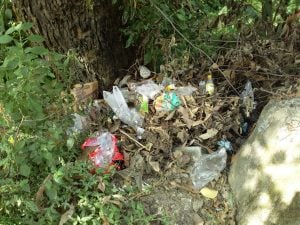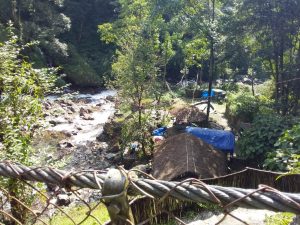 Day 4 – chhomrong (Gateway to ABC)
Day started at 6 in the morning for sunrise from Tadapani. I saw an amazing mountains when sun heat the top of the mountains. It looks like a gold mountain. I can't really explain how beautiful it was and my picture can't show the real beauty too. Well we had a breakfast at tea-house where we stayed and we left the place at normal time(7:30). Today we walked in the forest most of the time and across so many rivers walked through suspension bridge. After 3.5 hours walked rough narrow downhill trial we stop for lunch in a local tea-house place called Ghurjung, where the food was really good. I do talk a lot about food normally and that's my second priority after the mountain
. After the lunch we again start to walked about 2 hours but it was gently uphill people also say Nepalese flat and we reach Chhomrong. Chhomrong is a really nice village and the last people's settlement place and gate way to Annapurna base camp (ABC). It was afternoon when we were here. I had shower it was really hot, i feel like i am in heaven. I went for a little walk in the village and chat with local people in random topic came back at tea-house, order Thunduk (spicy soup pasta) for my dinner, played cards and tiger & goat with local people and with my guide had a really good time and looking forward to tomorrow.
I don't think there is an internet from tomorrow onwards but i will try to keep you updates if not just wait for few days.
Thank you. Namaste!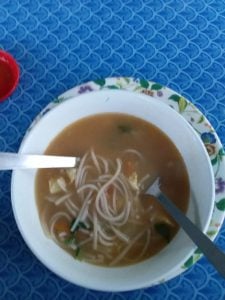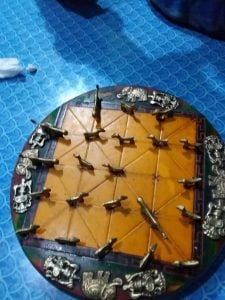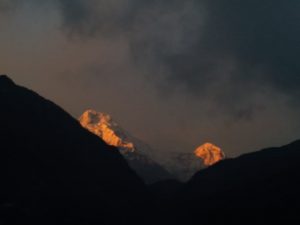 Day 3 – Tadapani
I didn't wanted to wake up because it was so cold but I woke up at 7 am and had breakfast at 7:30. When I woke up and went to dining hall, I saw a beautiful mountains right opposite of me. I saw more than 10 mountains from Ghorepani, Dhaulagiri the 7th highest mountain in the world, Annapurna l the 10th highest mountain in the world and many mountain above 7000m. We left Ghorepani to reach our destination called Tadapani. We walked about 3 hours and reach out lunch place and had an hour lunch break, the food was so good. The trial was all stone steps and it was more uphill and a little downhill as well. We were walking in the rain forest (rhododendron forest) next to high hills and gorge. The trial was good there were few sack for trash but most of them were full and people have throw outside from that dustbin anyway we saw mountain for whole day. We were walking in the trial and keep looking at mountains because it was so clear and beautiful and can't look at anywhere else. After the 2 hours walked from lunch we reached to our tea-house where we are going to overnight. I was little tired so had a good rest for an hours and ate my dinner, played cards, tiger & goat and talked with local people. And i have to wake up tomorrow early to see sunrise so i went bed early. Excited my tomorrow and all set to go farther.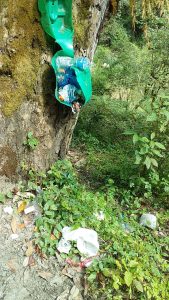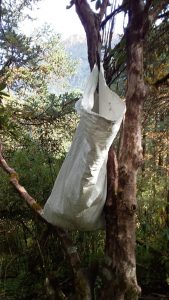 Day 2 – Ghorepani
After slept for 10 hours we woke up at 7 in the morning and had breakfast at 7:30 in the same tea-house,I saw a beautiful mountain form our tea-house. My bags were packed and I was all set to go. We started our trek to reach the destination which was Ghorepani (2860mtr). After we walked for 2 hours we had a tea break at local tea-house where our guide said it's normally the lunch break and it normally take 3.5 hours. so, we decide not to have lunch and keep walking in rain forest which is all rhododendron forest when was walking in the trial I saw few dustbin where there was nothing like that yesterday, but there were not a lot and all of them were so full. After walking for 2 more hours we reach Ghorepani and had our lunch which is our overnight place as well. The tea-house looks quite when we reach there but as the time went more people came and it was so full at the end. After the lunch I took a little rest for an hour and had hot shower which was so good. I saw people playing basketball today as well and i jump into there and started playing with them. Basketball seems quite famous sport in this region. Even the little kids were so good playing it. I had dinner at 5 in the afternoon (dal bhat) the dal bhat in the mountain is so good, started playing cards and tiger & goat game ( Traditional Nepali board game). And I am all set for tomorrow.
I like to thanks all of you who has support me till now. Lets hit the target and help me to be in base camp because it's for a great cause. Thanks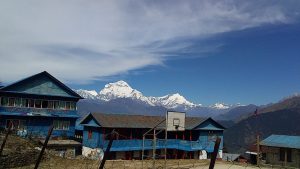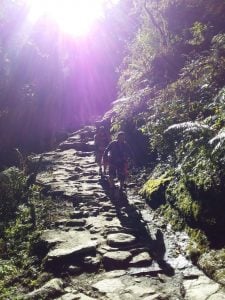 Day 1 – First day of the Trek!
We started our trek from Pokhara at 8 o' clock in the morning. We had a 4wd drive to Nayapul which took us 2 hours. From Nayapul we started our real trek, we walked for 1.5 hours which were all dirt road and had lunch at local tea- house which were so good. Some people say food in mountain are better than in city. After an hour lunch break w
e walked again to our overnight tea house which takes us about 3.5 hours but we had a rest in every 10 to 15 minutes because we were walking on steps. It's so beautiful, we walked through terrace field, crossed many tea-house along the way and the sad thing was I saw so much trash as well which were not really nice. Anyway after the shower in our tea-house I saw youth playing basketball from balcony, I can't stop myself and went there and played for an hour came back again and took a rest for a little bit. I am all set for tomorrow and more excited