Here in Quepos we're lucky to live in the beautiful country of Costa Rica, a place of breathtaking natural landscapes and diverse flora and fauna. For such a small country of only 51,000 km2 , Costa Rica has so many different types of natural landscapes for you to explore during your visit! 
1. Beaches
Of course here at Quepos we are biased to the wonder of the coast line, as we love our early mornings at the Manuel Antonio beaches. Costa Rica is known for its beautiful beaches and has so many different ones to offer you. With the Pacific coast covered in white sand and breathtaking sunsets, the Carribean shelters the opposite and you'll find black sand under your feet during the sunrise. These beaches, not only great for swimming, relaxing and sometimes surfing, are also home to a vast multitude of important wildlife. The beaches of Costa Rica are home to 5 different species of sea turtle, with the pacific coast hosting the famous 'arribada' of Olive Ridley sea turtles at Ostional beach and the carribean being home to thousands of Green turtles in Tortuguero National Park. So if you love the beach and relaxing in the waves, Costa Rica has some pretty spectacular places you can visit
2. Volcanoes
Costa Rica is home to 6 active volcanoes and another 61 dormant ones. The highest is Irazú Volcano at 3,432m tall, which sports a mineral rich lake that changes colour. The most popular and famous of Costa Rica's volcanoes is Arenal Volcano. This volcano is found within the Arenal National Park and hosts many beautiful sights and features including nearby hot springs and the expansive Arenal Lake. The volcanoes in Costa Rica  collectively contribute to a handful of minor eruptions every year but none have caused significant risks for years. They are all closely monitored, so if you're keen on hiking and enjoying the view, you can climb to the summit of most of these volcanoes when you visit.
3. Rainforest
In the 1980s, Costa Rica had lost the majority of its forest cover with only 26% of forest cover remaining. Since then, they have managed to turn this around through changes to legislation and policy, bringing that number back up to almost 60%.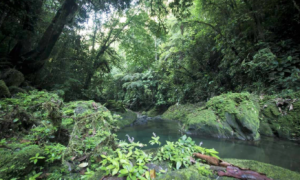 These rainforest are home to hundreds of rare and endangered species. If you're lucky enough to visit us here at Quepos, you'll find one on our doorstep at Manuel Antonio National Park which is home to many cheeky Capuchin and Squirrel Monkeys along with the endangered Scarlet Macaw.
4. Mountains
Cutting down the centre of Costa Rica is a beautiful mountain range that adds yet another beautiful landscape to the list. These mountains are covered in cloud forest and remain some of the wildest and hard to reach places in Costa Rica.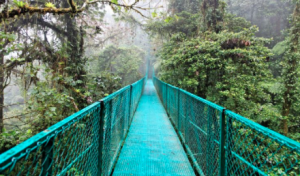 People travel for miles to visit Monteverde and catch a glimpse of the Resplendent Quetzal, a magnificent bird with a multicoloured tail longer than it's body. If you're the adventure type, you'll find many opportunities to zipline through the canopy or follow an enclosed river through canyoning or white water rafting. 
5. Mangroves
Mangroves are incredibly important ecosystems as they not only stabilise the coast line but act as nurseries for a large variety of marine species.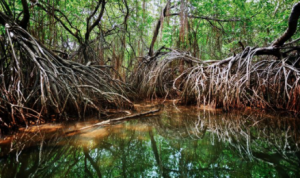 Scattered along the coast of Costa Rica are many mangrove forests with the largest being just north of the Osa peninsula in Térraba-Sierpe. These mangroves are beautiful with their extensive root systems and richness of unique wildlife. If you're lucky, the best way to explore them is via kayak and if you're lucky you should see a few crocodiles and monkeys along the way!
Costa Rica is lucky to have so many different unique landscapes within it's small borders, most of which are accessible to our volunteers on weekend trips during their stay! So join us here in Quepos for not just the rewarding nature of our community project but to explore all the nature Costa Rica has to offer as well!