Original image: "The Split in Caye Caulker, Belize, a view from above" by dronepicr is licensed under CC BY 2.0
From cave tubing to visiting the only jaguar reserve in the world, we've made a list of the top nine things to do in Belize that'll make for a memorable trip abroad.
But first, let's find out more about this Latin American country. 
Belize, where is it?
Are you wondering, "Belize, where is it?" after hearing about this country? Well, we've got you covered. 
Belize is a Latin American country that shares its northern border with Mexico, its western border with Guatemala and its coastline with the waters of the Caribbean Sea.
Some interesting facts about Belize include that this country is home to more than 400 islands that are ringed around by the colourful expanses of the Belize Barrier Reef Reserve System. This is the largest barrier reef in the Northern Hemisphere and a United Nations Educational, Scientific and Cultural Organisation (UNESCO) World Heritage Site. 
Another interesting fact about Belize is that it has the smallest population out of all of Central America. This means that when you volunteer in Belize, it won't be hard to get away from the hustle and bustle. 
Our base is set on one of the Belize islands, Ambergris Caye. This is the largest of the country's islands and home to some of the most sought-after dive spots in the world.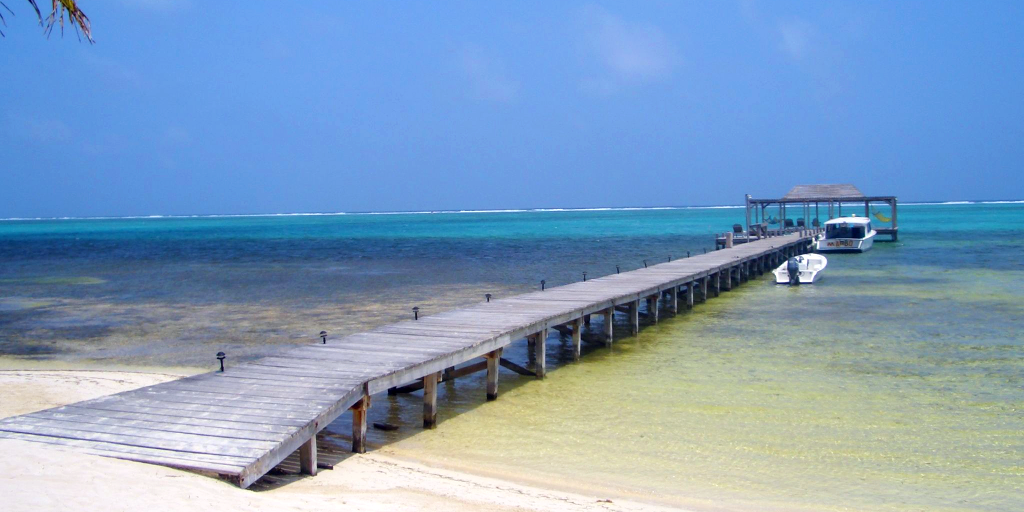 Original image: "Ambergris Caye" by Graeme Douglas is licensed under CC BY-SA 2.0
Because of its tropical terrain, abundance of adventure activities and opportunities to get involved in marine conservation, many of the attractions in Ambergris Caye can also be counted among the top nine things to do in Belize. 
Let's dive in and take a look at the top things to do when travelling to Belize.
1) Visit a nature reserve
More than one-fifth of Belize's landmass and a large amount of its coastal waters are protected areas. So getting out into the environment is a popular activity among tourists. 
One of these protected areas is the Cockscomb Basin Wildlife Sanctuary and Jaguar Preserve in southern Belize. This protected area houses the only jaguar reserve in the world and its 150 square metres of rainforest provides a habitat for around 200 jaguars – the largest population in the world. 
You can take a safe, guided tour through the sanctuary with a local guide and experience the rainforest while searching for the signs and listening out for the sounds that tell you that a jaguar just passed through the area!
The Cockscomb Basin Wildlife Sanctuary and Jaguar Preserve is also well known for its extensive network of hiking trails. These pathways will take you through all types of terrains and give you the chance to see everything from clay-coloured robins and jaguar tracks, to the hot lips bush and white-collared manakin. If you're feeling particularly brave, why not spend the night camping in this jaguar habitat (with park rangers always close by of course)?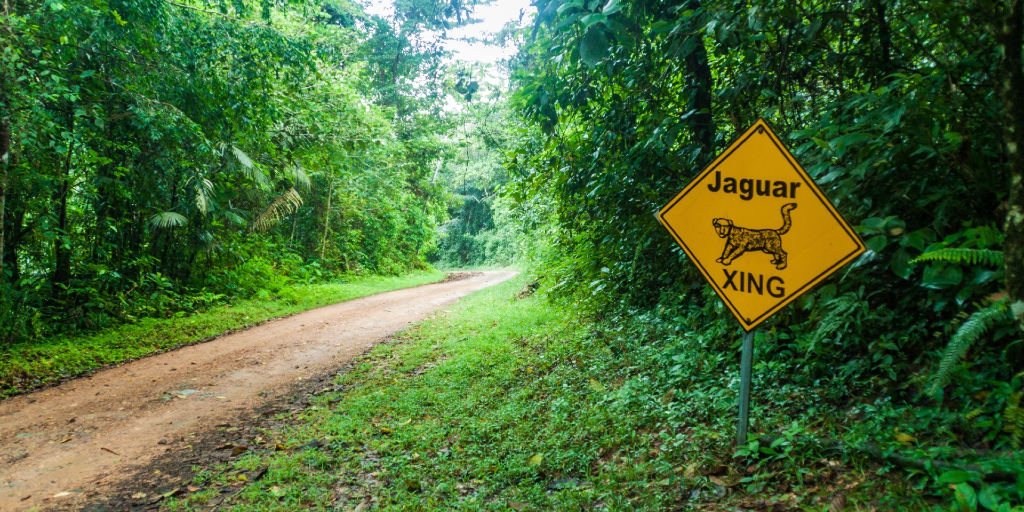 Original image: "Belize-Cockscomb-Basin-Wildlife-Sanctuary-sign-jag-crossing-SS" by Travel-Local is licensed under CC BY 2.0
And, if you're looking for more of a marine-based outdoor experience in Belize, Ambergris Caye's Hol Chan Marine Reserve offers some of Belize's top-rated snorkelling and diving spots. 
Hol Chan is Belize's oldest marine reserve and became a protected area mostly through the efforts of the local community. When you travel to Belize, visiting Hol Chan Marine Reserve is a great way to learn about the history of marine conservation in Belize and see the ocean creatures this country celebrates first-hand. 
2) Take a cultural tour
Taking a cultural tour is one of the top nine things to do in Belize that can't be missed. 
The country is made up of many cultures. By volunteering in Belize, you'll work closely with local people and live in the local community, meaning you'll have opportunities to learn about their cultures.
And, there are many other ways to become immersed in the culture of Belize. For instance, cultural walking, bus and horseback tours offer the opportunity for you to gain a deeper insight into the Maya, Mestizo, Kriol, Garifuna, East Indian, Mennonite, Arab and Chinese influences that form part of the country's culture. 
You can also travel around Belize solo and visit cultural sites yourself.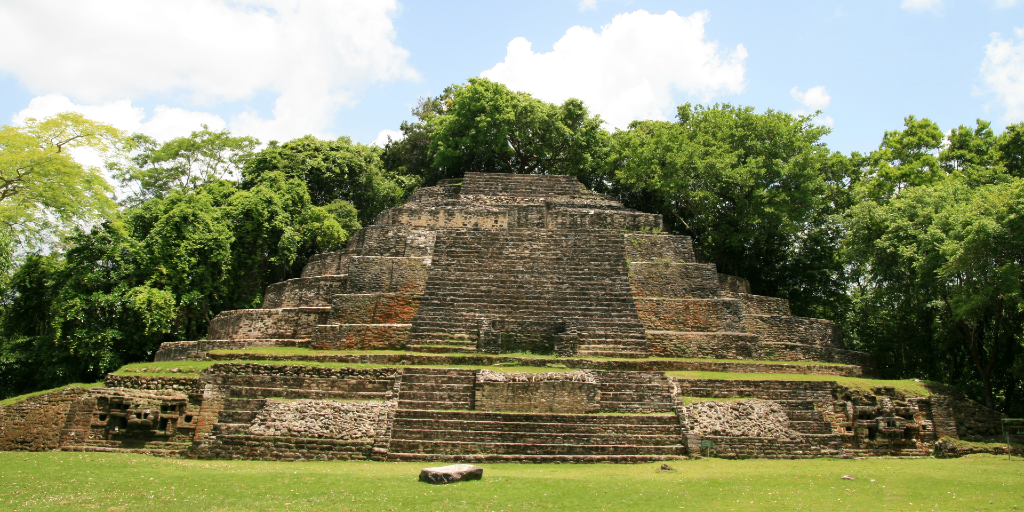 Original image: "Temple of the Jaguar Masks" by Bernt Rostad is licensed under CC BY 2.0
At the Museum of Belize in Belize City, you can get up to speed on many of the most important facts about the country's past and present. Belize's Ambergris Caye Museum and Cultural Centre is also a great place to learn about the history of the biggest of Belize's islands and its main city, San Pedro. 
Because the Maya Empire played a major role in shaping Belizean culture, visiting the Mayan ruins scattered all around the country, as well as the Mayan villages that still form part of the community today, will build on your Belizean knowledge in a big way. There are tons of half- and full-day tours to choose from that you can take part in during your free time while volunteering in Belize. 
3) Learn about Belize's history through its caves
Not only is Belize's mountainous terrain a honeycomb of caves, but these caves are also dripping with Mayan artefacts and sacred sites. While visiting these sites can be interesting and educational, remember to remain respectful of the area.
As a volunteer in Belize, you'll be living where the caves are and have the chance to see the largest concentration of caves in Central America.
The Actun Tunichil Muknal cave is a popular Belize location. A 45-minute hike through jungle terrain will bring you to the mouth of this cave in the Tapir Mountain Nature Reserve. Step inside the cave and you'll feel your foot sinking into something liquid – don't worry, it's just water!
You'll have to take a short swim and another short hike through the corridors of the cave to reach the main attraction, a cavern housing ceramics, stoneware and ceremonial remains that date back to the Mayan rule of Belize.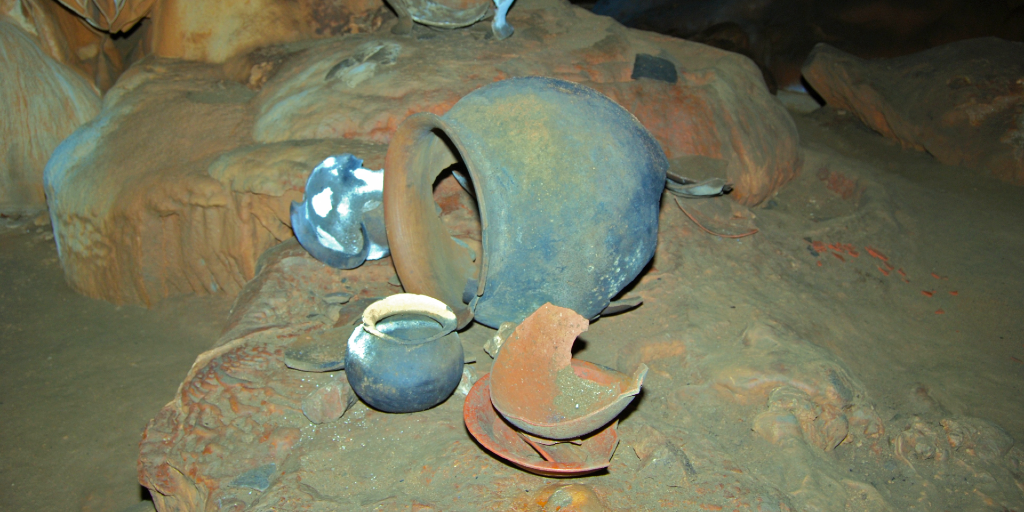 Original image: "Broken Maya Pottery" by berniedup is licensed under CC BY-SA 2.0
The site is listed as one of the "Sacred Places of a Lifetime" by National Geographic travel experts. And, as an important religious space of the Maya people, there are special regulations in place to preserve the cave. 
For example, only seasoned, licensed guides are allowed to accompany guests on tours, caution is expected when moving through the cave to protect its contents, and cameras are no longer permitted after a tourist dropped their camera and cracked a skull in 2012. 
After you've taken in this important historical site, you might be eager to visit more of Belize's many caves. Luckily for you, many of this nation's caves are more easily accessible than Actun Tunichil Muknal. 
Take for example the Rio Frio Cave in the Mountain Pine Ridge Forest Reserve, with its 19.8-metre high arched cave opening and easy – but exciting – pathways. 
Or, how about Saint Herman's Cave, Belize's most easily accessible cave, located in a tropical forest along the Hummingbird Highway and near the capital city of Belmopan?
4) Set your sights on a birding expedition
With over 400 scattered around the Caribbean Sea, Belize's islands offer habitats for an abundance of different plants and animals.
And, because of their tropical terrain and secluded setup, Belize's islands are the ideal place for a whole host of bird species. In fact, one of the most interesting facts about Belize is that it's home to more than 550 species of birds. It's no wonder why birding is such a big attraction for those travelling to Belize. 
Break out your binoculars and point them towards the sky to watch a keel-billed toucan (Belize's national bird) calling out from the branches at the top of the tree canopy. Or, drop the binoculars and look to the ground to catch sight of the dull-coloured tinamous darting through the undergrowth. 
The islands are filled with bright coloured birds like the ocellated turkey, the Yucatán jay and the white-eyed vireo. And you can see these as well as their subtler-coloured cousins on birding expeditions on most of Belize's islands, including Ambergris Caye. 
5) Be brave and do the Black Hole Drop!
Deciding to volunteer in Belize is a brave step, since you'll be travelling to another country and living there for some time. 
So why not keep the momentum going once you arrive at your destination?
One of the scariest of the top nine things to do in Belize is to rappel down the Black Hole Drop, a jungle sinkhole located in Actun Loch Tunich Cave in the Maya Mountains. 
The drop starts at 91.4 metres above the floor of the jungle and, even though it's called the "black hole", you'll actually get to see a lot of the flora and rock formations making up the walls of the black hole on your descent. The last few metres of the drop takes you through the treetop canopy, a feat that's unmissable for any adventure-movie lover! 
6) Visit Belize's beaches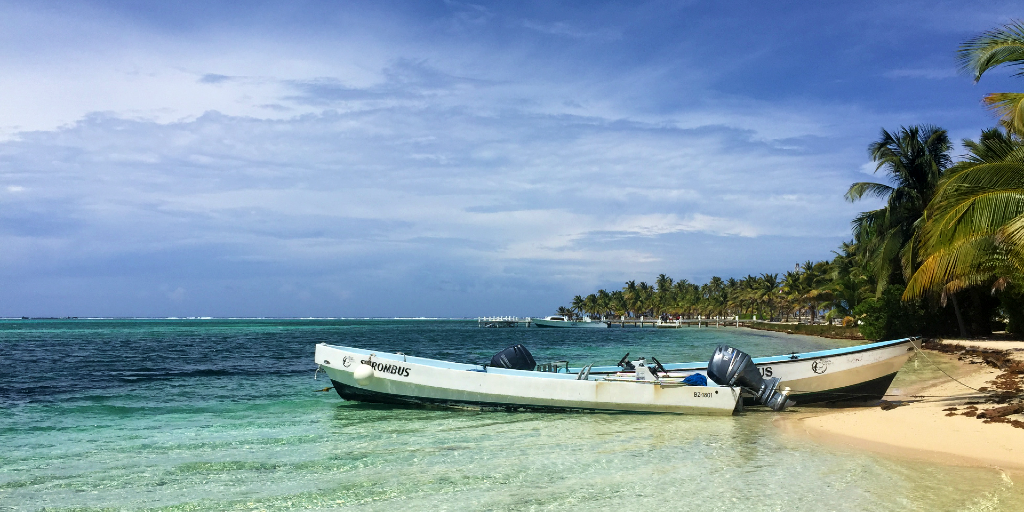 Original image: "Half moon caye im Lighthouse Reef, Belize" by dronepicr is licensed under CC BY 2.0
All of the beaches in the country are public, which means that you can take a swim at any of the Belize beaches you come across (whether they're part of a resort or not).
In Belize, Ambergris Caye, there may be an abundance of coastline, but not all Belize beaches are ideal for swimming. This is because of the abundance of seagrass that grows on the reef side of the island that often blows onto shore on windy days. 
But, there are many other Belize beaches that make up for all that. 
These are some of the Belize locations in Ambergris Caye that offer sandy shores, shallow, calm waters, and facilities like loungers and tables that'll allow you to settle in and spend all day enjoying the surf.
Belize beaches on the south of Ambergris Caye
Mar de Tumbo and Ramon's Resort beaches are on the southern side of Ambergris Caye, while the Central Park and Boca del Rio beaches are located right in Ambergris Caye's only populated town of San Pedro. 
These beaches set the ideal scene to relax, with coconut palms skirting their walkways and wide expanses of sea and sand to enjoy during your stay. Being in or near the town of San Pedro, these Belize beaches also include easy access to restaurants and amenities. 
Beaches on the northern side of Ambergris Caye
In Ambergris Caye's northern regions, the Secret Beach and X'tan Ha Resort beach are tucked away on the less-trekked side of the island.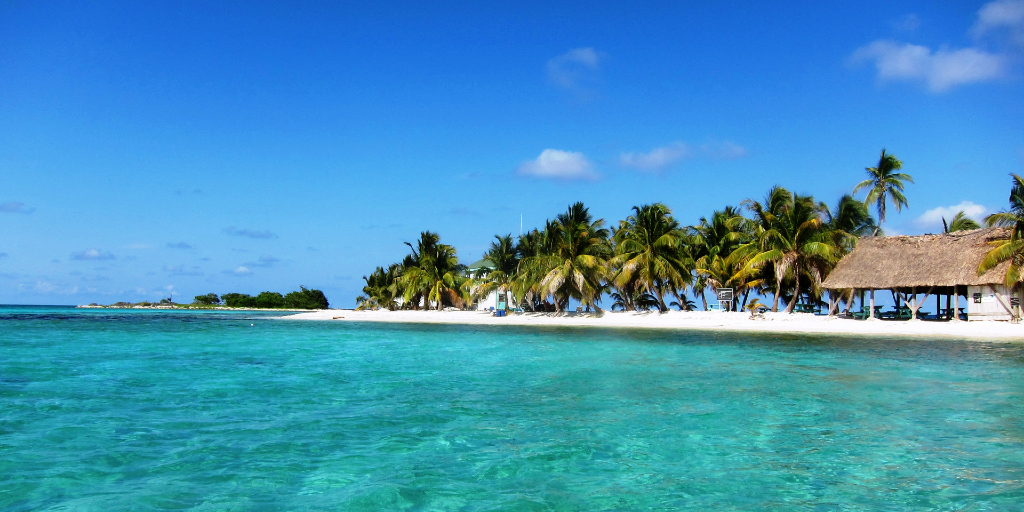 Original image: "IMG_8259" by satanoid is licensed under CC BY 2.0
The Secret Beach gets its name not because nobody knows where it is, but because getting to the beach is a bit of a trek and not everyone will venture out to this Belize location. Many visitors to the Secret Beach take a golf cart down the rugged path to the shore, where you can have a meal at a table in the water or take a swim in the warm ocean.
X'tan Ha Resort beach is a quiet location that offers an over-the-water bar as well as trampolines, kayaking and stand up paddleboarding. It's a great place to relax outdoors and is also a sweet Belize diving spot where you can get a closer look at the reef. 
7) Belize diving
Snorkelling and diving are some of the main reasons why tourists visit Belize, Ambergris Caye. There are tons of Belize diving spots that cater for everyone from beginners to expert divers. 
Besides the fact that Ambergris Caye provides some of the best Belize diving spots – where you can experience the Belize Barrier Reef Reserve System – it's also buzzing with marine life and is a hub for marine conservation activities. 
You could see fish like dog snappers and indigo hamlets, and marine mammals like nurse sharks and stingrays while snorkelling off the shore near the reef. 
And, if you decide to venture out further and dive even deeper, you'll get to see the array of corals that make up the 365 kilometre stretch of the reef. And, you can even spot whale sharks, sea turtles and manatees out in the deeper ocean water.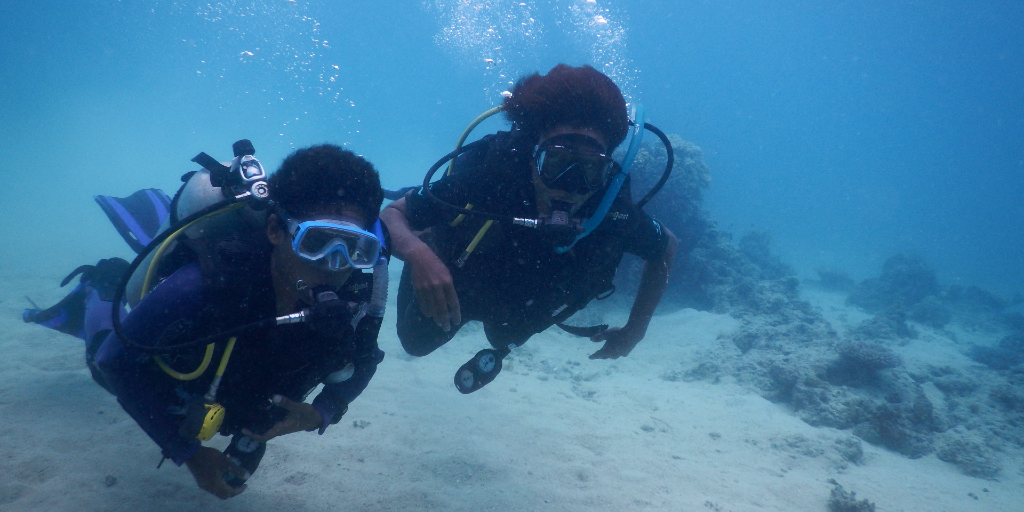 The limestone making up the Belize shelf of the Mesoamerican Barrier Reef System is known to range between less than two million years old to up to 135 million years old, and holds a wealth of information about Earth's climate and ocean history. 
In areas like Bacalar Chico (on the northern end of Ambergris Caye) the reef is attached to the mainland, and you can see first-hand how this setup allows for unique interactions between the plants and animals of the mainland and the reef. 
Hol Chan Marine Reserve in Ambergris Caye, the Great Blue Hole (a giant marine sinkhole) off the coast of Belize City, and the offshore waters of Half Moon Caye and Glover's Atoll are some of the most popular diving spots. These Belize locations make spotting endemic marine flora and fauna and getting involved in adventure diving easy to do. 
8) Become a professional PADI diver
GVI offers Professional Association of Diving Instructors (PADI) internships in Belize, Ambergris Caye that allow you to gain experience in the field of marine conservation while working on your diving skills.
Take part in our Caribbean Barrier Reef Divemaster internship and gain a PADI Divemaster qualification that'll allow you to work as a professional diver anywhere in the world, while volunteering in marine conservation in Belize. 
Or, broaden your professional diving horizons by taking part in a Belize diving program with GVI, where you could take the first steps to gaining valuable skills towards your future career as a PADI Instructor, PADI Rescue Diver or PADI Master Scuba Diver Trainer. Our Belize Diving and Marine Conservation internship makes this a reality while also allowing you to experience one of the most sought-after attractions in Belize, Ambergris Caye – the underwater world.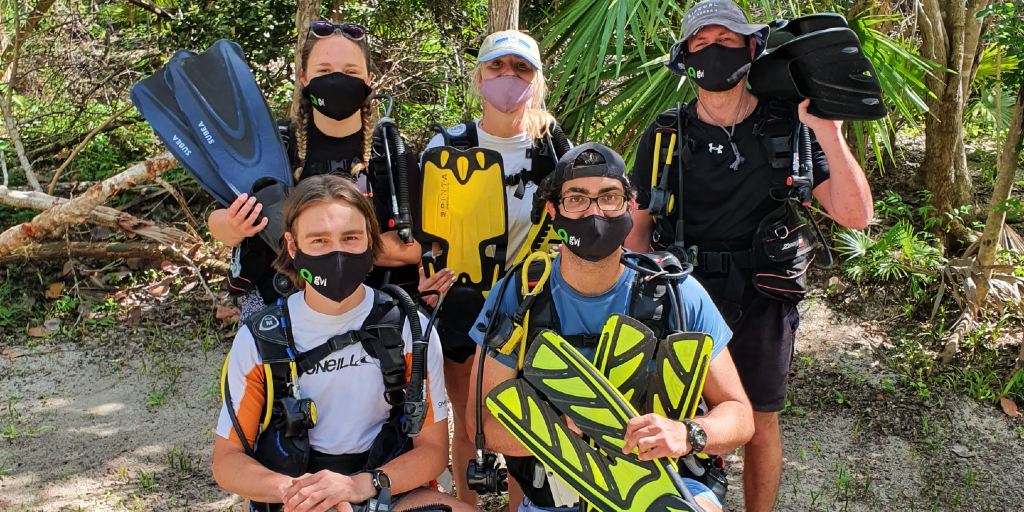 9) Volunteer or intern in Belize
You can intern or volunteer in Belize and add meaning to your travels by contributing to the well-being of the country's marine ecosystem. 
Volunteering in Belize, Ambergris Caye means living in an island destination, interacting with like-minded people on a daily basis and being immersed in the environment and culture of Belize while contributing to the United Nations Sustainable Development Goals. 
Being a volunteer in Belize also means that you can experience the top nine things to do in Belize for yourself when you're not actively adding to the well-being of the country. 
Take a look at GVI's programs that allow you to intern and volunteer in Belize, and see how you can experience the top nine things to do in Belize for yourself.