How did Power Club become Power Club?
Power Club began as the 'Women's Empowerment Club', which then became 'Girls Club', which finally became 'Power Club' after roughly a month of intense deliberation between the students and teachers. Power Club started off as drop in lessons during students' lunch breaks, it was a less structured curriculum which allowed us to really explore what students wanted from GVI.
The students came from schools and universities in and around the Kampong Cham Province, meaning we got to meet a great variety of students who had an even greater variety of aspirations. We found that although many students already study English and can speak it very well, very few of them had had the chance to interact with native English speakers. By offering a safe space to practice English speaking and listening, we have seen their confidence grow.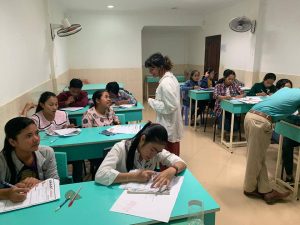 What sort of workshops does Power Club offer?
One thing that we focus on in Power Club, is using conversational English in practical settings, rather than formal, textbook settings. We also like to focus on confidence building, stress control, body positivity, and other related topics. Furthermore, because our students are older and more mature than many of GVI Cambodia's other classes around Kampong Cham, it means we can really start discussions amongst the teachers and students. These discussions, combined with the casual and laid-back atmosphere of the lessons, means students and teachers find Power Club to be a safe space. Power Club demonstrates being correct is not always vital, but being free to express oneself and learn something new is.
With teachers coming from a wide range of backgrounds Power Club has offered a number of workshops on a wide range of topics often required in the professional world. For example, we spent a week teaching and working on SMART goals, which was led by intern Ru and volunteer Rachelle. Due to both individuals have practical experience using SMART goals in business.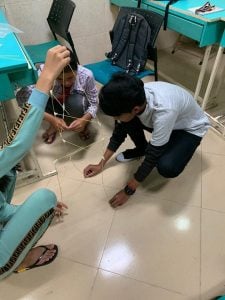 We also ran a workshop on team building: by giving the students 20 pieces of uncooked spaghetti, a marshmallow, and some tape and string; the goal was to build the spaghetti as high as possible and balance the marshmallow on top without any extra support. This was a very exciting activity and the students enjoyed it but found it challenging, even our staff member Kimyi joined in!
Every week we also introduce to our students a Cambodian 'inspirational woman' (or man). This is something we decided would be weekly since our first lesson, as it connects our students to their history, and in many cases, educates them on the achievements of other Cambodians. With the likes of Malala Yousafzai, Stephen Hawking and Kim Kardashian gracing media and news in the west, it is often easy to overlook the importance of having Cambodian people to look up to. We are taught in school, by our parents, and on social media that there are many admirable people in society. Although in Cambodia the significant lack of education and access to news and technology usually means that many inspirational Cambodians aren't mainstream knowledge.
What is the future of power club?
The future of Power Club workshops and lessons is exciting, as we plan to explore many more subjects. The next few weeks we will be focusing on CV writing skills, university applications, and overseas scholarships, as these are practical and relevant to our students' lives. We hope to also hope to discuss more taboo topics with the students, such as colourism, sexism, abuse etc. as we believe that starting these conversations with our students is key to understanding many issues Cambodians face in society today.
 Power Club may still be in its early stages, within one month of lessons we have seen the confidence of our students grow significantly. We hope that the club will also grow as a safe and educational space for students to express their feelings and learn more on topics they are passionate about. At Power Club, we not only carry out our own lessons; Power Club can also be a place for interns to present workshops, as our students are often keen to get involved and ask questions.