The Jalova base camp is located in one of the Earth's biodiversity hotspots. I can step out of my dorm to be greeted by any number of fascinating species, and always present is the camp's resident cockerels – the colorful and charismatic Aztec kings (montezuma orapendula) – which never fail to wake us all up at the unfortunate hour of 6am. In fact if I am feeling lazy I need not leave the dorm, because we all share it with a few house geckos, a stowaway bat, and the sneaky rafter iguana we affectionately call 'Trevor'. Take this striped basilisk for example, which we spotted chilling with us at the smoking area: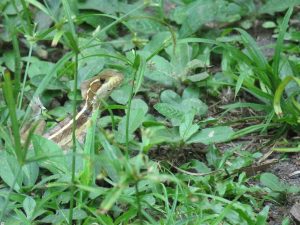 With such biodiversity it is understandable for the humans which make up Jalova to sometimes be overlooked, which is a shame, as these are a collection of homo sapiens as diverse and interesting as any. We are talking about staff and volunteers which have all personally invested a great deal to be here for what they all believe a worthy cause and fantastic adventure. For instance, green turtle season is coming to a start at the Tortuguero National Park, and the staff are already undertaking their heroic nightshift surveys. More turtles could mean more turtles predated by jaguars, so the jaguar team is also preparing to undertake their 'graveyard shift' surveys. This week five fresh-faced volunteers (myself included) arrived to join in the adventure.
There are also the locals which continue to invest personally to help Jalova, such as the rangers who always assist Jalova and take pride in keeping the park safe (As gratitude for these noble actions, the jaguars of Tortuguero are now named after rangers). There is also Jalova's friendly neighbor Don Armando, who delivered a much appreciated cart of freshly caught fish to the camp, which were masterfully served by Megan who takes cooking to another level in base (these are Thijs' words VERBATIM).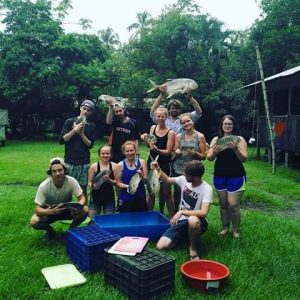 The camp is always a team effort, and any task is enjoyable when performed with friends, whether it be picking limes, health and safety training, or even cleaning out the gutters (well I mean, not shown is the epic water-fight which followed shortly after).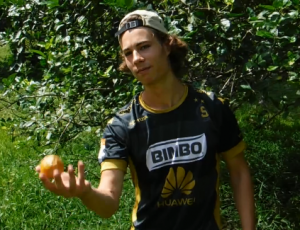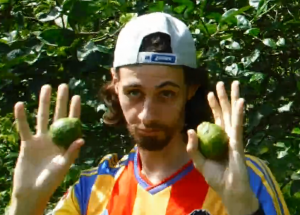 In conclusion I will assure you that it is no joke to describe the people here as diverse and interesting, and one example at hand is the Belgian birdman Thijs – the staff spotted a green turtle slinking off to the sea after (we assume) successfully nesting – Thijs was moved to write this tale of the incident:
    Once upon a time, the 4th of April 2017 at 21h30 to be precise, there appeared a shiny demon. It was a friendly demon however, showing us the path to the glowing shield containing the obviously famous toad. The toad spoke the prophetic words: "Stop calling me a toad with a shield and I might let you count my eggs next time!" 
Naturally he had to explain it to everyone here, but I recommend you to figure it out yourself.
GVI Jalova
Jake Modica (volunteer)
9th of April, 2017