In this blog, we will be continuing to hear from members of the GVI Cape Town staff team about their experience working with the community, the skills they have developed, and what they will be taking away with them.
We hope this gives you an interesting and inspiring insight into working with the GVI Cape Town projects! 
What is your favourite thing about the community that you work with in Cape Town?
I love the open and welcoming culture and how much we are embraced by the community

The community we work with is so vibrant and alive. There is always music, song and dance; everyone is so talented and extremely proud to show off the skills they have. There are so many amazing fashions and outfits and so much use of colour and patterns in clothes. Most of all how incredibly welcoming and animated everyone is.

 How excited the children (and teachers) are about learning. From Grade R to Grade 7, they all have so much passion for learning.

The sense of community and how people look after one another is really refreshing to me. It is really cool to see children walk and play freely in the streets. In the community I grew up in there really isn't a sense of community like the one I have witnessed in South Africa.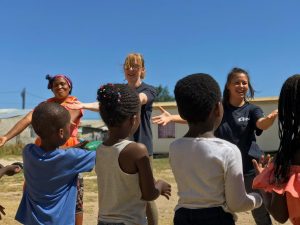 What skills have you developed whilst working with GVI?
I think my organisational and planning skills have developed, particularly how to plan for long term project objectives that we want to achieve

My ability to better understand and work with people from a variety of cultures. I thought I was fairly good at this before joining GVI, however I have now learnt that I am always learning something new! My cooking has also improved!

Problem solving and using my initiative – This is a huge part of my role. Thinking on my feet, being flexible to changes, and planning for the unexpected. I definitely have become more confident in my ability to solve a problem quickly and to communicate that to my team, stakeholders and managers.

Volunteer development and management – Working with many volunteers of various ages, backgrounds and personalities across different projects has given me so much valuable experience managing a team. I was able to mentor one of our long term interns and really enjoyed the challenges and successes that were involved in helping her grow and gain confidence.

Social Media and Marketing – When I created content for various social media platforms I improved in capturing content that was interesting, informative and inline with child protection policies.

I would say that I have gained a lot personally while with GVI. As someone who can be self-deprecating and have low confidence levels, I have learned a lot about myself whilst working with GVI. I have become more confident as a leader and more comfortable in situations that I would normally avoid back home. I will be leaving GVI with a lot more confidence in myself than when I first arrived.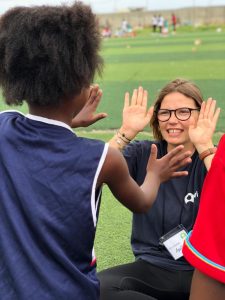 What is something you will be taking away with you from your experience?
Before my role with GVI I had lost touch with what I wanted to do, the long term goals I had, and the impact I wanted to achieve. I will be taking away the purpose and passion it has given me for the type of work I want to do

New friends, new family and a place that will forever be home.

So many wonderful memories of working at the school and the holiday program and working with my GVI family. Confidence and newly developed skills. A deep and extensive knowledge of the South African curriculum – That will be my Mastermind Specialist Subject!

I've made some amazing connections with the people that will last a lifetime. I have gained many tools to be successful in my career. I have been able to immerse myself in a place that has such a rich culture and traditions. It has been one of the most amazing experiences I've ever been a part of.