If you've just finished up a year of college and are looking to do something fun and productive during your vacation, why not sign up for one of our summer student volunteer opportunities?
There are plenty of unforgettable volunteer opportunities for college students, particularly if you're interested in making an impact with an organisation that works towards causes that you're passionate about.
And, volunteering not only allows you to get involved in meaningful work, it's also an opportunity to learn from others. It gives you the chance to broaden your understanding of the challenges faced by communities, animals, and natural environments abroad, while learning new skills and tapping into networks that will build on your future employability.
International student volunteer opportunities are a unique way to get out of your comfort zone and learn about development issues facing communities and environments around the world.
Be part of a team working towards achieving the United Nations Sustainable Development Goals (UN SDGs) while travelling abroad during your break. 
And by joining a GVI program, you'll get to work with local community members, local and international sustainable development organisations, as well as local governments. This will give you valuable exposure for your resume.
So, having a fun summer break doesn't mean you can't keep adding to your professional and personal goals too.
Let's start off by finding out what makes for the best summer volunteer programs abroad.
Join an impactful initiative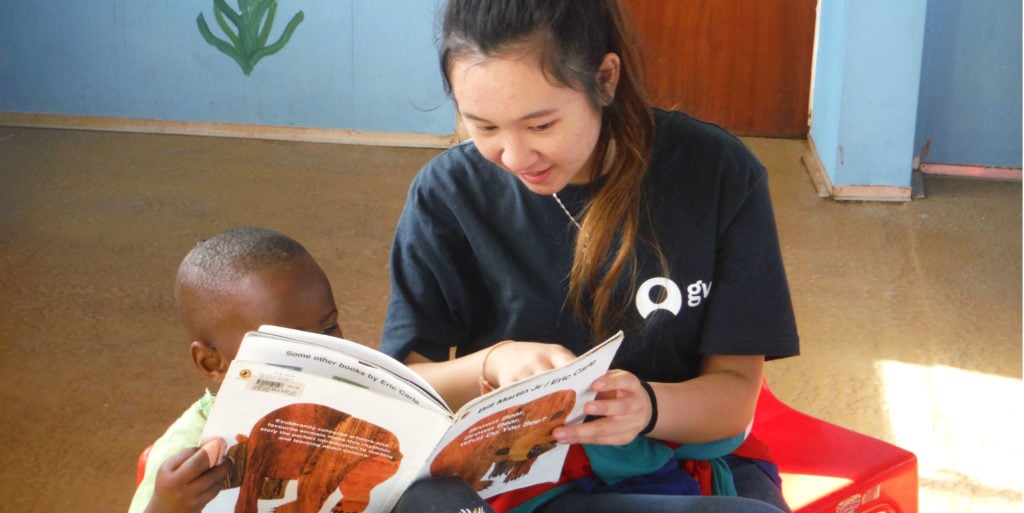 While there are myriad international volunteer opportunities for college students, the best volunteer opportunities will not only align with your career plan, but with larger development initiatives too – like those tied to the UN SDGs.
The UN SDGs are a set of 17 goals that outline which global developmental areas we should be focused on making an impact in, and how we should go about it. They're a universal call to action to make a positive contribution to causes like sustainability, gender equality, quality education, wildlife and marine conservation, business development, and global public health and well-being.
These goals build on the UN's Millennium Development Goals (MDGs). They've also highlighted the importance of sustainable development and raise awareness around the growing challenges that come with both the climate crisis and economic inequality.
Each of GVI's projects adds to one or more of the UN SDGs. This means that participants are guaranteed to make a meaningful and long-lasting impact.
Depending on what your passion and professional goals are, you could volunteer with children, conduct surveys of local wildlife or marine life , or work on public health initiatives.
For those interested in education and community development, there are opportunities for you to work alongside local non-profits and assist their staff with the work they're already doing. This ranges from teaching English and facilitating public health workshops, to assisting with building water infrastructure, and improving sanitation facilities in schools.
Getting involved in one of these programs is a great way to understand global issues related to education, women's empowerment, and economic development, while also gaining hands-on experience that'll help you to stand out from the crowd once you enter the job market.
For those interested in wildlife and marine conservation, there are opportunities to assist with critical field research, contribute towards conservation efforts and work alongside experts in the field. This is essential hands-on experience that can be difficult to come by in the classroom alone.
Below are ten summer volunteer opportunities for college students that'll allow you to make your summer a high-impact one.
Community development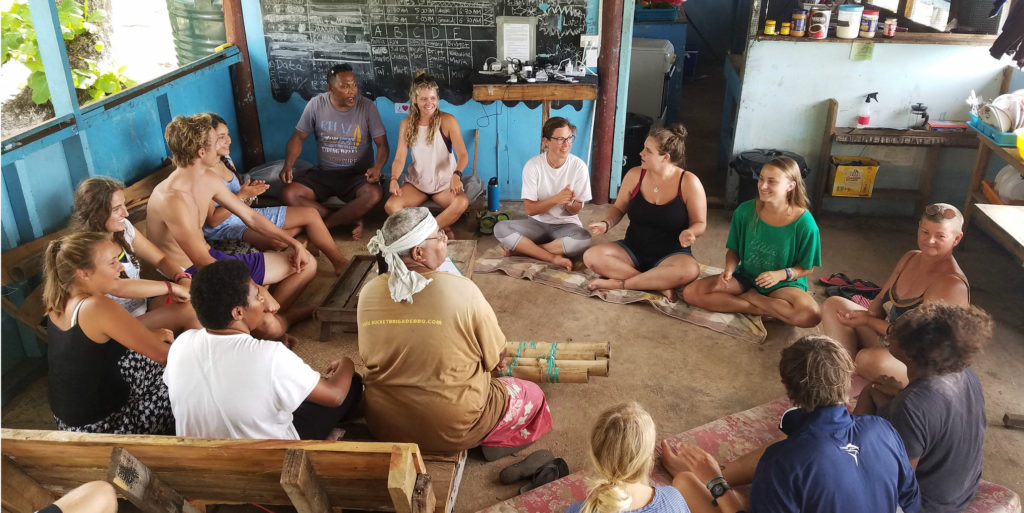 1) Volunteer with children in Ghana
Ghana is known for its tropical climate, sweeping coastal landscapes and swathes of tropical forests. 
Since gaining independence in 1957, the government has invested heavily in education. In 2017, GVI was approached by a primary school to set up an educational project in Ghana. In the summer of 2018, volunteering opportunities for college students were launched from our hub near to the city of Accra.
As a volunteer in Ghana, you'll assist teachers with English, math, reading and IT lessons, where you'll add to teaching capacity and provide additional support for learners.
Volunteers may also be asked to assist with public health projects, which could include engaging with students, teachers and parents about their preventative healthcare needs, and creating workshops to cater to these.
2) Volunteer on women's empowerment projects in Peru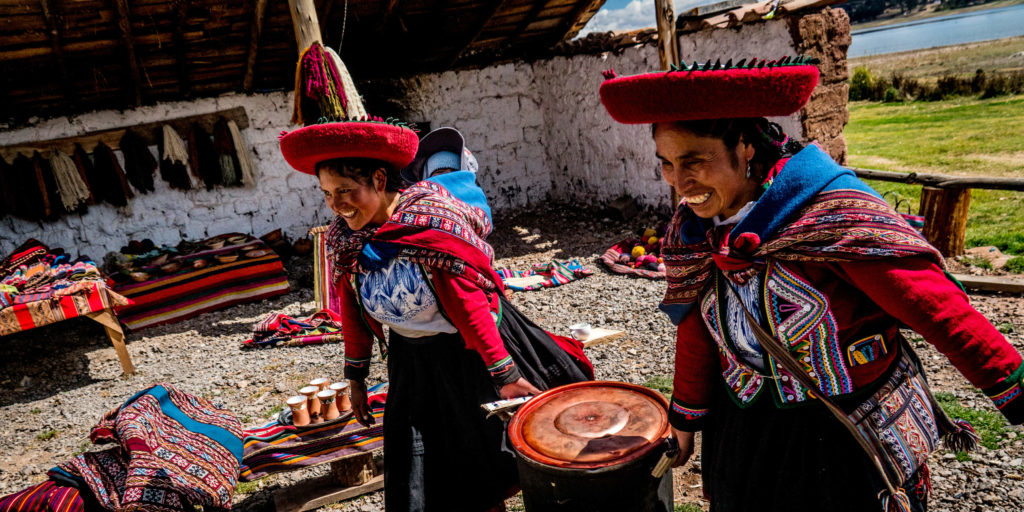 Travel to Peru, home to Inca sites like Machu Picchu, areas of vast biodiversity, and cities bursting with archaeological and cultural history.
Not only is Peru a must-see country, it's also home to one of GVI's most recent women's empowerment projects.
GVI has partnered with a local non-governmental organisation to develop a program aimed at helping women empower themselves economically.
While most women in the region do the same type of agricultural work as men, their achievements and concerns are not always acknowledged equally.
This volunteer project in Peru aims to provide women with the tools that they need to be successful, in whichever form they feel is best.
You'll have the opportunity to really get to know the local area when assisting on these women's empowerment projects. You'll be trained to help facilitate workshops, activities or one-on-one sessions centred around women's rights, preventative healthcare, English literacy, or professional development.
3) Volunteer with novice Buddhist monks in Cambodia
Did you know that many Buddhist monks become novices at a young age as a way to continue their schooling?
There are a variety of reasons why a child might become a novice Buddhist monk. Aside from having an interest in learning more about Buddhism or hoping to commit to monastic life, many children become novice Buddhist monks because they live far from formal education facilities, or have a lack of funds to further their education.
As a volunteer, you can assist in their education by contributing to their English literacy skills.
The program gives you the chance to not only immerse yourself in Cambodia's culture, but to learn more about Buddhism as practised in the region too.
You'll also have the opportunity to learn more about a novice Buddhist monk's way of life in Kampong Cham – a city on the Mekong River known for its array of Buddhist temples and French colonial architecture.
Conservation
4) Complete rainforest biodiversity research in Costa Rica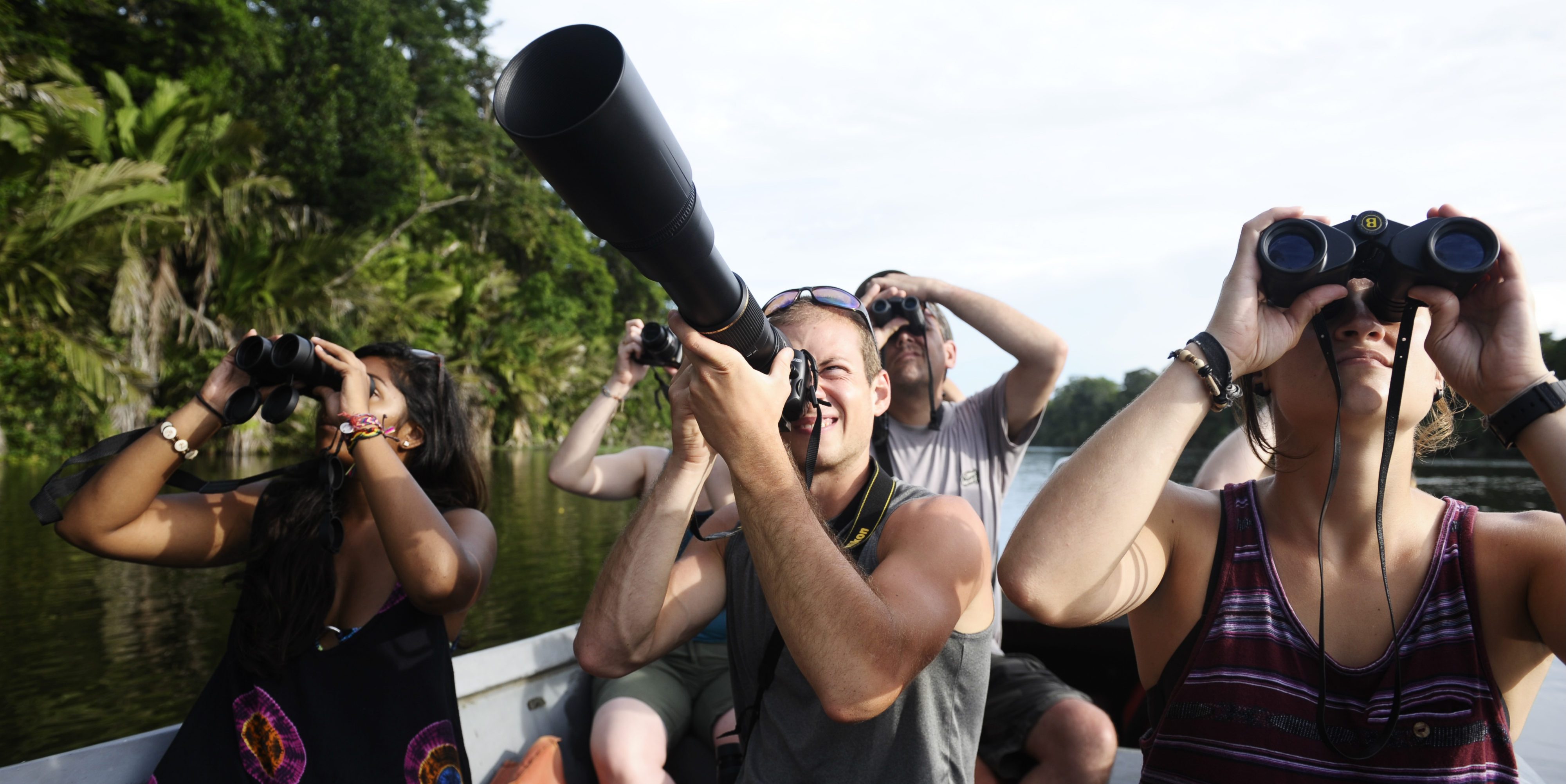 Costa Rica is a sought-after ecotourism destination known for its biodiversity and lush rainforests.
Despite the country's commitment to safeguarding its natural resources, it has been difficult to provide enough manpower to do so – especially in expansive areas like the Tortuguero National Park.
To provide additional support to the government, GVI trains its staff up to local standards. This helps to increase capacity in the country's most critical-needs areas.
As a participant, you'll live and work in Tortuguero National Park as you conduct scientific studies on the rainforest's biodiversity – primarily focusing on jaguars, aquatic birds and turtles.
The research you'll conduct is part of larger conservation efforts put forth by the government, and contributes to the sustainability of both the park and the region.
College student volunteering opportunities like this are especially relevant for those interested in pursuing scientific field research that adds to the conservation of plants, animals, and natural environments after graduation.
5) Contribute to Thai elephant conservation in Thailand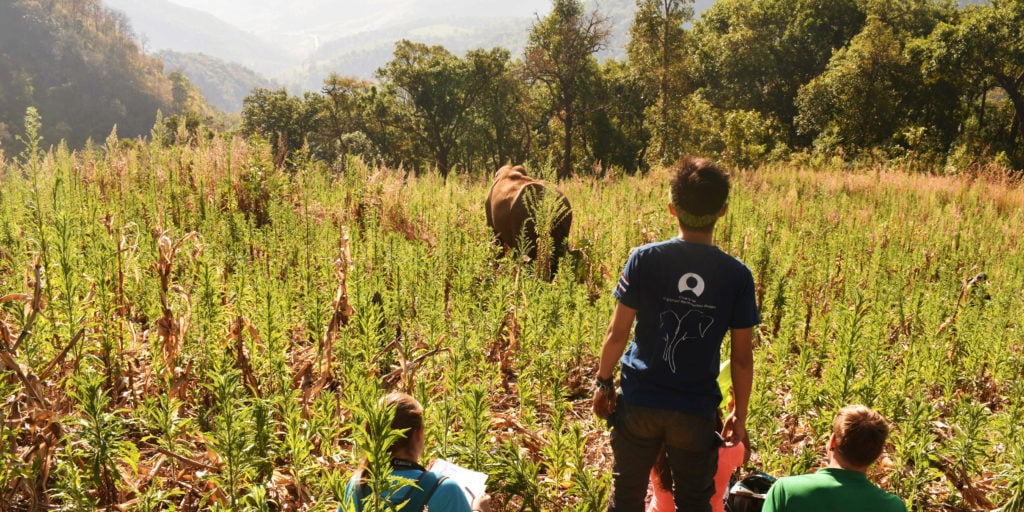 Great beasts roam the mountain-top forests in the Chiang Mai province of Thailand. 
These creatures are Thai elephants and because many of them have been raised in the tourism industry and can't fend for themselves in the wild, they're accompanied by mahouts – carers – who support them in their day-to-day activities. 
Mahouts and their families have a long history of working with elephants. They are responsible for ensuring the health and well-being of the animals. But many mahouts and elephant owners needed to turn to the elephant tourism industry to finance the care of these animals, and to provide an income for their families.   
Since then, many mahouts and elephant owners have entered into partnership with GVI. They are working to establish an alternative model of ethical elephant tourism, where elephants are reintegrated into their natural habitats, and elephant-keeping families can still earn an income. With their generations of insight into elephant behaviour, mahouts are now key players in the movement to reintegrate elephants back into their natural habitats and to monitor their progress as they adapt to life back in the forest. 
As a volunteer working with Thai elephants, you'll observe and record these animals' behaviours and daily activities in the forest. You'll also interact with mahouts and conservation experts in the field and see first-hand how the challenges facing Thai elephants are being addressed in an effective way. 
6) Coral reef research and coastal conservation in Thailand
More than three-quarters of Thailand's coral reefs have been negatively affected by climate change and the overdevelopment of seaside environments.
With Thailand's coastline acting as a critical habitat for nesting turtles, this has had a major impact on the well-being of sea turtles and other Thai animals. 
As a result, the Thai government decided to close some of its beaches for parts of the year to give these areas time to recuperate from high levels of tourist traffic. Beaches like the well-known Maya Bay, close for four months per year to allow them to regenerate.
Further reading: How Ao Phang Nga National Park got onto the travel no list
As a volunteer, you'll be trained to collect data on the coral reefs in this area. You'll also contribute to other conservation efforts, like working at a local turtle nursery to help care for young turtles so that they have an increased chance of survival once they're released back into the ocean.
Research here is led by local science-based organisations, in partnership with volunteers and other conservation stakeholders.
7) Promote water security in Fiji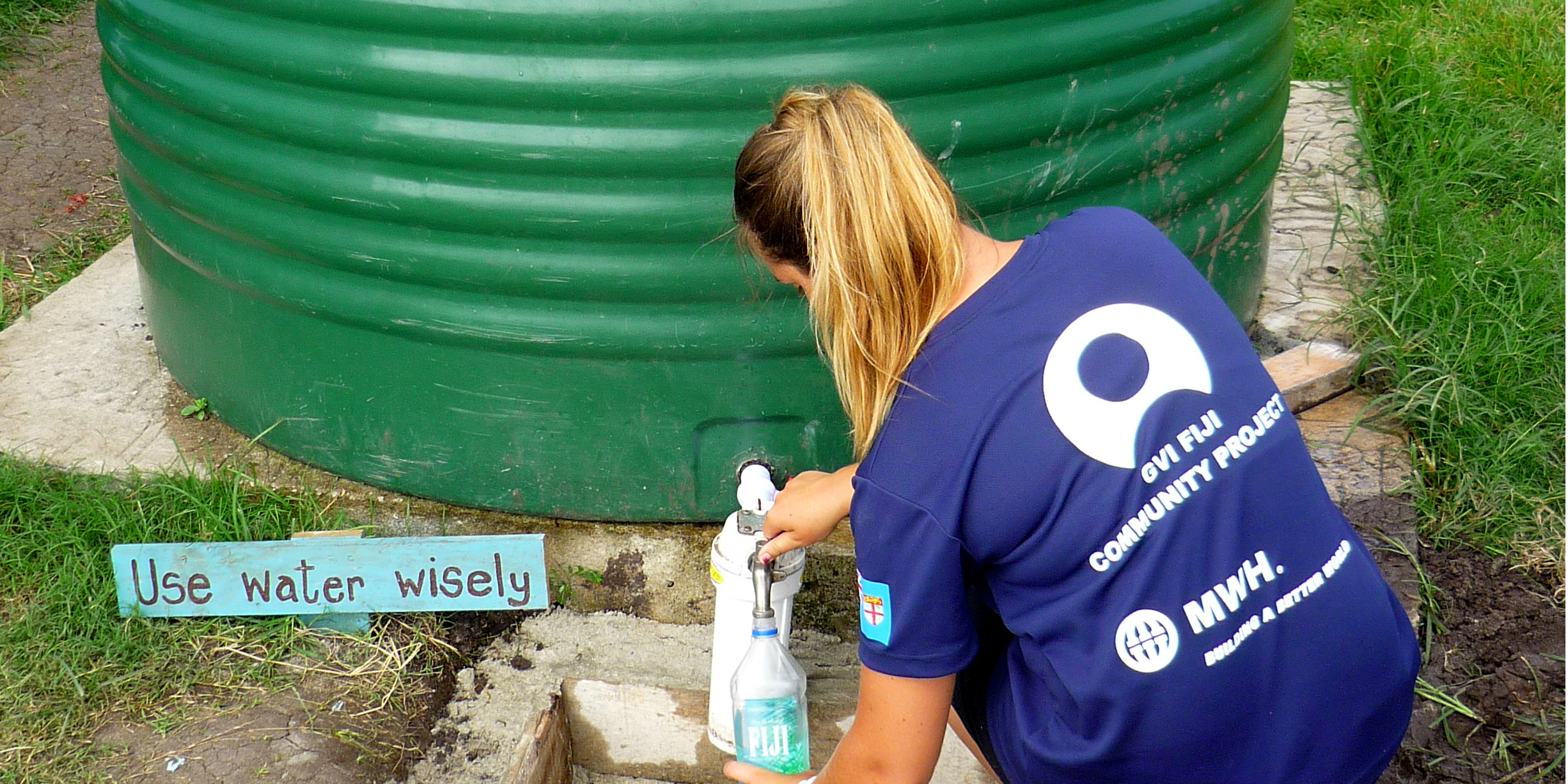 Small Island Developing States (SIDS) like Fiji are feeling the effects of climate change in a bigger way than many mainland destinations. Rising sea levels, scarcity of freshwater and biodiversity loss are some of the issues they commonly face.
Water insecurity, including water shortages and the lack of freshwater, is a particularly pressing problem.
Participants in this location work alongside local partners to enhance water security and promote water, sanitation and hygiene (WASH) practices that aim to add to the health and well-being of the community.
Activities you might get involved in include conducting WASH workshops and installing rainwater harvesting systems.
While participating as a volunteer, you'll also get to learn more about the culture and get to know the local people on the island of Viti Levu, in the Dawasamu district.
8) Anti-rhino poaching awareness in South Africa
Wildlife poaching is an international challenge, and South Africa is not immune to it. The country is actively working to protect its now critically endangered population of black rhinos, which has experienced a decline of more than 90% since 1970.
Today, few rhinos survive outside of national parks, and even if they do, they're still at risk of getting poached. In 2017, 1,028 rhinos were poached, which is a big jump when compared to the 13 that were poached in 2007. And, another 394 rhinos were poached during 2020.
All volunteer opportunities for college students in Africa offer excitement, adventure and the chance to make an impact. And, contributing to pressing anti-rhino poaching initiatives offers all of this plus the chance to see a critically endangered species in the wild.
As a participant on this program,  you'll be brought up to speed on the conservation issues South Africa is dealing with and learn how to build on the awareness that other people have about these challenges.
You'll also work alongside local partners to collect data on rhinos and other wildlife species, including leopards, lions, cheetahs, elephants and buffalos.
9) Marine conservation expedition in Seychelles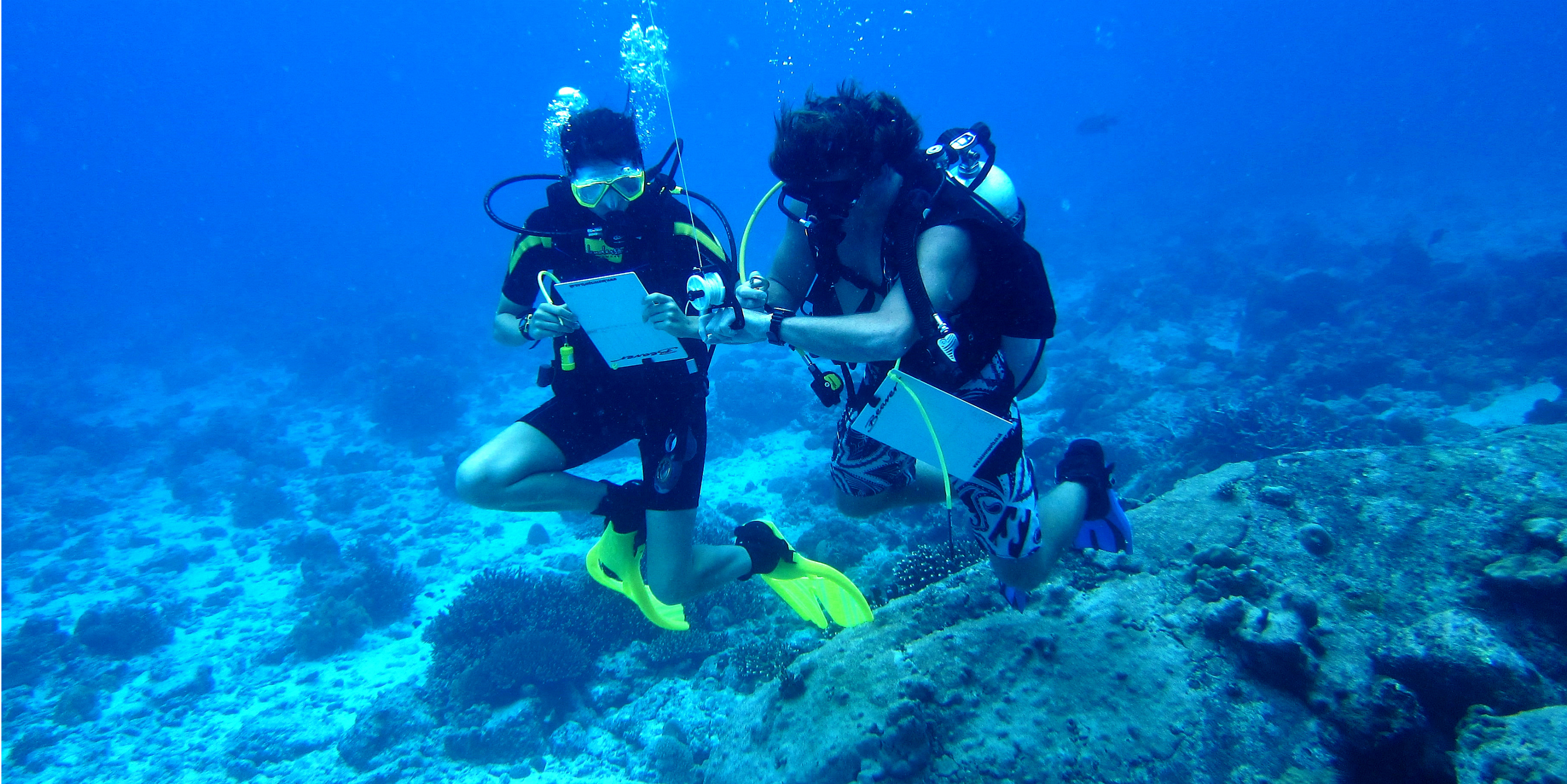 If you're passionate about diving and marine conservation, Seychelles is the perfect location for you to pursue both.
This archipelago of more than 100 islands is known for its blue waters, abundance of marine life and vivid stretches of coral reefs. But, its marine ecosystem has felt the effects of rising water temperatures, overfishing and invasive species over the last few decades.
In an effort to safeguard its environment, the country's government was the first in history to take on a debt-for-nature swap. But, what does this mean?
Well, Seychelles has significant national debt, and in order to help decrease that burden, the government decided to invest in safeguarding more than one-third of its marine waters for conservation purposes.
The implications of this were substantial. The amount of water protected rose from 1% to 30%, creating the second-largest marine protected area (MPA) in the West Indian Ocean. And these environmental improvements can go a long way in adding to the country's economic well-being. 
Your duties as a volunteer in Seychelles will differ depending on where you're located. Those more interested in marine conservation can assist, monitor and work on restoring coral reefs, conducting surveys on invertebrates and fish species, and removing oceanbed plastic.
Those wanting to focus on coastal conservation can get involved in turtle conservation and research. You might also participate in local educational and awareness programs. 
And, if you're a diver looking to combine your love for diving and scientific research, you can also up your diving qualifications. You can get your Professional Association of Diving Instructors (PADI) Advanced Open Water Diver and PADI Coral Reef Research Speciality Diver certifications while volunteering in Seychelles.
10) Dive into an Indian Ocean marine conservation internship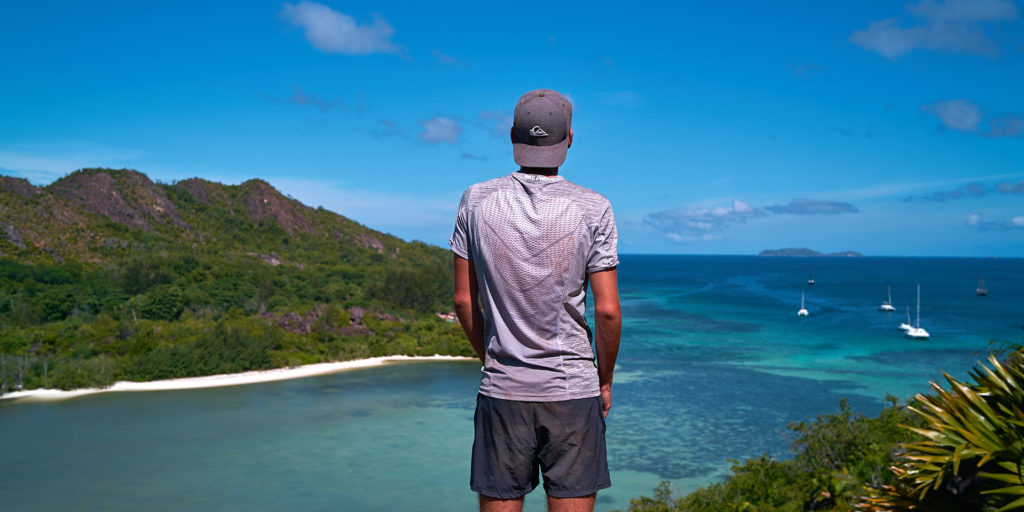 Around the world, marine conservation efforts are adding to UN SDG 14: Life Below Water. And, as a participant on our Indian Ocean Marine Conservation internship, you can travel to two different countries, contribute to a meaningful cause, and get a PADI certification too. 
Start off in Seychelles where the effects of climate change have resulted in coral bleaching along the archipelago's stretches of once brightly coloured coral reefs. Here, you'll be trained up in all things marine research. 
Wade through the ocean waters while practising your diving skills. Focus in on marine species  while completing underwater surveys, and get clued up on what marine conservation is really about while working with experts in the field every day. 
And, after 12 weeks of honing your marine conservation skills, you'll head off to Thailand and continue with marine research that adds to the well-being of ocean life globally. 
This program allows you to spread your contribution even further and can broaden your understanding of how local marine conservation activities add to a global impact. 
 With so many excellent opportunities on offer, you can plan for a fun and meaningful vacation. 
Take a look at GVI's award-winning summer student volunteer opportunities and upgrade your time off to time on. Speak to a member of our team to learn more.