Sports volunteers have been supporting physical education at ACJ Phakade School for over ten years.  In this time the curriculum has grown from strength to strength.  A  major fundraising event eight years ago led to the purchase of a range of sports equipment.  This increased access to all aspects of the South African Physical Education curriculum. The students continue to have a well rounded physical education curriculum today.
Fundraising for equipment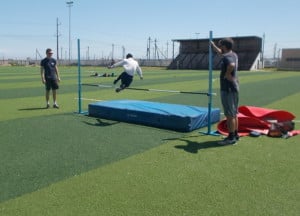 Back in 2012, a group of volunteers and GVI staff embarked on a fundraiser. A three-day trek from Cape Point to the iconic Table Mountain.  The aim was to raise funds for sports equipment for ACJ Primary School. Sports equipment can be expensive and once purchased, needs to be stored safely.  Our goal was for the school to have the necessary equipment for the students to be able to fully participate in the physical education curriculum.  This meant large equipment such as hurdles and high jumps as well as ample supplies of balls, gym mats and other equipment. The other aspect was providing storage space for all of this equipment.
The good news is, our goal was achieved. Students and teachers were able to participate in the full range of the curriculum.
Physical Education Curriculum (or we just say sports!)
Volunteers work with teachers to support the physical education curriculum. They share specific skills and teach a range of skill-oriented drills and games. Volunteers also support teachers with assessment processes.
The experience is full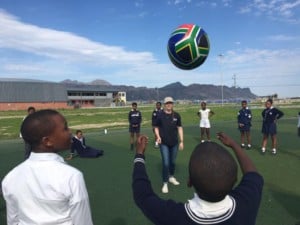 of fun. The atmosphere of a sports lesson on the field at ACJ school is an experience in itself. A choir of students chanting for their teammates is something that will stay in your heart.
There is no doubt, a lesson on a large field can be far more interactive when there are several adults supporting.  Small group activities and individual support become much easier. Some students are not so confident or naturally skilled in sports.  The extra support can help build their confidence.
Other benefits of the sports programme
A physical education programme has a range of benefits for students apart from the  Here are just five.
Teamwork

: In physical education lessons students work together, share roles and support teammates.  All important life skills.

Being Active

: The 5 Ways to WellBeing specifies being active as a crucial aspect of mental wellbeing. The curriculum introduces students to a range of active activities.

Something for everyone

: Some students may find the more academic aspects of school life challenging but may have more confidence in sports. It can be the curriculum area that keeps some students engaged in

 school. It may also open the door to a local sports team.
Learning about a range of sports:

It's easy to stick to the sport you know. The physical education programme allows students to learn skills from a range of sports including gymnastics and field events.  It also helps break down the gender stereotypes that can be associated with certain sports.

English in context:

When students are learning English, context is important. With English instruction supported by demonstrations, students learn English vocabulary in context.  What better way for eight-year-olds to learn vocabulary such as under, over and between than whilst doing an obstacle course?
Over the years we have had a diverse range of volunteers, some with specific sports knowledge others who just love being active.  All had a common goal; to support the teachers and students to have a positive and effective physical education programme.  If you would like to learn more about how you can become part of the GVI sports programme and support 8-13 year old students please enquire now.