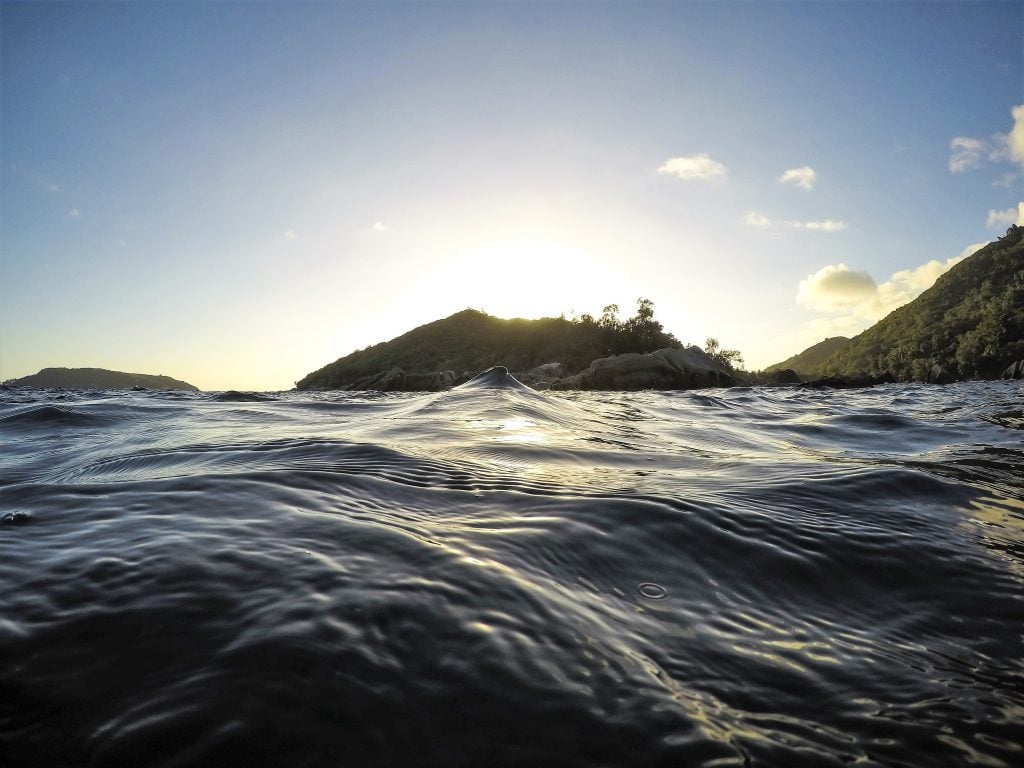 Weekends on Base
Saturdays are the end of the weekend here at Cap Ternay and spending it in a hammock or chilling on the beach just didn't quite cut it last week. A few of us decided to go snorkeling at "Back Beach", the southward facing beach at the back of our base. As some of the staff members had seen sharks there before (Scuba Stu, Pia and Lydia), we decided to head out just before sunset at 5pm; according to Scuba Stu "the best time to see them!".
Back beach is a short 5min walk from camp, down a few slippery stairs and ~200m down the road heading back towards Port Launay. As the tide was quite low when we got there, we decided to follow the road for another 500m to avoid wading out through the shallow mangrove lagoon. We climbed down the side of the road to a little beach only 100m from the spot we were aiming to get to.
Face to face with an apex predator (or not…)
Swimming out deemed quite tricky as the waves were breaking on a super shallow part of reef and there were only a few centimeters between us and the rubble below. Once we made it through the surge however, we were greeted by calmer waters and the backend of what must have been around 15 grey reef sharks…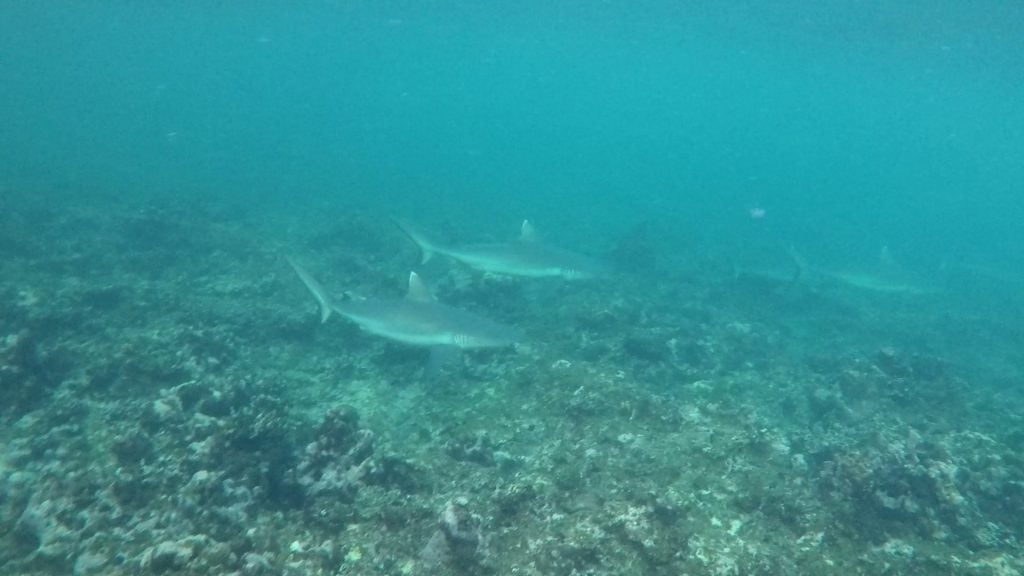 The staff pointed us to the right spot and we seemed to get there just about in time, but with 8 of us paddling out, the sharks where having none of it and quickly disappeared. We tried to find them for another 10-15mins, swimming further out around the big rocks in the entrance of the little bay. After Tom saw a turtle but not much else, we decided to head back to where we first saw them.
There they were, staying motionless only a few meters from us. The biggest ones were almost 2m in length and swam over to check us newcomers out. We remained motionless and waited for them to come to us rather than chasing them away again and it paid off: they stayed with us for almost 20mins, swimming in and out of view. In the end we were the ones that had to leave as the sun was gone and it was getting dark quickly. And we still had the shallow forereef to cross…
Back on base we couldn't wait to compare our GoPro footage and show it off to the ones that stayed behind. It felt surreal to see this many adult sharks at once. The most common sharks around here are juvenile white tips we see resting in caves or swimming about when diving, but none of us had ever seen that many sharks and for such a long time. We realized that we were in their territory, but the sharks accepted our presence and we tried not to disturb them which did payoff: they were curious, and we disturbed them as little as possible while only being a few meters away from them. We've not been back since as the tides were too shallow to make it over the reef safely, but I literally cant wait to go back and share the water with them again.