The wonders of Creole food
Ever wondered what it was like to taste some delicious Creole food from the Seychelles? Hopefully within this series of Seychelles Cuisine you can learn to understand the dishes and create your own!
One of the things that we love about the Seychelles is the food. The spices, flavours, and fresh ingredients make the dishes here unbelievable. Most days, at the moment, we are lucky enough to have our friend Phillip cook up a meal every lunch time for GVI and SNPA staff who are out here on base at Cap Ternay. Due to this, I have been slowly learning more and more about Creole food, what they use, the flavours, and their traditional dishes. Below is an introduction to the flavours of the Seychelles.
The Flavours of the Seychelles?
I feel the dishes are brought together from a range of different countries with influences from China, India, Africa, Madagascar, and France. This allows for a wonderful range in dishes and made even better with the local, fresh, flavours of what the Seychelles has to offer. The best way to understand the flavours are through the 4 S's.
Salt
Salt is a big influencer within the meals here. It is simply added to enhance the flavours of the dish but also due to the heat here in the Seychelles it is a great way to replenish any salts you have been sweating out in the high heats here. Some meats and fish are dried and salted to help preserve them for a longer period of time and to remove excessive amounts of salt they may be boiled up first before being cooked off in whatever tasty dish they are being used in. You will also find salt within the different sauces used such as soy or oyster.
Sweet
Sweetness is found through freshly picked fruits and also the coconuts. With the fruits, if picked when mature, or allowed to ripen when picked immature, they can deliver a nice sweet flavour. There are many different types of bananas here (around 25-30) but the smaller ones such as the banana mignonn are great for eating fresh or used within deserts. Mature green coconuts can be used to make coconut milk and if made fresh allow a nice sweetness to the milk. You can flavour it with cinnamon or vanilla which is great for drinks and desserts. Some want to add sugar to the milk but without is just as good and it can form a base of many great curried dishes.
Sour
Sour flavours come in many forms but the most common is through immature fruit. There are quite a few fruits used on the island where if picked early they can be made into chutneys or salads. A common one is mangoes. Instead of waiting for them to be soft and ripe and an enticing orange colour on the inside they are picked earlier, pealed, and then finely sliced to make a salad out of it. Another is the Golden Apple (Frisiter) and this can be grated and mixed with onions, garlic, salt, and pepper to be lightly fried to create a simple but tasty chutney.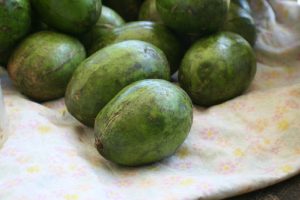 Spices
The biggest topic within the food here are the spices. Let's start with the heat. From what I can tell there is a chili chutney / sauce / or fresh chili everywhere I go and from what I have been told, in every household. The 2 most common chilies introduced here in the Seychelles are the birds eye chili and the goats chili. The warmth from these has a good kick but also has a nice flavour (slightly sweet) to them. I would highly recommend picking up a jar of chili chutney from the market stalls or even making your own. Fresh cinnamon is another great spice added to many meals. I have found it works well in curry dishes just as much as some desserts. It is found in abundance here from all the trees and you can either use the bark or the leaves from the plant depending on what you want to use it for. Other spices I have worked with while on the island are: turmeric, coriander, lemon grass, garlic, ginger, vanilla plus a few more!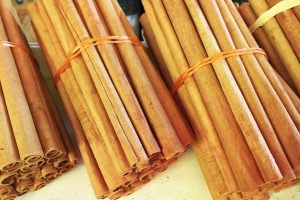 Over the course of the Seychelles Cuisine series we will bring you a range of recipes and dishes to try out at home and see if you can create a bit of the Seychelles before coming out! Keep an eye out over the next few posts for recipes on:
Pumpkin and salted pork fricassee
Chili Sauce
Coconut curry
Mango Salad
Golden Apple chutney
Banana and coconut milk dessert
See you all soon!