As I packed my rucksack and prepared to leave my 9-5 corporate job behind to volunteer in Fiji, the only thing on my mind was that I was travelling to paradise.
I had decided to leave my job in London and volunteer on a community development project on the other side of the world. I knew that I would be spending time within the community, what I did not expect was to be completely immersed in rural Fijian living.
After landing in Suva, the capital of Fiji, myself and three other very jet lagged volunteers travelled the 2 hours along rocky dirt roads, to arrive in the picturesque village of Silana, Dawasamu. The ocean views were completely breath-taking!
In traditional Fijian culture, any newcomers to a village must attend a welcome ceremony called a Sevusevu with the chief of the village and drink the traditional kava. Kava was passed around in a small bowl called a bilo and is presented to each new volunteer as part of the ceremony. It was definitely an acquired taste.
We were then introduced to our host families who we would spend some of our time with whilst in Dawasamu. My adoptive family were fabulous and made me feel so very welcome. My mum even weaved me a mat out of local leaves and wrote mine and my brothers name on it. On Sundays after church, I would have lunch with my family with people always telling me to "Eat like a Fijian!". I always needed a long snooze in the hammock at base after lunch.
Weekdays were spent volunteering on the health project which meant I was able to work with the District Nurse and the local Community Health Workers. Nurse La looks after 14 villages in the district of Dawasamu and always brought a smile to our faces when we went to help with her preventative health workshops. Our time was spent working at the nurses station and travelling to other villages to hold talks about common issues. There was always plenty of tea to keep us going throughout the day.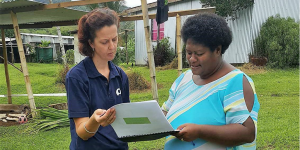 Our weekends were spent visiting waterfalls, travelling to nearby islands and enjoying the beautiful scenery. Fiji is made up of 300 islands and the marine life is some of the best in the world, so the snorkelling was incredible, even when the fish did bite our toes. The waterfall is a hidden gem and some of the boys from the village helped us find our way through the mountains to get there. After a long day at work, jumping into the cool water was just what we all needed.
One month went by in a blink and once my time had come to an end, I was not ready to leave this gorgeous country. On our last night we had our leaving ceremony called a Tatau involving, you guessed it, more kava. We sat with our families, fellow volunteers and the rest of the village, shared kava and danced into the night. The final minutes before we left the village were spent being sung to by the village. The song is called Issa Lei and I challenge anyone to come away without crying, it is a real tearjerker.
In my time spent volunteering in Fiji, I was so privileged to meet and live within the village of Silana. I was welcomed into a family for life and made memories I will never forget.