Even a month and a half into my time here I still find myself doing new things all the time. Last week we were surprised with a project assisting the rangers in cutting back the invasive vegetation along the south side of Curieuse. In an effort to accommodate the Seychelles Paradise Fly Catcher (an endemic bird species hoped to be introduced to Curieuse in 2018) native plant species have been brought over that will encourage the bird's population to thrive. To assist the endemic flora in flourishing on the island, a large effort is being put forward to cut back invasive vegetation to clear space both on the ground and in the canopy.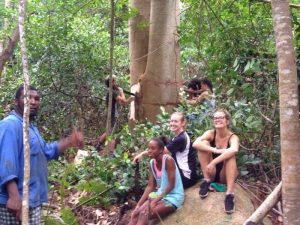 We set out in the morning with the task of 'ring-barking' a species of invasive trees called Albizia. By stripping away the bark, we prevent the water from travelling up the tree, killing it completely within about 3 months. After turning a stunning shade of white, the trees will fall apart bit by bit, leaving open space in the canopy to allow native vegetation to grow in to. Led by two rangers, we were instructed in the process of cutting away a ring of bark from the trees with a machete. As is typical, they made it look like a simple and fast process, ring barking the first tree in under a minute. We soon learned though that it was simply their expertise as locals that allowed them to do it so quickly and efficiently. All of our first attempts took us upwards of five minutes, as we painstakingly chopped, scraped and hacked the bark off around the entire tree. We picked up the art of it quickly though, and by our third tree we were peeling the bark off in one long, satisfying strip. The morning turned into one of games, seeing who could manage to get the longest strip, fastest time, or make the most functional outfit from the bark pieces. It hardly seemed like work at all as we powered through the trees at a surprisingly fast rate. The combination of swinging machetes, maneuvering our way through the decaying, steep and rocky forest floor (which regularly gave way under our feet), and working alongside the rangers in an important conservation effort made it one of the most fun mornings I've had during my time here.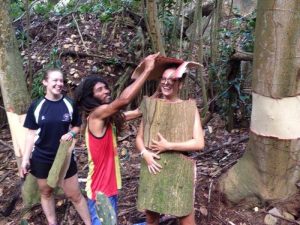 In three months time, the volunteers here will see a canopy scattered with white trees, and six months after that, a green canopy again, filled with endemic vegetation, growing from the nutrients of the decaying Albizia trees on the forest floor. Contributing to a conservation project first hand like I was privileged to do with the ring-barking is far more satisfying than I ever could have expected, and that was more than worth the extremely sore machete-swinging arms we all suffered the next day.