Having completed a two month internship on Curieuse last August I decided to return this month as a volunteer – why? To coincide better with the height of both the turtle nesting season and the lemon shark pupping season.  Although last year gave me the opportunity to take part in the full range of surveys that take place on Curieuse I was unfortunately too early in the year to achieve my ultimate aim – to see a turtle successfully nest on one of the beaches.
Despite it being 14 months since leaving last time it has felt like I have never been away.  In the three working days since orientation weekend I have been reminded what it feels like to stumble out of bed at 4.30am, get ready by headtorch and get weary muscles working in order to carry ourselves and all the kit up and over the hill to the boardwalk where the lemon shark survey takes place.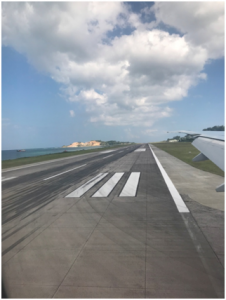 I have also had a day on duty, cooking for the staff and volunteers and making sure the base is clean and tidy for everyone to enjoy on return from survey.  This is when I'm glad this group is small with only six volunteers – a lot easier than cooking for a group of 18!
Talking of volunteers, another month on Curieuse means another chance to make new friends, meet like minded people and have a lot of fun in the process! Living on an island in the middle of the Indian Ocean with amazing marine life on your doorstep also makes time fly by!
There are also a few new projects either recently started or in the pipeline which promise to make the next couple of years on Curieuse exciting times.  Maybe another trip back in a year or two could be on the cards?  For the next few days let's hope for some turtle activity!