Talking about beautiful experiences
Life in Quepos can be a beautiful experience to have. Every morning, the best alarm clock is the Scarlet Macaws flying over the house saying good morning to everyone.
If you take the time to see them, they are beautiful and bright birds that travel together, boasting their colorful feathers, flying around the surroundings of Quepos. Here in Quepos there is an organization that has contributed enormously to aid in their recovery, and it is a pleasure to get the opportunity to work, at times, together.  Ana María from Asomacao, does a great job conserving and recovering Macaows in the country, and we have great admiration and affection for her.
If you are a nature and animal lover, you will be happy to know that we often see different birds all around. It is common to see woodpeckers, Ibises, different types of herons, eagles and many other birds that sing here and there, calling to each other which can be a nice surprise as we live in an urban environment. You will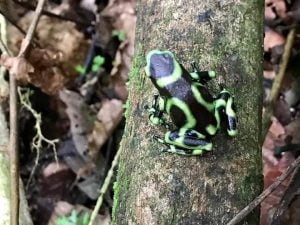 also see squirrels that like to walk along the cables and trees around the town. Sometimes they try to be sneaky and get into the house, attempting to eat our base dog's (Padme) food. She likes to share her food with other animals, but she has no time for sneaky and pesky squirrels.
During the rainy season you can hear the calling of different frogs and toads every night looking to find a partner, sometimes they go to the house and rooms to say hello but do not mind them. They are just exploring and curious, as we all are.
Every day is different, even if we are amongst the same people, cooking, dancing, doing cultural nights, there is always an opportunity to learn more about each other.
During the lesson planning you will discover all kinds of personalities, the creative ones, the logistical ones, the artistic ones, the entertainers, etc. The best moments are when we all come together as a team, and discover that we are able to create beautiful, productive and fun classes for children and adults.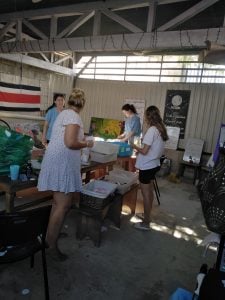 One of my favorite scenes in the Hub is when everyone is in the meeting area helping each other, preparing the activities for Childcare and developing the English classes. It is a rain of color, materials, laughter and talking for hours without stopping.
Going to the project is wonderful. It all starts from the majestic settings being close to the sea in the Community Center, as well as arriving to enjoy the children and adults who participate in the program.
Children in Childcare are of the ages between 4 and 12 and the combination of them during activities makes it challenging, but at the same time incredibly rewarding and adventurous to work with them daily. They are so lovely, and their personalities will give you a unique experience.
The English teaching program is interesting because you will be able to work with people, both young and old. All of them with a keen desire to learn English, which in turn, helps to improve their quality of life by giving them opportunities they may not have had without English. All the students are incredibly enthusiastic and teaching them is truly motivating and inspiring.
Every night when our day's adventures are over and we can share our experiences over dinner, it is delightful. It is like being in our own GVI family, saying our high and low points of the day, taking the time to listen to each other without normal distractions and recalling all the good moments that have been experienced during the day.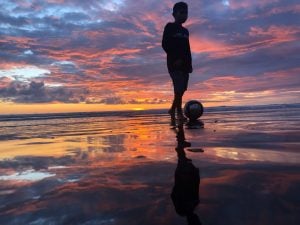 During the dinner, the chats may often be based around curiosities or stories of some of the children that day, advances that were made in the program, or volunteer's experiences like watching a magnificent sunset in Cocal.
Every night there are different things to do that are organized by volunteers and staff members like trivia, cultural nights, game nights or even salsa lessons. Also, if you like to look at the sky, the night sky here is
clear and full of stars. You can take them all in and reflect on your day in one of our hammocks while enjoying the fresh air
on our rooftop.
Every moment here can help you see the world in a different way, and not only because you will see exuberant flora and fauna, it is because you will be able to meet people from different parts of the world, with diverse experiences. Living the culture of a place as warm as Costa Rica, not only because of the weather, but because of the people. The fact that you have the opportunity to value the living conditions that exist here and at home, will simply lead you to have a significant experience in this in this beautiful land.