Q&As with South African Community Members: Community and Volunteering
It's always fantastic to hear from so many volunteers across the globe about what their experience of volunteering in South Africa has been like. However, we thought it would also be great to hear from some South African community members. Below you will find a series of questions and answers with South Africans who live in Cape Town, covering their thoughts on what community means to them, and their views on community projects and volunteering.
What does community mean to you?
– "Having a community means being there for each other. I believe in the spirit of Ubuntu (togetherness)"
– "A community is almost like an extended family; you can always go to them for help and they can always come to you for help"
– "My community means everything. It is a hub for talent; it means opportunities"
– "My community is important to me because at times of struggle people stand together"
– "Community to me is a group of people who know and understand each and care for each other"
– "Community to me is a group of people that care about one another; it's people that care about each other enough to create a system of love and support for one another"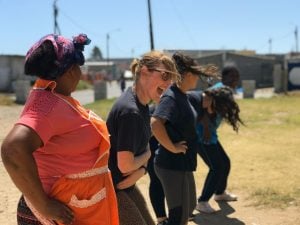 What is your favourite thing about your community?
– "As much as we may have problems, we enjoy the simple things. We may not have big things, but we enjoy the simple things we have"
– "My favourite thing about my community is the eagerness to improve and learn, especially in the younger generation"
– "Knowing that when you need help you can go to a neighbour and your neighbours will always help you"
– "Having everything you and everyone you care about so close to you"
– "The way in which we show up for each other and show support"
Why are community projects and community development important?
– "They are important because they assist the community and individuals in reaching their goals, and/or becoming a better person. They help with keeping children and young people away from trouble and equip them with skills"
– "Community projects are important because they give people a second chance, especially older students who have failed exams and feel they have no hope. So, when you bring a project that has certifications, such as computer literacy, this can completely change people's lives because they can put something on their CV. These projects are very, very important"
– "Community projects and development is important because it provides the foundation a city builds off to improve the lives of its citizens. It creates strong and diverse communities that are able to start to grow businesses and overcome issues that arise"
– "Community projects help uplift a lot of people in the community and that changes lives for the better"
– "I know from my experience that they can bring in different perspectives and ideas that we as a community don't always see and that helps us. Also, it can help bring peace because communities can sometimes disagree, and it helps brings another perspective and helps bring communities together and achieve calm"
– "Without community projects and upliftment programs I think a lot of people would feel they are not cared for and that feeling usually leaves people feeling lost with no purpose and this can result in them doing bad things"
What are your views on international volunteers volunteering in communities?
– "It's a very touching experience meeting people from different parts of the world who are willing to come to help out in the community, it's something that positively impacts people and it has definitely had a good impact on me as well"
– "They are doing a great job with helping to empower marginalized communities"
– "It is very good; it is good that international projects have their own mandates and go directly on the ground to the people that need them and are not held back or hindered like some government projects. International volunteers want to see results of what is being done which is good"
– "If they can integrate into the community then I think it's brilliant, because they bring a desire to try and help and to try and understand the work needed in the community. I've been involved with international volunteer projects and the co-learning that happens is great in learning from each other. The passion and the energy that they bring at times when everyone has lost hope is so valuable"
– "I think it's great that people would be willing to volunteer their time. The volunteers offer the communities a varying degree of skills that the communities can benefit from i.e. introducing ideas to the community that can improve their standard of living"
– "I've always seen foreigners helping out since I was a child and I feel it's good to teach South Africans that there are other people in the world that are willing to help"
Hopefully, you have found it interesting hearing from local community members; if so, then be sure to look out for other upcoming blogs featuring more questions with South African's covering their views on challenges and achievements in South Africa, as well as their recommendations of what to see and taste whilst in South Africa!
If you would like to learn more about the community projects that GVI runs in Cape Town, feel free to check out some of our programs: https://www.gvi.co.uk/location/cape-town/