Anyone who visits a local store or market will understand why Thailand is one of the world's largest consumers of plastic. Drinking bottled water is the norm, and each purchase is accompanied by the offer of countless plastic bags and straws. Government figures show that the country uses 4.4 billion plastic bottles and 7.3 billion plastic bags per year, and about 1.03 million tonnes of this waste ends up in the ocean each year.  
The world's oceans are clogged with plastic debris, enough to place five grocery bags full of plastic trash on every foot of every nation's coastline around the globe. The plastic debris found on ocean floors ranges from shopping bags, bottles, toys, food wrappers and fishing gear to cigarette filters, sunglasses, buckets and toilet seats. Thailand comes in at sixth place in the top 10 countries that have been mismanaging their plastic waste, which has resulted in plastic debris sinking to the bottom of the sea along its coastlines.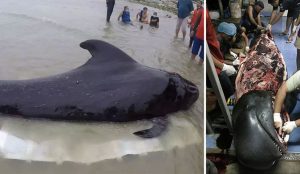 In May 2018, a juvenile pilot whale in southern Thailand beached and died. An autopsy revealed the whale had consumed 80 plastic bags weighing eight kilograms. Experts have been sounding an alarm over the past few years about how plastic pollution is killing huge numbers of seabirds, marine mammals, sea turtles and other creatures and also adversely affecting ocean ecosystems, and indeed we are so clearly able to see the effects of all this pollution each time we track out into the sands to do a beach clean.
Here at GVI Phang Nga, we aim to improve the sustainable impact of our base by following the 3 Rs – Reduce, Reuse, and Recycle. Eliminating the use of single-use items reduces the amount of waste generated over-all, meaning there is less to reuse and recycle. Volunteers on base have made, supplied and promoted the use of reusable bags within the village of Ban Nam Khem to support this aim.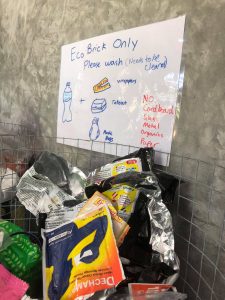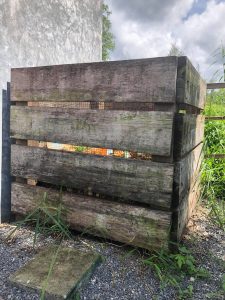 To reuse plastic waste, volunteers save all of our non-biodegradable material to pack into plastic bottles to a set density to create EcoBricks, a reusable building block material that will be used to build furniture or other structures in the future. The children at the local school also had fun making EcoBricks in one of our weekly environment-themed lessons. Biodegradable material is turned into rich fertiliser in the base compost heap.
Finally, all remaining recyclable waste is segregated in one of our home-made wire dustbins, that have been distributed around the village to collect glass bottles, cans and other plastic waste, where it is collected by the local recyclable waste collector who goes on to sell this waste to a recycling centre.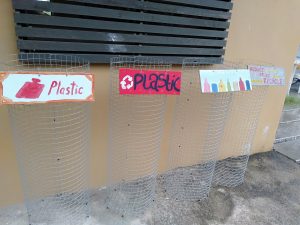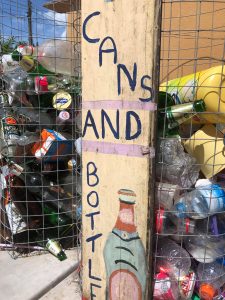 We are always looking for new ways to contribute to the UN Sustainable Development Goal of Sustainable Cities and Communities, by encouraging and facilitating recycling amongst our neighbours and the partners we work with, whether at the CDC or at the Turtle Conservancy at the Navy Base.     
For more information on building eco-bricks, click here!