A few words from our staff in Nepal
As part of understanding the recent GVI Impact and Ethics report, our local staff, Bibek, Sita and Rhythm, sat down and wrote their own reflections on what the report made them think about. It's a fabulous first attempt at blog writing and reflection, skills which the staff here love to practise.
Construction
Hi it's me Bibek from GVI Pokhara Nepal. I'm the construction supervisor and community liaison officer.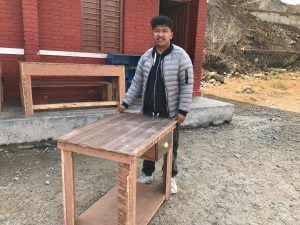 I have been working with this company since 4 years, I'd like to explain a lot of what I do but I'll keep it short. When I joined GVI at that time I was blank about construction and community liaison. But this company taught me to never give up until you learn. Because of that now I had learnt a lot of new skills, which helped me to supervise others in construction, and work closely with my community. In getting these skills it has helped a lot of progress in the community. I've helped to build walls, music halls, desks, storage bench, all things. It's made me proud and seeing the report I feel more proud knowing what other staff like me are doing. We are all working together even though we aren't in same community. It's not the end for me and seeing these things makes me want to work harder and get better ideas from other GVI sites. I want to keep learning a lot more. Thank you so much for inspiring me and inspiring the whole world. – Bibek Gurung
Education
In the previous I used to work in a travel business enterprise here in Pokhara, Nepal where GVI is a local travel partner that's how I get to recognize GVI. From very start and I was so impressed by the work that GVI do for the community and I desired to be the person that can assist my own community. I got the offer to work with GVI as a teaching coordinator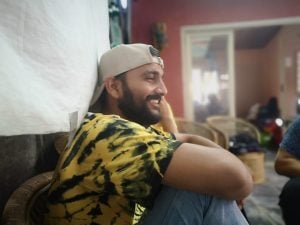 last year which was my wish. From the currently released 'impact and ethic report' I found so many examples of the impactful project and the truescale of the reach and impact that we (GVI) neighbourhood had been having.
As I referred to I have been fortunate to be the part of education coordinator in GVI's Nepal base. And my major focus has been assisting the school in teaching and managing the volunteers in the project. GVI Nepal's task is primary focused in instructing whether its construction, childcare, women's empowerment or healthcare. Our construction main focus is to assist to improve the environment to the school by way of painting the school, making new bench, desk, white board etc., where students get proper environment to learn. Then when we are working in the schools, the environments are better for their learning. GVI's goal and ethos of growing ethically and impactful ways of working is carefully linked to the UN's sustainable development goals. In my view this sort of partnership with a community links to SDG 4. In our education programme we help to create the surroundings and encourage the youth which can have such a vast effect on how they learn and their lives. – Rhythm Gautam
Women's Empowerment
Education is highly valued here in Nepal, especially English as it is a tourism run country. Speaking English is a way of life here, which gives those who speak it more opportunities, autonomy, freedom and respect. My notion to help people as a social worker becomes true when I integrated with GVI over a year ago. Since then I have been working in the Women's Empowerment program as the coordinator. On reacting with the recently released impact and ethics report I conjured many illustrations of the impactful projects, which have the true scale of showing that we as members of the GVI community have been doing.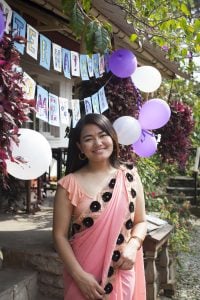 As a Women's Empowerment coordinator my focus has been to help empower many local women and young girls supported by volunteers. The volunteers are from different parts of the world, and share their individual ideas which have a positive effect on our work. Our main approach is to teach English. In our lessons we include speaking, reading and writing. The kinship between volunteers and community women is always special and the consequences of forming these bonds significant/ our English classes give the women a sense of achievement, hope, social connection and interaction, quality English education. This leads to increase confidence and self-worth, which links very closely to SDG 4.
The women who have ambition to learn English so they could use this to improve their current lives. The women's family give support for them to go to lessons which makes them feel encouraged. Some women have aspirations to go abroad, or work locally in the tourism industry. Our contributions align with UNSDG 8 help them to work towards this. Knowing about these things in the report and seeing all the other things GVI has done made the women feel proud and even more inspired. They felt so proud to be part of such big community of 66,000 people, they couldn't believe and sat watching me so closely as I explained the report. They always say thank you to GVI for giving them the opportunity which is so highly valued in Nepali culture. – Sita Thapa