Cambodia is well known for its frequency of national holidays, with a grand number of 28 public holiday days! This makes Cambodia the country with the most national holidays a year. One of the biggest, most extravagant holidays that stretches over a three-day period is Khmer New Year.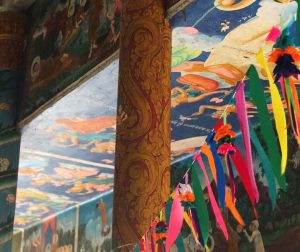 The Khmer New Year celebrations start on either the 13th or 14th of April, this depends on whichever date coincides with the end of the harvesting season and an ancient horoscope called "Maha Sangkran". The event is celebrated throughout all of Cambodia and is deeply rooted within Buddhism; it is a precious time for the Cambodian people to gather with family, friends, and their communities. For each of the three days, there are different traditions that take place.
Day one: Maha Songkran
On this day, Cambodians will dress in fine clothes and will visit family shrines with equipped with candles and incense to burn. They will then thank Buddha by bowing to the ground three consecutive times in front of his image, this is a thank you for all his teachings. There is a tradition that the Khmer people follow that is said to bring good luck on this day; it involves washing their faces with holy water in the morning, their chests at noon, and their feet in the evening just before going to sleep. Families will leave offerings outside their houses; these offerings will consist of fruit. The reason behind these offerings is that it is believed the gods will collect the nourishment from the fruits, and following this will give their blessings to the home.
Day two: Virak Vanabat
On the second day, Cambodians will visit their families and give gifts to their parents. This is also a time for relatives to have lunch together and visit local areas, this is to spend and appreciate quality time together. What also happens on this day that significant recognition to the poor is given, through charity and donations. A special dedication ceremony is performed for family ancestors at a monastery.
Day three: Vearak Loeng Sak
On the last day of Khmer New Year, Cambodians will bathe the statues of Buddha as well as their parents and grandparents. This isn't carried out with normal water, but water blessed by the monks. This act of bathing with blessed water, is a way of respecting Buddha and parents; to bring parents and a long and healthy life, and to ask forgiveness for previous wrongdoings.
Celebrations in Cambodia
Throughout the Khmer New Year, all over the country cities, towns, and villages will be engaged in celebration! It's worth bearing in mind that many cities will be pretty deserted due to Cambodians travelling to their homes to spend time with their families. Although, in the capital of Phnom Penh and the city of Siem Reap the festivities will be in full swing. In Phnom Penh, crowds gather at Wat Phnom to play traditional games, watch traditional performances, and partake in what might seem strange but exciting nonetheless… throwing talcum powder over each other!
In Siem Reap, the city uses its close proximity to the world-famous Angkor Wat. All around the temples of Angkor, there are exhibitions of traditional games, dancing, and martial arts! Then of course, in the city area known as the Pub Street District, there are continuous street parties lasting for several nights.
Khmer New Year is a special time for Cambodian people. Cambodians are extremely welcoming and express great joy in sharing their culture with foreigners, this means that Khmer New Year is celebrated by both locals and foreigners alike. Travel to local pagodas, check out the big cities, and get stuck into the celebrations with the Cambodian people for an incredibly memorable and life-changing experience.