Tortuguero National Park includes 18 miles of protected beach between the Tortuguero River and the Jalova River. The tides here are strong enough to uproot vegetation and produce a powerful riptide. Unfortunately these tides also deposit large amounts of garbage on the beaches. I have seen all sorts of objects including sandals, toothbrushes and bleach bottles. This pollution is a serious threat to the various birds that visit this beach. Tortuguero National Park is also one of the biggest nesting sites for green turtles, making it even more important to clean the coastal area.
We recently travelled across the Jalova River mouth to help with a beach clean during the local fishing competition. It was inspiring to see so many of the local people working together with us to clean up part of the beach. We split into small teams and quickly filled around a dozen large bags with garbage. It was unsettling to see how much trash we had gathered, considering we had cleaned less than 200 meters of beach. Despite the fact that we were picking up garbage under the hot sun, we all greatly enjoyed the experience. It felt like a special privilege to be included in this local event and to help clean the beaches. Many of the people were eager to talk to us and to take numerous pictures. We even did an interview for them to talk about the experience. It was also a great opportunity to try some of the local cuisine including ceviche and plantains.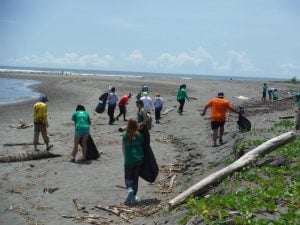 About a week after our experience across the river mouth, we spent one morning cleaning up a piece of our own beach. We spent a few hours cleaning up about 200 meter near our base. In the end, we had about five different bags of garbage. After hauling the garbage back to base, we decided to have some fun with it. Using a few pieces of duct tape and some string, we used the garbage to turn me in to a robot. Thankfully, nothing smelled bad but it was covered in sand. Everybody was very eager to find pieces that could be useful. A plastic pipe covered my arm, a toy car and baby doll were strapped to my knee, and I think I had a dog bowl on my head at one point. We took lots of pictures of the final product.
Despite the fact that we had such a fun time during both of our beach cleans, it is greatly saddening to see this amount of garbage in such a small area. If this much garbage is washing up on our beach, how much is washing up on shores everywhere else? Our several bags didn't even make a dent on our beaches, but it was a good place to start. We are out here to protect the animals from all threats, including pollution. And it is good to know we are not doing it alone. Having the support of the locals is amazing and I have good hope that these initiatives will inspire others to take similar action.