One of our promises on GVI projects is that you will improve your employability. That's why we take great pride in our internship programs. Not only will you gain experience in conservation, community development and leadership, you will also have the chance to put together your own leadership project – this can be anything you are interested in! Take a look at a few of our past interns and the projects they have completed whilst with us:
Spider database
Michiel Maesen noticed there was a large variety of spiders around the forests and village, and so went about creating a spider database so that future conservation interns could learn about these different species. He led 'spider hikes' where photos were taken of different spiders, followed by ID sessions at base to try and identify which species these spiders were, putting these into a presentation.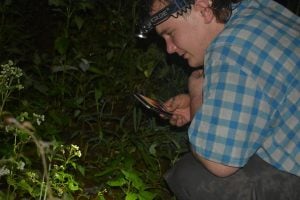 New kitchen
Cindel Delehedde's project was to build a new kitchen unit for our base, so it would be easier for us to prepare food. This involved drawing diagrams first, and liaising closely with the community members who were building it our of wood. In the mornings she led and directed the volunteers to assist with the smaller touches once the frame had been put together. Everyone was very grateful for this shiny new kitchen, especially as we often use it to prepare our 'Mahout Dinners'!
Afternoon data collection
In our elephant project, volunteers go out in the morning and collect data on the elephants' activities and behaviour. We have a lot of this data however Sophie Whipp wanted to find out if the activities the elephants displayed in the morning were the same as those displayed in the afternoon. Since it is hotter in the afternoon, she thought that the elephants may display more cooling behaviours such as dusting and drinking, rather than eating so much like they do in the morning. She planned a study where she would lead a hike in the afternoon similar to those we lead in the morning, and direct volunteers to collect this data, which was then analysed. This was a great project because her planning means that even now her internship has finished, the study can carry on with new interns and volunteers.
Ultimate Frisbee
Michael Dove-Smith is a bit of an ultimate frisbee expert, and his project was to run workshops designed to teach us the basics of the sport, before diving into a game to put them all into practice. Our volunteers loved this so much that this became a weekly event!
Up-cycling glass bottles
Long-term intern Barbara Briers hosted a number of sessions where volunteers had the opportunity to paint designs of their choice onto glass bottles. These glass bottles were then made into solar-powered lights that were hung around our base. A creative way to minimise our waste!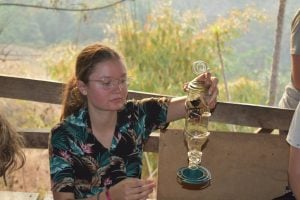 Conservation curriculum
Adelaide Connelly focused her project on developing a dedicated curriculum for the conservation classes we run at the local school. Her aim was to provide a library of lesson plans that can be used in future to teach children about nature and conservation. Topics covered included: predators/prey, animal habitats, nature and art, and even bird watching!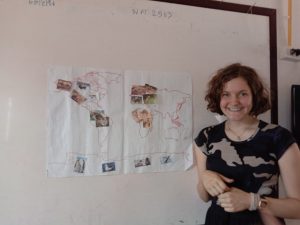 We love the variety that interns and volunteers bring, with their different skills, and they are always encouraged to share these with the group. Feel free to write in with your own experiences of doing a project and it may be featured on a blog post!