I'm a second-year student at Bournemouth University, as a student, one of my requirement was to do a work experience placement for 10 weeks over the first and second years. I decided to take my time abroad and look into conservation and the ways that different conservation issues are affecting the lives of different endangered animals.
I decided to take my travels to Greece in hope of working with the endangered loggerhead sea turtle. On the day I arrived I was welcomed by three of the GVI staff, Sebastian Hoefer, William Hayes and Alyssa Kirkham. It was a warm and friendly welcome making me feel part of the GVI family as soon as I landed. I went to find the rest of the volunteers and interns and met a few of the people I would be spending the next six weeks with.
Daily duties as an intern with turtles
Once we arrived in camp we were given dinner and told where our tents were and our routine for the next day, due to arriving late we were given our tour the next day and as soon as the roster was put up I saw I was on night survey. Although I was nervous, I was extremely excited and everyone showed me exactly what we had to do. We were told about the different surveys we would be helping on such as:
Morning survey

Nest
Relocation
Predation
Wash
Inundation

Night survey
Hatchlings on morning survey
Database
Shading
Nest check
Excavation
I was on Beach A South, where we saw seven turtles and tagged three. The first turtle I saw was amazed to see the fantastic creatures walk up the beach and dig an egg chamber and lay their eggs. Whilst they were laying we had to time how long the process took and measure the turtle and check it was in good health and then tag and pit tag the turtle, noting everything down in the night survey books. We then would add a string to the egg chamber ready for the people on morning survey to be able to find the egg chamber in the morning. We then paroled the beaches whilst looking at the stars, even spotting some shooting stars with the sound of the waves crashing against the shore accompanying us.
A few mornings after I was put on morning survey, this means we got up early to see if any eggs had been laid by nesting sea turtles in the night. On my first morning survey our leader, Helena Zepetes, ensured she talked me through each step of the morning survey, from finding the egg chamber, measuring the distance from the chamber to the top of the sand, getting the exact location using GPS, finding the distance to sea and how everything was supposed to be noted down in the morning survey book. This was helpful as I knew I had to lead one of these morning surveys for my internship in a few weeks to come! On this particular morning, we found six nests and had two relocations. It was fascinating to see my first nest and learn how we are helping to protect these endangered species. Finding my first nest chamber and feeling the "pop" of the nest is one of the most rewarding things to happen whilst on my trip.
Why I wanted to do an internship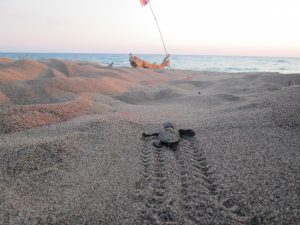 I decided to do an internship to help further my knowledge when looking into sea turtle conservation. This means that I had added work to complete such as making a presentation, leading an activity, and also leading a morning survey. I had to make sure I had written a risk assessment, EAP (Emergency Action Plan) I also had to look into Tuckerman's stages of development, SMARTstages, communication, and conflict. This made me look into the activities in further detail. My intern leader was Sebastian Hoefer and I couldn't have asked for a more friendly and dedicated person to help me whilst away. He ensured I was happy with the work but also that I was happy in camp and if there was anything I was struggling with or needed help with he would put his 100% dedication and effort into helping me. I would like to thank him for everything and for making everything unforgettable for me.
Favourite memories of my time with GVI
One of my favourite memories from Greece was being on morning survey, as I was helping lead the survey (before the real thing) and I was with my intern leader and some of the closest friends I have made on the trip. As we were walking along D south/ C one of the girls screamed "HATCHLINGS". We all ran over to see 13 tiny hatchlings the size of a matchbox crawling out of the nest. We helped shade them one by one down to the sea. Seeing the excitement on everyone's faces and the thrill of finally seeing a baby turtle brought joy into everyone's day, taking pictures and videos of how we were helping these tiny endangered species down to sea showed that all of our hard work had helped with protecting them! I have never ever had a prouder moment in my life.
After hatchlings, the morning surveys had started which meant that excavations had also begun. This happened 10 days after the eggs had hatched, we dug up the nest to look at hatchling success and to open the unhatched eggs to see why they were unable to hatch. This can be due to infection, worms, and many other reasons. Although the smell was horrendous, this was one of my favourite parts due to being able to see the science behind the unhatched eggs and finding hatchlings that were still trying to get to the sea and guiding them in the right direction. We also saw a rare albino turtle whilst doing an excavation. This was sad as due to it being deformed meaning it didn't live to get to the ocean.
Traveling in Greece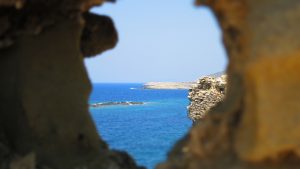 Whilst away we decided to travel to see different places in Greece and to discover the local culture and sample traditional Greek food. We traveled to Kalarnero, Kalamata, Kyprissia, Methoni, and Zakynthos. Wealso tried different Greek food such as Gyros, Greek Salad, and Souvlaki. This gave me different experiences of the Greek culture and way of life. We also visited small local shops in Giannasochori.
Personal growth
The range of different people that I shared my Greek experience with means I now know people from all over the world who are as passionate about conservation as I am, and I have made friends for life. It was an amazing experience which I never wanted to end and would recommend to anyone interested in this area. Thank you, my GVI family. I had a truly amazing 6 weeks living in a tent on a beach in Greece, learning so much about myself and the wonderful world around me.