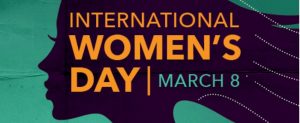 When you think of disadvantaged groups, who do you think of? Granted there are enormous amounts of groups throughout the world that are disadvantaged but one of the largest affected groups of discrimination in varying forms is women.
According to United Nations (UN) Women, one in three women the world over will experience sexual or physical violence, usually at the hands of someone they know. In response great women have fought for the right for women to live in safety in their communities as well as their right to suffrage, education, and economic freedom. In celebration of the achievements of women on economic, social, cultural and political fronts, March 8 has been marked as "International Women's Day".
International Women's Day was celebrated by the UN for the first time in 1975. As well as a celebration, which indeed it is; International Women's Day "marks a call to action for accelerating gender parity." This year the theme of this incredible day is "Women in the Changing World of Work: Planet 50-50 by 2030" Some of the main objectives to work towards by 2030 are the completion of primary and secondary education for all boys and girls; the elimination of all kinds of discrimination and violence against women and girls; and the eradication of destructive practices including child and forced marriage and female genital mutilation.
Here at the Global Vision International (GVI) India hub, that's what our team is working towards with our partners. GVI is working in accordance to the UN's Sustainable Development Goals, specifically its fifth and 17th goal of Gender Equality and Partnership for the Goals respectively. All who volunteer and support GVI India's projects are directly contributing to the universal push for gender equality. Those who come and join our team will be working with a variety of partners to get hands on experience in community development.
What will you do to work towards Planet 50-50 by 2030?
Reference List:
"Facts and figures: Ending violence against women". [n.d.]. Retrieved from the site: https://www.unwomen.org/en/what-we-do/ending-violence-against-women/facts-and-figures
"About international women's day (8 March)". [n.d.]. Retrieved from the site: https://www.internationalwomensday.com/About
"2017 Theme: Women in the changing world of work: Planet 50-50 by 2030". [n.d.]. Retrieved from the site: https://www.un.org/en/events/womensday/
"Special Casual Leave to women employees declared on International Women's Day". [n.d.]. Retrieved from the site://www.thehansindia.com/posts/index/Telangana/2017-03-07/Special-Casual-Leave-to-women-employees-declared-on-International-Womens-Day/285231