Yesterday I did a 'jagwalk' – this survey is a 15 mile walk on the beach (in crocs on soft sand) in the sun with temperatures of above 30°C – needless to say I take a great deal of pride in having completed it, not only because it was a great accomplishment of teamwork and endurance, but also because it was a valuable survey on the unique turtle-eating jaguars of Tortuguero. I have been at Jalova for a month now and everything I have done has given me a similar feeling of pride and accomplishment; simply put, my time here has been life changing. There is no way for anybody reading this to step into my shoes and understand my time here as I do, but I will try to give you some insight on Jalova from my perspective as a month-long volunteer.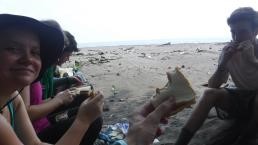 I'll begin with some consumer advice on the more tangible aspects which can be easily quantified in regarding a trip to Jalova as a holiday. Foremost is accommodation, which for me has been a pleasant shared dorm, with kitchen and bath facilities, all of which is located on the coast of the beautiful and secluded Tortuguero National Park: don't expect a five star hotel, we're here to take part in jungle, beach, and canal research as a Jalova volunteers, and not to be shown around as tourists by guides.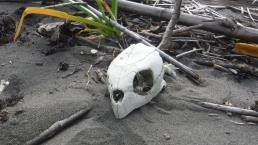 I previously completed an entire blog on the people I've met at Jalova, so here I will just say that they've felt like a family of entertaining and like-minded individuals. As for 'events and entertainment', it would be hard to put a price on the amount of time spent canoeing and hiking the jungle, or the education that's been provided by the experienced and engaging staff members. And the food? It's been awesome. Everybody here cooks with an emphasis on making exceptional meals for everyone.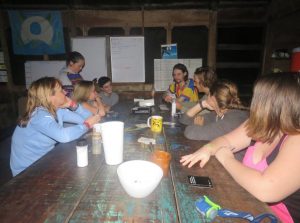 I literally couldn't list all of the incredible animals I have seen in my month here, so I'll give you a couple of highlights:
I first saw a great curassow in a zoo and thought they were a flightless bird – our legendary boat driver Jorge spotted one for us perched in a tree, and I saw it fly to another.
The forest came alive for ten minutes when our survey was interrupted by a herd of at least 25 white lipped peccary – the canopy was wild with bird calls and monkey howls until something big (perhaps a tapir or a jaguar)scared them away.
On a quiet and serene canal survey three neotropical river otters popped up and studied us not more than five meters away from the canoe – for five seconds we were in the presence of animals so shy and rare that a lot of the staff hadn't even seen them.
During a night walk (a survey where you walk up and down the beach without lights looking for nesting turtles) Thijs spotted a leatherback disguising a nest – we were even able to measure her before she returned to the sea.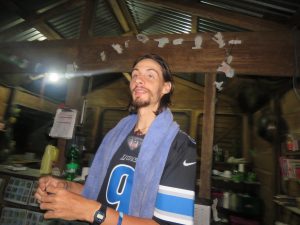 I will conclude with something a holiday cannot provide: the valuable Conservation experience and education you can gain here. I've been told that employers love to see voluntary work on a CV, but my month at Jalova has given me more than just a nice paragraph for my CV: it has given me the frame of mind that I can actually achieve whatever I set my mind to. This new frame of mind is of course something personal to me, and everyone will have a different experience, but based on my experience I would advise anybody thinking of volunteering to go for it and join the adventure.
GVI Jalova
Jake Modica (Ambassador)
28th of April, 2017