Northern Thailand at the start of the rainy season is something special. The landscape flourishes into vibrant shades of greens as the trees recover from the dry season. My stay was a brief two weeks but certainly a memorable one. During my second week I got the chance to dive straight into the spirit forest, accompanied by a villager and other volunteers, on a rainy night hike.
The forests truly become a different world at night. As soon as the sunsets and the intense heat of the day passes. The forest becomes alive with the sounds of the night. A large number of species found here are nocturnal. This means you have the best chance of spotting something exciting so get your wellies out, grab a head torch and head in to the awaiting forest after dark.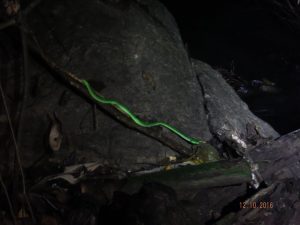 My expectations were high from other volunteers past experiences and the night did not disappoint. A mere few minutes into the forests line we came across our first find. Perched just a few feet away on a vine was what can only be described as a teeny tiny dragon. It was actually about a foot in length and probably has a more scientific name but it was very beautiful.
As we followed the worn forest trail deeper into the darkness, we reached a small river. We were told that it's a great spot to see fish, frogs, toads and rats. The bats often take advantage of the gap in the canopy above to hunt insects and in turn the snakes lurk in the low hanging trees waiting for their opportunity to strike. This is where, along with experienced biodiversity staff member Jina, I got to hold my first toad.
Just as we were walking along the river our guide Root, a local electrician and elephant mahout, spotted my first snake. It was just making its way down to ground level in hoping to catch a rodent or two. We were told that it wasn't a poisonous snake but we thought it best to let it slither off into the night. As we continued on our way we neared the edge of the forest before breaking out into the water filled rice paddies and cornfield. As my night hike came to an end we took the time to appreciate the vast expanse of the stars before making our way up to the village.
And there you have it a little taste of the abundance of wildlife that inhabits these remote forests of the North. A night hike is a great experience but not for those who are afraid of the dark and what may be lurking in the shadows.