Not sure what to do one the weekend but don't want to stay on base? Look no further than a quick travel guide for the curious and adventurous. There is a range of things to do on the weekends if you choose to stay on base or if you want to go explore new islands.
Staying on Curieuse is a popular decision and because we hike all around the island during the week sometimes people wonder if there are new places to explore. There are always new hikes to go on, if you're willing to do a little trail making of your own. Mount Curieuse is a common choice for a weekend hike for volunteers to do. Mount Curieuse is the tallest peak at a mere 172 meters above sea level. Set off in the morning with lots of water and maybe a packed lunch and you can get to the top before peak heat hits. Once on top you will have a 360 view. To the north you can see Aride and Booby Island. To the South you will be able to see Praslin, La Digue, St. Pierre, Petite soeur, Grande soeur, Coco Island, and Félicité. If you picked a clear day you may be able to see Mahé in the distance.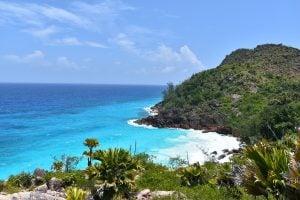 Fond Blanc is a good hike for the more adventurous. This beach is hidden on the north side of Curieuse and can only reached by hiking down a ravine through Coco de Mer trees. Not many people visit the beach which makes it that much more special though it also means that getting there can be more difficult, but the reward is worth it. Once you have bush wacked your way through coco plum and under Coco de Mer trees the path will open up to a beautiful untouched beach. The water here is crystal clear with a soft sandy floor. Sit on the rocks and enjoy a lunch and soak in your accomplishment of finding a beach few have had the privilege of getting to.
Some volunteers want to get off Curieuse and visit other islands. Praslin is easily accessible with many things to do on the weekend. Praslin is home to beautiful beaches and nature reserves. One of the most popular destinations is Anse Lazio. Rated the 6th best beach in the world by trip advisor this beach is accessible by taxis or bus for the more adventurous. Take the bus and you will see similar tourists packing into the bus with beach and snorkel gear in hand. The bus only takes you so far, so you have to hike up a hill that will put all your hard work from the weeks of hiking everyday on Curieuse to good use, passing all the other tourists. Once you get to the beach you will immediately understand why it is ranked 6th best beach in the world. The water is so clear is feels like you are in a pool. If you brought your snorkel gear you may be able to see some juvenile sea turtles if you're lucky. The beach has some restaurants behind the tree line that you can sit at and get a bite to eat or just a cool refreshing drink. Don't forget your sunscreen or you will come back to base looking like a lobster.
Praslin is also home to a number of nature reserves, the biggest being Fond Ferdinand. This nature reserve is six times larger than the world heritage site, Vallée de Mai, which volunteers visit on Praslin. This nature reserve has more endemic plants and animals that you can hike through and see. At the end of the path you will come out to a beautiful lookout point where you can see Curieuse, the sister islands, Coco Island, Round Island, Félicité and La Digue in one direction. Turn around and you can spot Frigate, Mahé, and Silhoutte Island.
If you have a long weekend you could go even further and hire a boat or take the ferry to La Digue. Unlike Praslin and Mahe, La Digue has few cars and most people get around by bike so you can rent bikes from your hotel and explore the island peddling around going beach hopping on your own two wheels. There are many beautiful beaches to visit. Grande Anse is one of the most popular beaches. Relax on the beach and enjoy a drink from a coconut or play in the waves.
Whatever you choose to do make sure you are enjoying your adventure and soaking up the Seychelles!