Original image: Houseplants In 2014 by F. D. Richards is licensed under CC BY-SA 2.0
If you're reading this, you've probably turned your living space around multiple times during your time at home. But finding that perfect balance between a living and working space just isn't easy, right? 
Well, there might be a solution to creating the perfect living and working space, one that includes a touch of nature to keep you connected to the outdoors. Let the outdoors into your home by decorating your most frequented spaces with houseplants.
The best part is that it's easy.
You might be wondering, "But, what's a plant going to do for me?" The answer is, it can do quite a lot. 
Plants have many benefits for the environment, and they can also add to your well-being. If you want to know how to work from home and stay feeling good, here's a list of how indoor houseplants can up your work from home experience.
1) Be more productive at work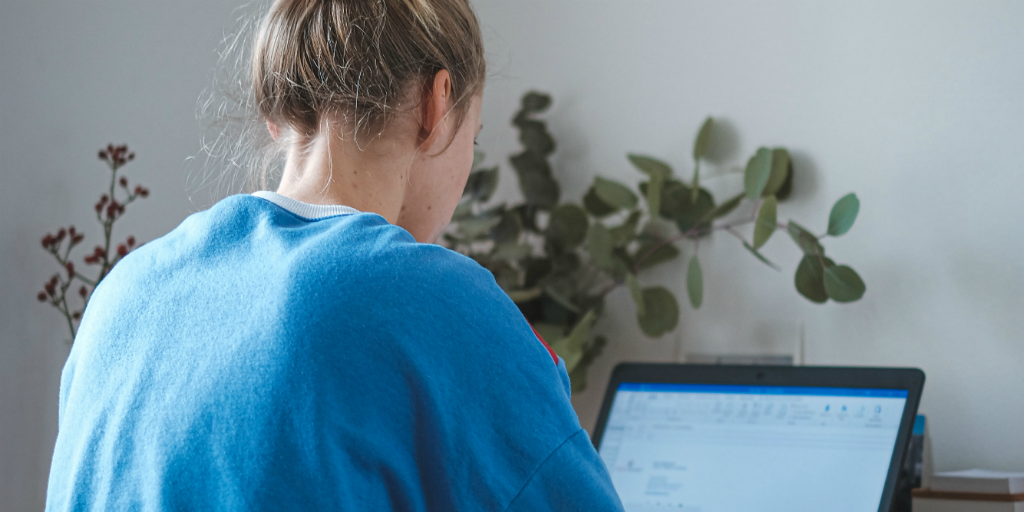 Original image: The young woman has a home office by Jan Baborák is licensed under CC BY-SA 2.0
For many people, our homes have become our offices too. And trying to move from relax-mode to work-mode can be very difficult if you're doing it all in one space.
Have you tried listening to calm music, but catch yourself yawning and wanting to sleep? Maybe you've turned up the volume and put on some rock music, but found that you can't keep track of your thoughts?
Well, there might be a simpler, less noisy solution. Plants can actually assist with your productivity while you work. 
Firstly, the green colour of plants sets the mood for a calm and tranquil space. Green reminds us of nature and the outdoors, and is even regarded as a soothing colour in colour psychology.
And, while a bare workspace might leave you feeling anxious because of the lack of aesthetic appeal, a plant can up the decor without cluttering the space. 
If you're spending hours on end in one spot, you need to make it comfortable and appealing. Pictures and posters might be too distracting, and might pull your attention away from your work.
But a plant – with its soothing colour, noiseless presence and good looks – is the perfect tool to get you in the zone.
2) Relieve stress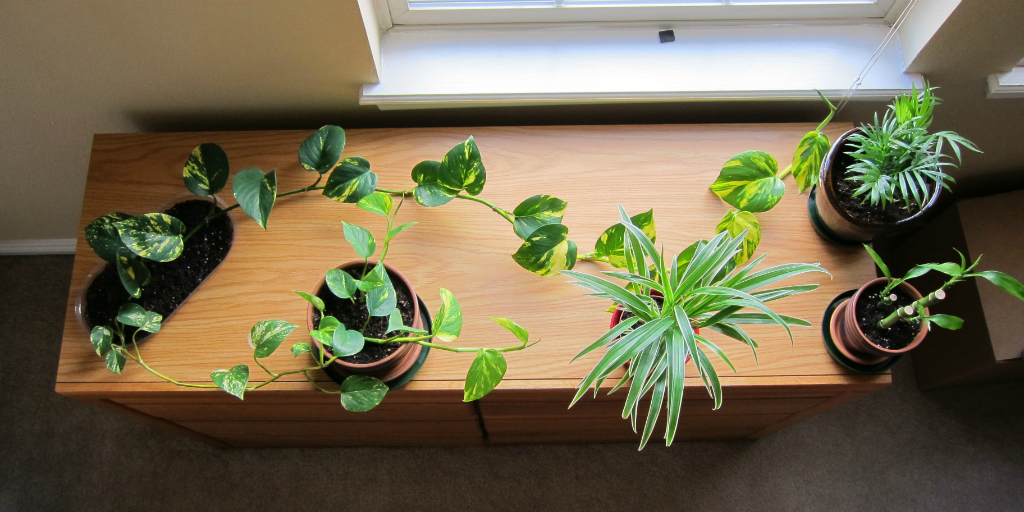 Original image: IMG_0686 by Phillip Stewart is licensed under CC BY-SA 2.0
Are you familiar with stress? That tense, worrisome, nervous feeling that can leave you on edge all day? Introducing plants might be a helpful tactic for you.
Since people worldwide have been spending a lot more time indoors, we rely on technology to keep us connected.
But, sometimes adapting to a completely online experience can be tough. It's important to stay connected to our family and friends, but it's also important to connect to nature. And you don't need to be outdoors to do this.
Did you know that plants have a physiological effect on us?
A group study done in 2015, shows how interacting with indoor plants can reduce stress by suppressing the part of the nervous system that activates the stress response. In this study, interacting with plants even proved to decrease blood pressure in the participants. 
You can read the study here.
3) Sleep better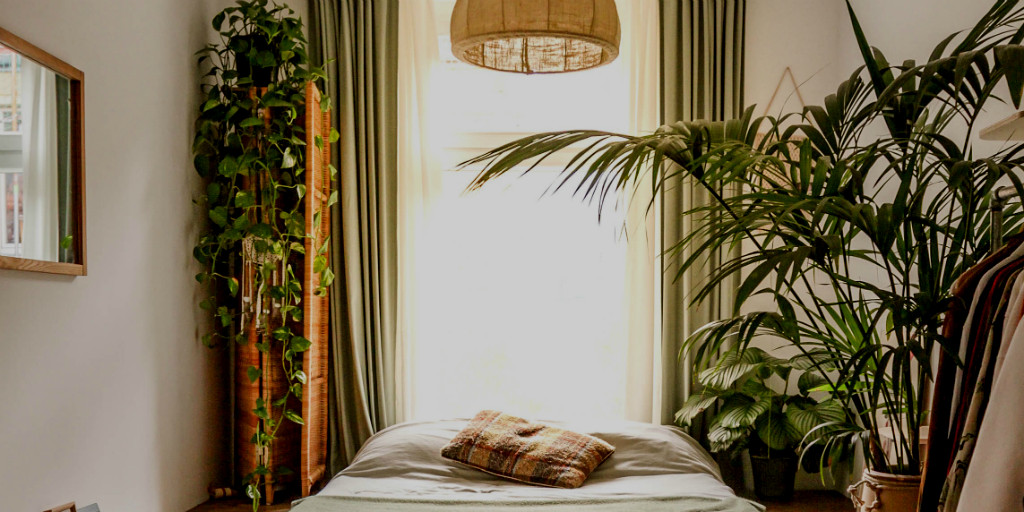 Original image: bedroom in berlin by Beazy is licensed under CC BY-SA 2.0
With all the extra time you have while you work from home, you'd think there's plenty of time to get a good night's rest, right?
But have you found yourself working more slowly? You might think you have all day to finish a task, but come bedtime, you're still trying to finish off everything you needed to. 
Well, that's completely normal. Working from home is something that you need to adapt to, and taking care of yourself is an important step.
Just because you have more time, doesn't mean you should overwork yourself. It's okay to rest up too. 
If you find yourself staying up at night worrying about the work you didn't finish, or dreaming about the day when you'll get to go back to the office environment, you're not alone.
Having a plant in your bedroom might be exactly what you need. Plants produce oxygen that helps you breathe better. So you can look forward to taking slow, deep breaths while you snooze peacefully. 
Pollen-free plants will also help you to have a sneeze-free snooze by increasing the humidity in the air, which means less aggravating dust and better sinuses. 
Here's a list of 18 plants that can improve your sleep.
4) Calm your mind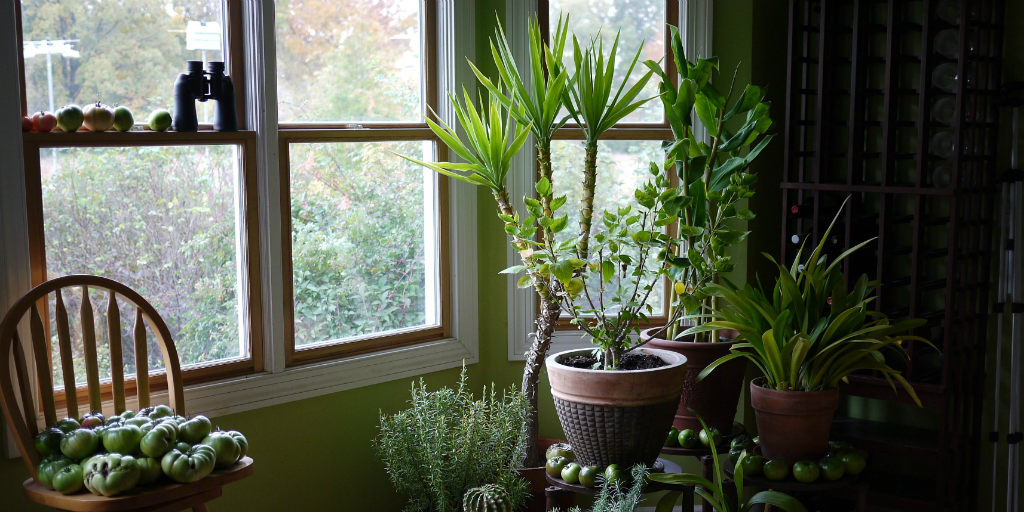 Original image: Houseplants by F. D. Richards is licensed under CC BY-SA 2.0
Sleep isn't the only self-care you need. Have you remembered to take care of your headspace during this time at home?
Beat the blues with some bushes.
We've spoken about reducing stress, but do you know what other psychological benefits plants have?
Taking care of plants is a noiseless job. Imagine yourself watering your favourite plants, enjoying the slow trickling of water coming to rest on the soil. 
How peaceful does that sound? Allocating time to water your plants every day (or as needed), can become a meditative routine for you. 
What's more, caring for a plant can be a rewarding activity. Spending time at home means you get to be there to watch the seedlings you nurture sprout and grow.
You will have something to be proud of, and you'll get to reap the benefits. The best part is that plants are less demanding than pets or people.
You can enjoy quiet time taking care of your plants, while they take care of your well-being in return.
5) Breathe better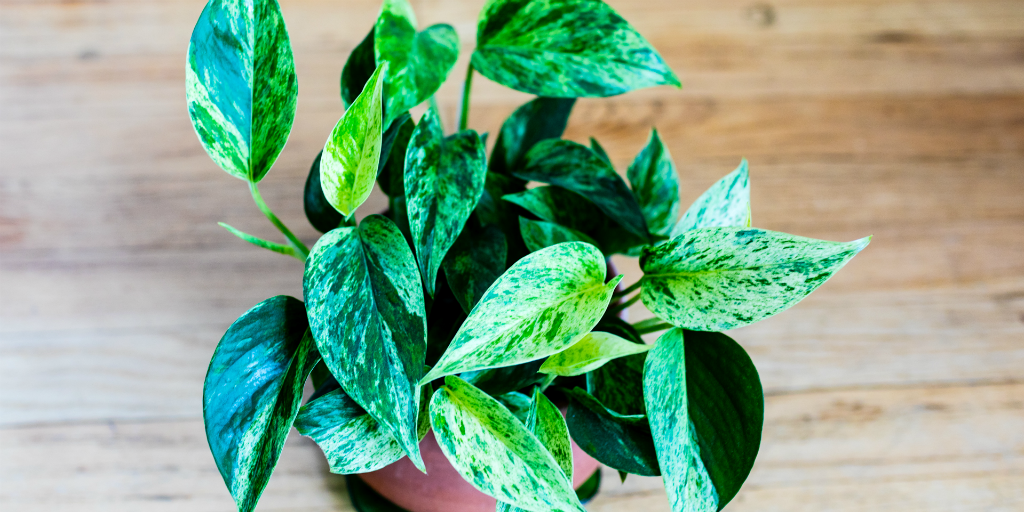 Original image: Variegated pothos by spurekar is licensed under CC BY-SA 2.0
Think about it, our air is never really clean. If you aren't filling the air with fumes from the burnt toast you had for breakfast, appliances like your gas stove might also be polluting the air.
But what does that have to do with plants?
Plants clean our air in two ways. They absorb carbon dioxide from the air, and they act as natural purifiers by absorbing toxins. 
Read this study on plants and toxins to find out more: Planting healthier indoor air.
Plants are good for more than just the aesthetic. Bring the outdoors in, and experience a better way to live and work from home. 
Now that you know more about the benefits of plants, are you excited to get back to the outdoors once you're ready? One of the best ways to surround yourself with nature, is to join a wildlife conservation program abroad. 
After all this time at home, you can experience nature at its finest by volunteering on a wildlife conservation program with GVI.
Zaytoen Domingo is a junior content writer for GVI, and an alum of the GVI Writing Academy. The Writing Academy is a skills-development program that pairs development editors with budding travel writers. Learn more about the program here.