After graduating from a temple school in Luang Prabang, novice monk, Valee Xiong, didn't know where life would take him. What he knew for sure was that he didn't want to commit to full monastic life, but finding a job to support himself, food, running water and accommodation outside the temple, wasn't easy. Luckily, he'd spent his school years working hard to perfect his language skills, now speaking six languages, and earned the role of translator and teacher with GVI, making him the first person in his family to secure a paying job. Today he uses his success to help his brothers, sisters, and wider community. Valee tells us the story of how he became who he is today.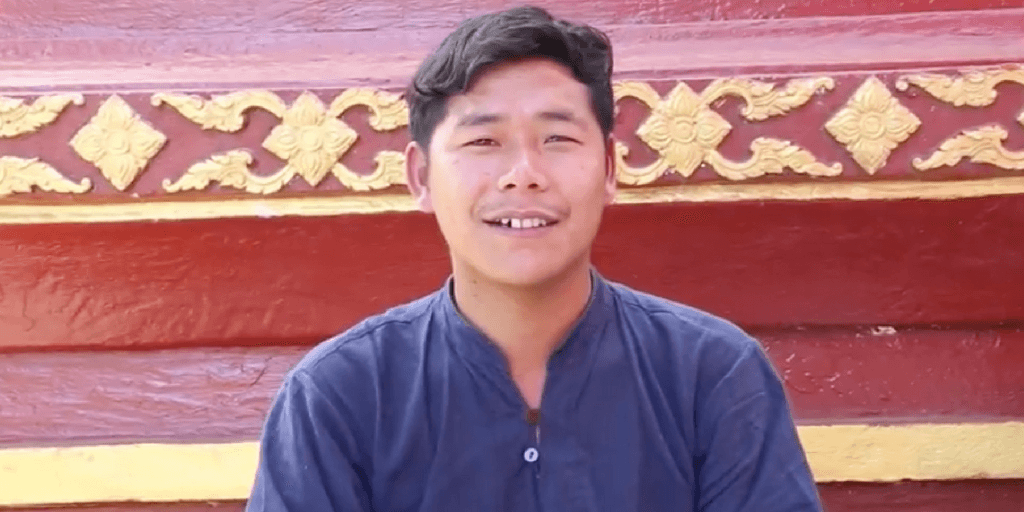 I grew up in a small village in the mountains of Northern Laos. About thirty families lived in the village and like many other people living in the Laos countryside, they weren't formally employed, but raised chickens and farmed rice in order to eat. It took about an hour's walk to get from our village to the farm. While the walk was arduous, it wasn't without its merits. Laos has a beautiful lush green landscape, and in the countryside, you get to really see that.
My village school offered only first and second Grade, so I had to travel to another village far away to continue schooling. First, I had to walk three to four hours down the mountain to a village called Hatsa on the Nam Ou River. In the rainy season, the journey was made all the more difficult and slower by the seeping mud that clung to your feet. There, I had to wait for a boat which would take me to Nong Khiaw where I studied Grades four and five at Primary School and Grade one at Secondary School.
As the journey from our village to Nong Khiaw took about four hours, my two brothers and I left the village to stay in a small hut in Nong Khiaw. We didn't have much money to buy food in Nong Khiaw so to eat we had to fetch rice from our parents in the village and bring it ourselves to Nong Khiaw. We also had to go into the forest to collect food and to cut wood to make a fire so that we could cook. Sometimes we would also go fishing at the river to catch food for dinner.
Further Reading: Read Our Founder's Story
After I graduated from Grade One at Secondary School my parents didn't know what to do. They had limited means because they were farmers, and also had to support my ten other siblings. They couldn't pay for us all to go to school.
My dad spoke to my cousin, who he knew became a novice in Luang Prabang. At the temple, food and lodgings are free and there is greater access to education and future opportunities in Luang Prabang. Afterward, my dad came home to speak to us. One of my older brothers said he didn't want to go to the temple school, but my other older brother, Vue, said he'd like to go. At the time, he wanted to join because he saw a friend of ours in Nong Khiaw who was a novice, had a phone and Vue wanted one too.
I didn't know what to do. I was very close to my mom. Often, when she walked to the farm to work I would walk with her and keep her company. My mom didn't want me to go because she didn't want to lose me, but my dad and my other brother said I should go to continue my studies. Finally, my mom acquiesced and that is how the decision was made — I was to become a novice.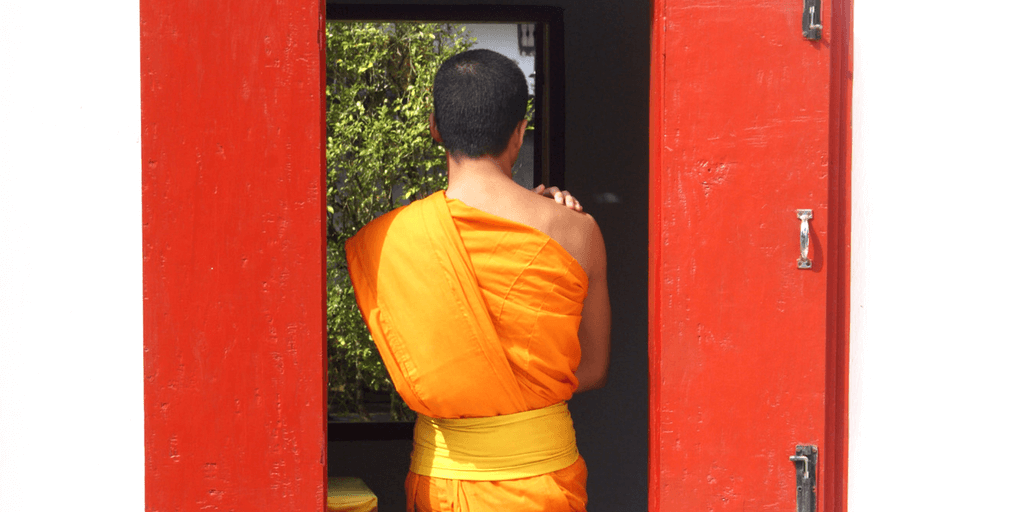 Now, a lot of people don't know this about Laos but here, there are many different cultures, other than Lao. My family is Hmong and so are all the people from my village. Traditionally there is a tense relationship between Hmong and Lao people. We have different languages and different religions. Hmong people speak Hmong and Lao people speak Lao. Hmong is a little bit like Chinese and Lao is similar to Thai. Hmong people are animist — They believe that animals, plants, rivers and everything else in nature have a unique spirit. When they need help with their problems they go to a medicine man or shaman, a spiritual leader who can connect people with these spirits. In my village, if someone got sick the family would go to the shaman to find out what was wrong. To get rid of the negative spirits and welcome the protective ones, the family would perform a ritual guided by the shaman. Lao culture is Buddhist and the people follow the teachings of the Buddha.
My native language and culture are Hmong, so when I took the three and a half hour bus ride from Nong Khiaw to Luang Prabang to become a novice, I had to learn to speak Lao and adopt Buddhist practices. While my feet and knees are still used to the long hours spent meditating and chanting in the temple, when I go to the market here in Luang Prabang I still sometimes have to ask people 'What do you call this or that in Lao?' because I've got the Hmong name stuck in my head.
I joined the temple in 2009. Life in the temple follows a strict schedule. We would wake up before dawn to meditate and then go to collect alms. Alms is where locals donate food to the novices and monks before dawn. The rest of the day was spent studying at monk school and extracurricular classes such as English. After lunchtime, both novices and monks would not eat until the next day in keeping with Buddha's doctrine of moderate living.
Further Reading: Who Was GVI's First Volunteer? Read Her Story
At the time I arrived in Luang Prabang, GVI had only a small presence in the city. I first came into contact with the volunteers in 2010 when they started teaching at my temple. I then joined their classes for novices at the Luang Prabang Library and eventually at Xayadeth college and the Mekong English Centre. Overall, I studied with GVI for 5 years. Learning English was challenging because both Hmong and Laos languages don't have the 's' sound in them while English can't exist without it. By listening to how the volunteers, who were mostly native English speakers, talk, I was able to perfect my listening skills. Practicing my English with them also helped me to develop my confidence. Later, a GVI volunteer actually sponsored some of my classes at a local English center.
The volunteers also shared many other skills, like computer competency, with us. Before they taught me about computers, I had never touched one in my entire life. Being able to speak English fluently and knowing how to use a computer are very valuable skills in Laos, as they are in many other places in the world. Tourism is becoming more popular here and having these skills makes it easier for locals to find a good job.
In July 2015, I graduated from monk high school and I just didn't know what to do. I wanted to go to university, but also wanted to use my English and gain more work experience. I knew I wanted to leave the temple, but I needed to get a place to stay first and to find accommodation. I needed a job so that I could pay the rent, but finding one wasn't easy. I asked the monks if I could stay at the temple for another two months so that I could find a job and save up some money. They were kind enough to say yes. I would eat after the monks and novices had all eaten and wash the dishes after meals.
Finally, I found a job as a night guard and auditor at a hotel, but it didn't pay much. I was still attending GVI English lessons at a local college and one day the manager of the GVI Luang Prabang project at the time asked me if I would like to become a GVI translator so that they could communicate better with the students. I said I would be happy to. I went through GVI's training on teaching and translating and then joined the GVI Staff team as a casual translator, using English, Lao, and Hmong on a daily basis. While I worked with them, I began to develop my skills as a translator and a teacher and found a passion for teaching and education in Laos.
My days were very busy back then. In the mornings, I would study at the college from 8:00 to 11:00 and after that I joined GVI to translate for younger students from 1:00 to 2:30. From 4:30 to 7:30, I would study Chinese and from 7:45 until 9:30 I would teach English to my friends. At 10, I would go to work at the hotel until early in the morning.
Further Reading: How Did A Young Marine Biologist Become Our CEO? Find Out
For two months, I worked like this and lost a lot of weight. My novice friends at the temple asked 'Why do you look so skinny? Are you are taking drugs?' I told them 'It's because I need to work to save up some money so that I can move out of the temple. You don't understand because you still live at the temple where everything is provided. I need money to pay for a place to stay, buy food, and fill up my bike with petrol so that I can get to my job.'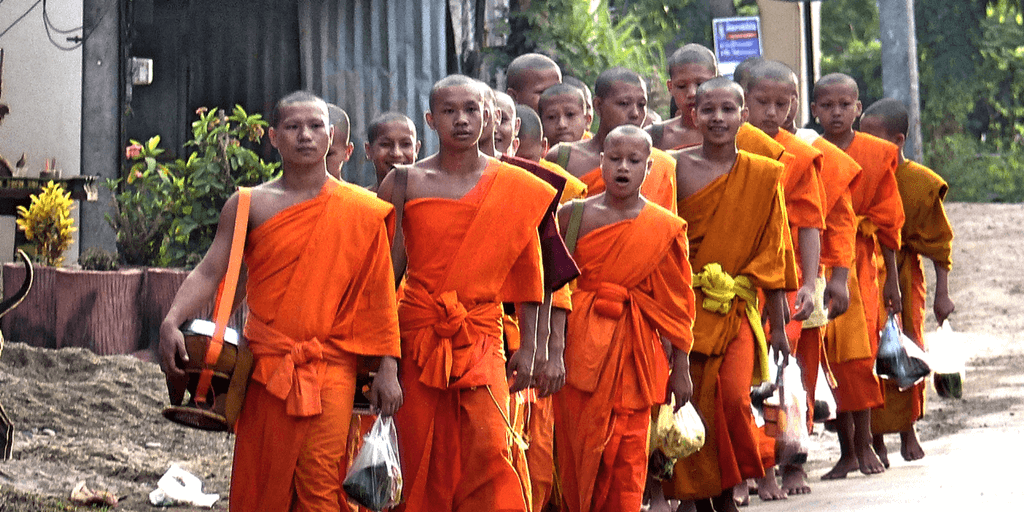 After two months, I saved up enough to rent a dorm with my cousin from the village. He paid half and I paid the other. We stayed together for maybe a year when our friend joined us so that we all paid a little less. For another year we shared this very small dorm room. Now I live with my wife in a small flat.
In October 2017, I was promoted and became the first full-time Lao Community Liaison with GVI. As well as teaching classes and translating with GVI at both temple schools and Women's Empowerment classes, I received training in working with foreigners and how to liaise between GVI and the local community. I also completed the GVI Introduction to TEFL training and studied to become First Aid certified with GVI. Now, in addition to teaching classes and translating everyday, I help develop and deliver workshops on topics such as gender equality. I teach Lao lessons to volunteers and staff and lead orientation walks, temple tours, and cultural experiences and gives culture talks on Buddhism, life as a novice monk and Hmong culture. I also help maintain our existing international and local partnerships and develop new ones. I love that I get to work with people from all over the world every day.
One of the most important things I learned is to be on time. People here in Laos aren't really that punctual, it's just not the culture. If they say they will arrive at 13:00 you can expect them to be there only at around 13:30. This often confuses foreigners, which means that time management is an important skill when working with tourists.
Further Reading: Watch The 20th Anniversary Film
I am now the first person in my family to be employed at an organization and earn a salary. Although my other brothers studied maths, after they graduated, they couldn't find a job. When I went home to my mom and told her, she was very happy. 'It's good that I let you go study,' she said. In June 2016, I bought my two younger brothers to Luang Prabang to become novices at the temple where I used to live, they are now studying at the monk school and they are learning English and computer skills with GVI too.
I also brought my younger sister, who is 14 years old, to live with me in Luang Prabang. Usually, Hmong girls who live in the countryside get married very early because parents don't have the funds to pay for their schooling and because of the local cultural beliefs around gender roles, but now I pay for my sister to go to school and take her to GVI classes so that she can have more options and opportunities in the future.
Perfecting my language skills in GVI classes helped shape my life. It helped me become who I am today. Now I am a person who gives back to the temples here in Luang Prabang, to the community in the city and in the countryside, and, of course, my own family.