Having been restricted by the travel constraints of the 2020 global pandemic, my ambitions to travel have only grown. As a recent graduate who's just secured a new job, I'm eager to see and experience more of the world before I settle down into my new role.
The COVID-19 pandemic has re-established my appreciation of being able to travel freely and to make a sustainable impact while doing so. 
Do these ambitions sound familiar to you, but you're unsure about where and how you can travel during COVID-19? If so, just like they have for me, GVI has the solution for you. Read on to hear about my experience with GVI. 

Where can I make a sustainable impact with GVI?
Like many, I initially feared that my travel ambitions would remain restricted by the COVID-19 pandemic. But then I read about the reopened volunteer and travel abroad opportunities on the GVI website, which gave me a glimmer of hope. And from that I decided to reach out to GVI directly. 
I soon learned from the enrolment managers that as countries start to relax restrictions, there will be a growing number of opportunities to make a sustainable impact. The GVI staff were just as enthusiastic as me to make my travel ambitions come true.
The opportunity to volunteer and travel with GVI that excited me most, and the one I'm getting ready to embark on, is volunteering for vital marine and terrestrial conservation efforts in Seychelles. 
Here, the GVI base is located on a white-sand beach on an island full of biodiversity and opportunities to help preserve vital island species. For me, the decision to join this program was settled after learning that the island's giant tortoise population exceeds the human population in the area! 
And as I count down the days till departure, I can't wait to meet them!
How does GVI make volunteering and travelling abroad safe?
It's only natural to feel nervous about travelling during a pandemic and just like you, I certainly had some reservations. But the guidance and support I received from the GVI staff removed my anxieties and enabled my decision to make an impact abroad.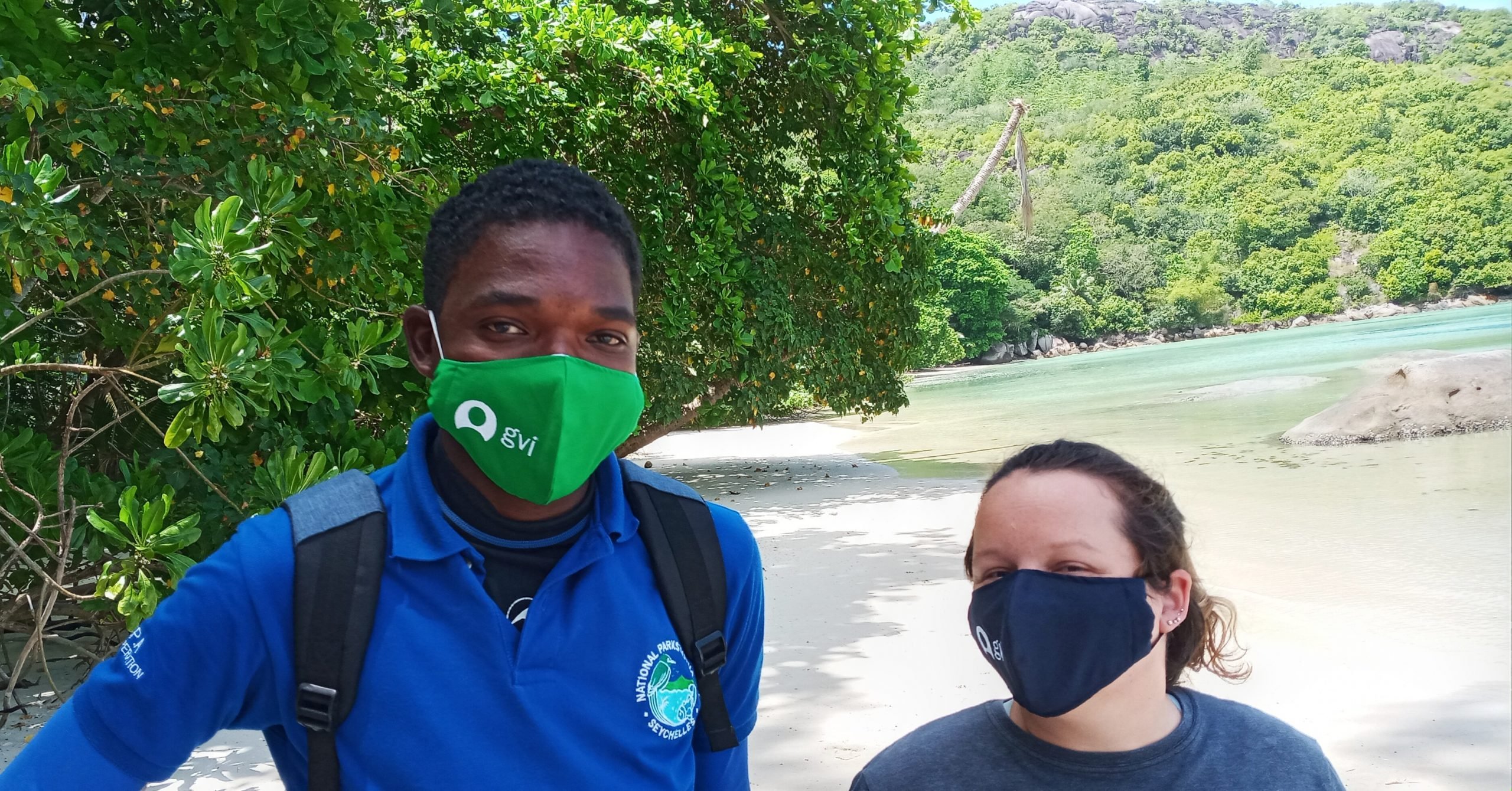 Some volunteers have already arrived at the GVI base in Seychelles and enrolment managers and support coordinators have been assigned to each volunteer. With the restarting of their operations, the GVI support team was able to provide me with updates on any necessary pre-travel requisites.
GVI's advice on travel insurance, further accommodation and necessary equipment was made simple by their expert knowledge, resources and contacts.
With this information, I feel reassured knowing that GVI has prioritised my health and safety, as well as that of my fellow volunteers. GVI has put appropriate measures into place, including COVID-19 packs for participants, relevant health and hygiene protocols, and has reduced group expeditions to limited amounts of participants.
The volunteers who have already arrived safely continue to share their experience during the island's sea turtle season and their surroundings looking even more beautiful in the bright Seychelles sunshine. I'll be keeping a keen eye on their updates as I safely quarantine in Seychelles before my project, with this view!