Why am I here?
Having spent the last 30 years bringing up 3 children at home in England and watching them enjoy time away travelling, I encouraged them to try voluntary work in some of the poorest countries they visited. This they did in Sri Lanka, India and Nepal, they all agreed that it was their time volunteering that gave them the most satisfaction.
I too have travelled widely and felt it was now time for me to offer my services to a volunteer program. I looked at a few charities that were based in different countries and chose the Women's empowerment programme in Luang Prabang, Laos with GVI.
I signed up for 4 weeks in February, mainly because it is such a miserable month in England but a great time to be in Laos, being hot and dry.
I arrived a few days before the programme began to make sure I was over my jet lag and to spend a few days exploring the area.
Getting stuck in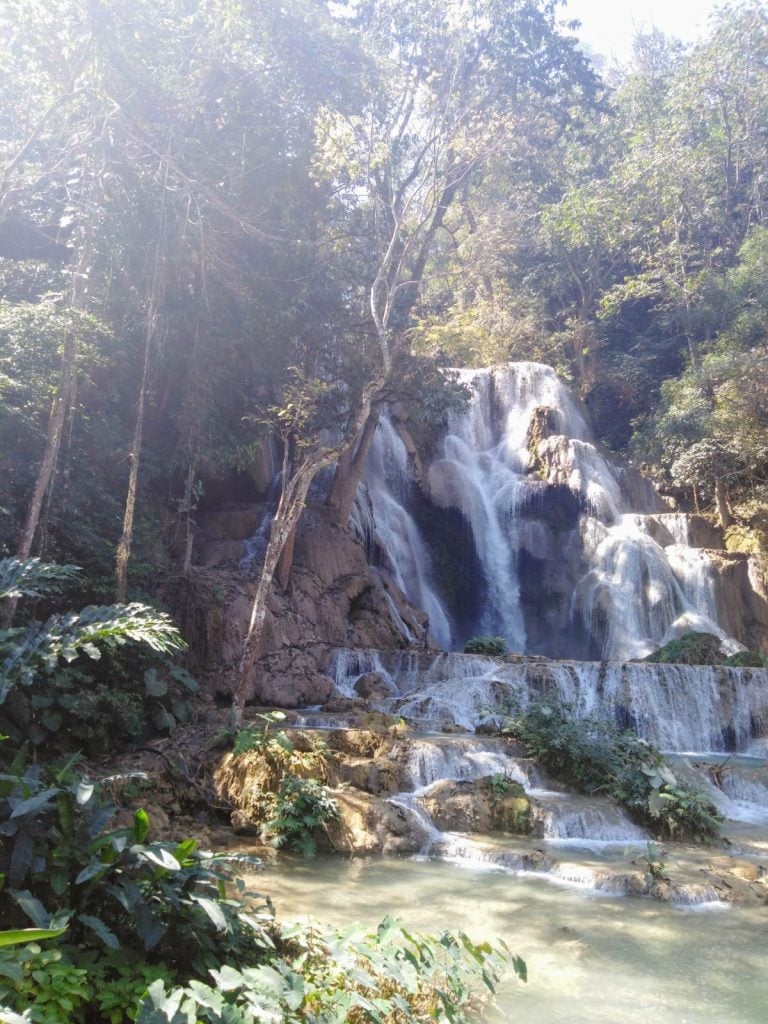 The 1st week of the programme was very busy with training sessions every morning at 8am and then assisting in our allocated classes. I found the training sessions to be well run and very informative. The Laos language lesson, when no English was spoken, was a great way to see how it is possible to teach a class despite not having a common language. We could also appreciate how the students might feel when learning English.
Having not been in a classroom for many years, or having any teaching experience I was very apprehensive about my ability to teach. We were, however, reassured regularly and taught how to plan, prepare and execute a lesson using the many resources available.
Meeting my fellow volunteers from around the world, I was very happy to see there were a number of ladies of my own age as well as many delightful youngsters with ages similar to my children. It didn't take very long for everyone to get to know each other and enjoy time off in the evenings and at weekends.
Location location
When I was given my weekly timetable I was very happy to see that I had been allocated the classes at the Buffalo Dairy, which is situated about 20kms south east of Luang Prabang on the road to Kuang Si waterfalls. The dairy was opened in 2016 by 2 western families and 2 Laos nationals and is the 1st of its kind in Laos. It is a socially responsible business working with Laos farmers who rent their buffalo to the dairy. The animals' milk is turned into cheese, ice cream and yoghurt which is sold in the restaurant or to hotels and restaurants in Luang Prabang.
The owners of the dairy made it a condition of employment that all employees have English lessons. This is so that they can communicate with the many tourists visiting the dairy as well as helping to open more opportunities for them in the future. GVI were able to assist with this by sending out volunteers to run English classes.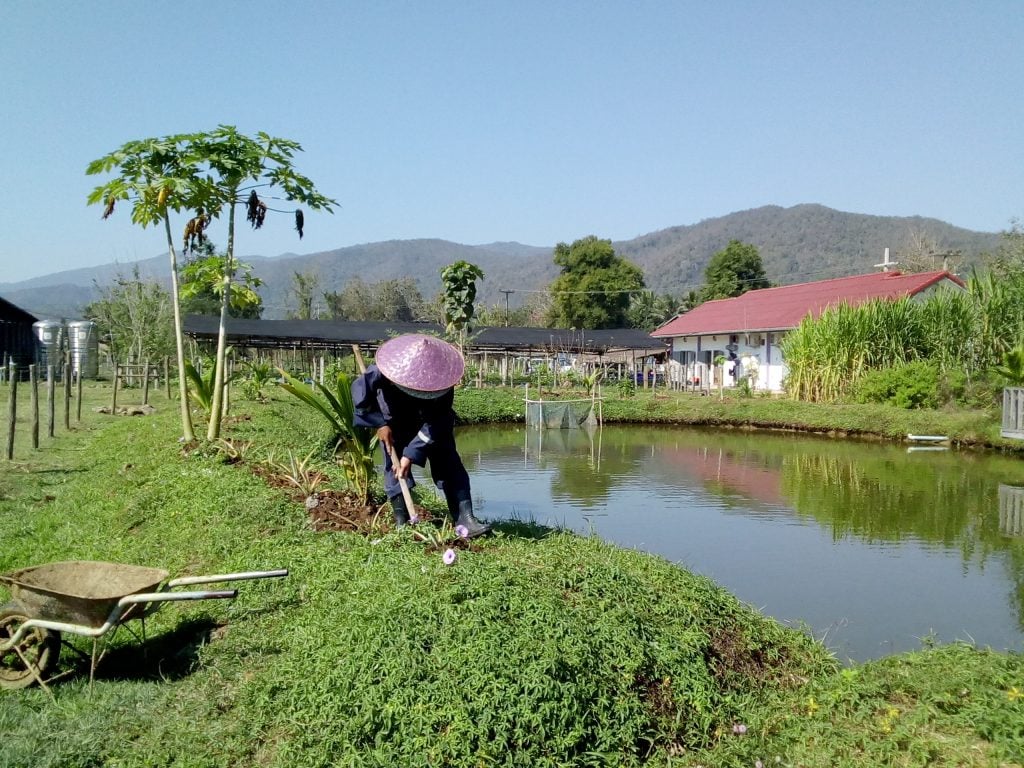 Classes at Laos Buffalo Dairy
The workers have a 45 minute lesson after their lunch break 4 days a week. The majority of the workers can now talk about the jobs they do around the farm in simple sentences. The more able workers are learning about the dairy in greater detail so that they can become tour guides and the less able, who are usually new members of staff, are learning English through the Jolly Phonics system.
All the workers are friendly, fun and very keen to learn. They show great respect for their "falang" teachers and it is a pleasure working with them.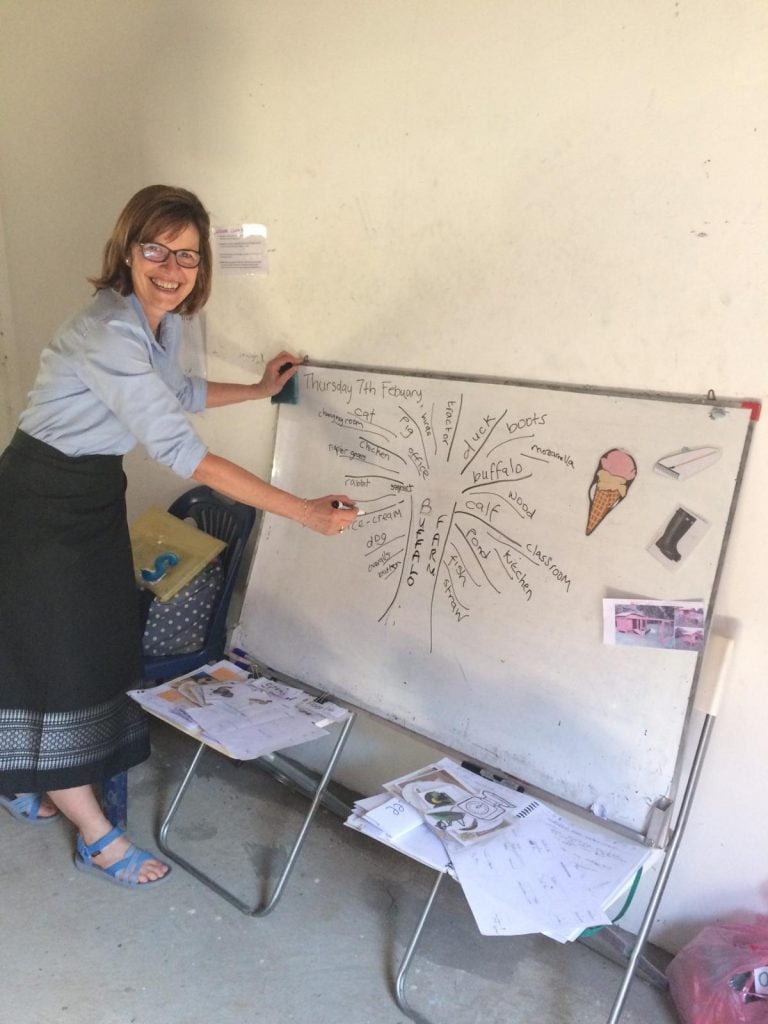 Once the workers have finished their lesson, pupils from the local secondary school arrive for an hour lesson in their lunch break. 2 days a week the class is for the older students aged 16-19 and 2 days for those aged 13-16, on average there are about 8-10 pupils in a class. Jolly phonics is taught and regularly reviewed to make sure all pupils are reading, speaking and spelling correctly.
During my 4 weeks teaching, the older pupils have been learning about their daily routines with times, the difference between being early, late or on time, positive/negative sentences, past simple phrases, different countries and writing a short story. The younger pupils have been concentrating on vocabulary of items in their school bags and around the classroom, whether to use "a" or "an", colours and shapes, prepositions, spellings and reading. These pupils particularly enjoy games to reinforce their learning and are competitive in a gentle, good natured way. All the pupils are keen to learn English because they know it is the best way for them to get into university and then have a good career.
Whilst the lessons are being taught in the classroom, a GVI volunteer takes out 1-2 pupils that need extra support and works on their basic language skills. We are very fortunate to have a lovely young Laos girl who has a scholarship with GVI, she comes to the buffalo dairy with us to act as a translator should we need it.
A last word….
I have thoroughly enjoyed my 4 weeks volunteering to teach English at the buffalo dairy. The environment is so peaceful and tranquil which is a lovely change from the town. It's been interesting to learn about the social enterprise and to know many local people are benefiting. All the staff and pupils have been a joy to work with and it's a treat to have a bowl of creamy buffalo ice cream occasionally, lemongrass being my favourite!