After hearing from some of the community members that we work with, we thought people may also like to hear from some of our GVI Cape Town staff. In this and further blogs, you will hear from staff members who work in a range of roles and come from a variety of backgrounds. They will be sharing with you why they joined GVI, what their experience has been like, and what some of their favourite things about South Africa are.
This blog will focus on how and why they joined GVI, along with some tips on applying for similar roles. This should hopefully be a useful insight for anyone looking to join GVI or a similar field of work on the future!
Why did you join GVI?
I had volunteered with GVI before and really liked them as an organisation. I felt that I had gained experience as a volunteer and wanted to progress and make a longer term impact.
I had previously volunteered with another organisation and that taster made me want to be part of a longer term effort towards sustainable change in communities as a staff member. I was attracted to GVI because the community projects they run really interested me and seemed sustainable and needed.
I was looking for a role leading volunteers in community development internationally and GVI stood out to me as sustainable, community focused and professional. I was attracted to the role (of volunteer coordinator) because it combined coordinating and supporting volunteers with also running community projects.
I have always had a strong passion for providing assistance in communities that may need it and had always wanted to work for an organization that had a self-sustaining model. Previously to GVI, I worked as a volunteer coordinator for a different organization where the main focus wasn't necessarily creating a sustainable impact in communities. After that experience, I wanted to continue doing similar work but for an organization that is reputable and creates sustainable differences in communities they work in. Upon researching GVI, I learned that they follow the UN Sustainable Development Goals which works to ensure sustainable success in the areas they are involved in. That was very appealing to me as many organizations in this industry do not put a strong enough emphasis on this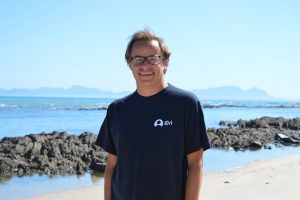 What is your favourite thing about working with GVI?
My favourite thing about my role is working within the community and the opportunity to work in partnership with local teachers. My favourite thing about working with GVI is the level of support I have received; I was really surprised by this when I first started.
Working with the community members and our project partners is definitely the favourite part of my job. The community is so vibrant and welcoming; it's amazing. Also I love how much of family feel there is; the staff and community members you work with really do become friends for life.
Working with the children in two different communities. I love working so closely with them and getting to directly assist in their learning and development is an incredible opportunity. I also value the amount of support I am provided with from managers, partnered with the opportunity to develop projects.
Oh man where to start. There are so many amazing moments during my time with GVI that I will have with me for the rest of my life. The amazing people I was privileged to interact with on a daily basis made my experience so amazing. It was really refreshing how welcoming the community members are to us, as we are complete strangers entering their world. GVI Cape Town has strong relationships with the community they work in. Being able to go into the townships and work with the children and teachers was amazing and soul filling.
What advice would you give to someone looking to work with a volunteer organisation or in sustainable development?
Do your best to ensure that the organisation you are working with is as ethical and sustainable as possible. I completed a lot of research into organisations online before applying and red flags for me were when organisations were not clearly showing their goals or demonstrating their outcomes.
Try to get experience volunteering in a relevant field or project at home or abroad. This will really help you to gain relevant experience and I feel this is often more valuable than certain credentials or qualifications. If possible, try to speak to someone who has worked a similar role to find out what the realities of the job are like – there's often a lot more hard work involved than people think.
Do your research into a variety of organisations; they may all have similar mission statements but the roles offered can be so varied. Decide what is most important to you; is it working in a community? Is it volunteer management? Career progression? Ensure you are applying to an organisation that is sustainable and ethical (just because they say they are it doesn't mean they value the needs of the community). Look at international boards for volunteering and at awards for sustainability.
I would advise them to do extensive research on the operations of many different organizations. In my opinion, many organizations are not sensitive and don't recognize the harm that can be done in the areas that they work in. The most effective organizations go into communities and teach them the tools to be successful on their own. One of the things that attracted me to GVI was that they had projects where they assisted in laying the groundwork for the community to be self-sustaining. Once that groundwork was laid, GVI left the community.
We hope that this blog has been useful and potentially inspiring! Be sure to look out for other upcoming blogs about GVI Cape Town staff's experience, including their favourite things about South Africa and the communities they were work.