Original photo: "Bird Island, Seychelles" by seychelles.org is licenced under CC BY 2.0
Landing on Bird Island, I had no idea about the role I would play in trying to save hundreds of endangered, green sea turtle hatchlings. Volunteering took on a whole new meaning when I went exploring in the Seychelles archipelago. 
"Let's go to Bird Island!" my friend suggested. 
Of course, why wouldn't we take the opportunity of a 30-minute flight from Mahe Island, to visit the most northern point of the Seychelles archipelago? I was midway through my 10-week role as Dive Scholar on GVI's marine conservation program and had a weekend off.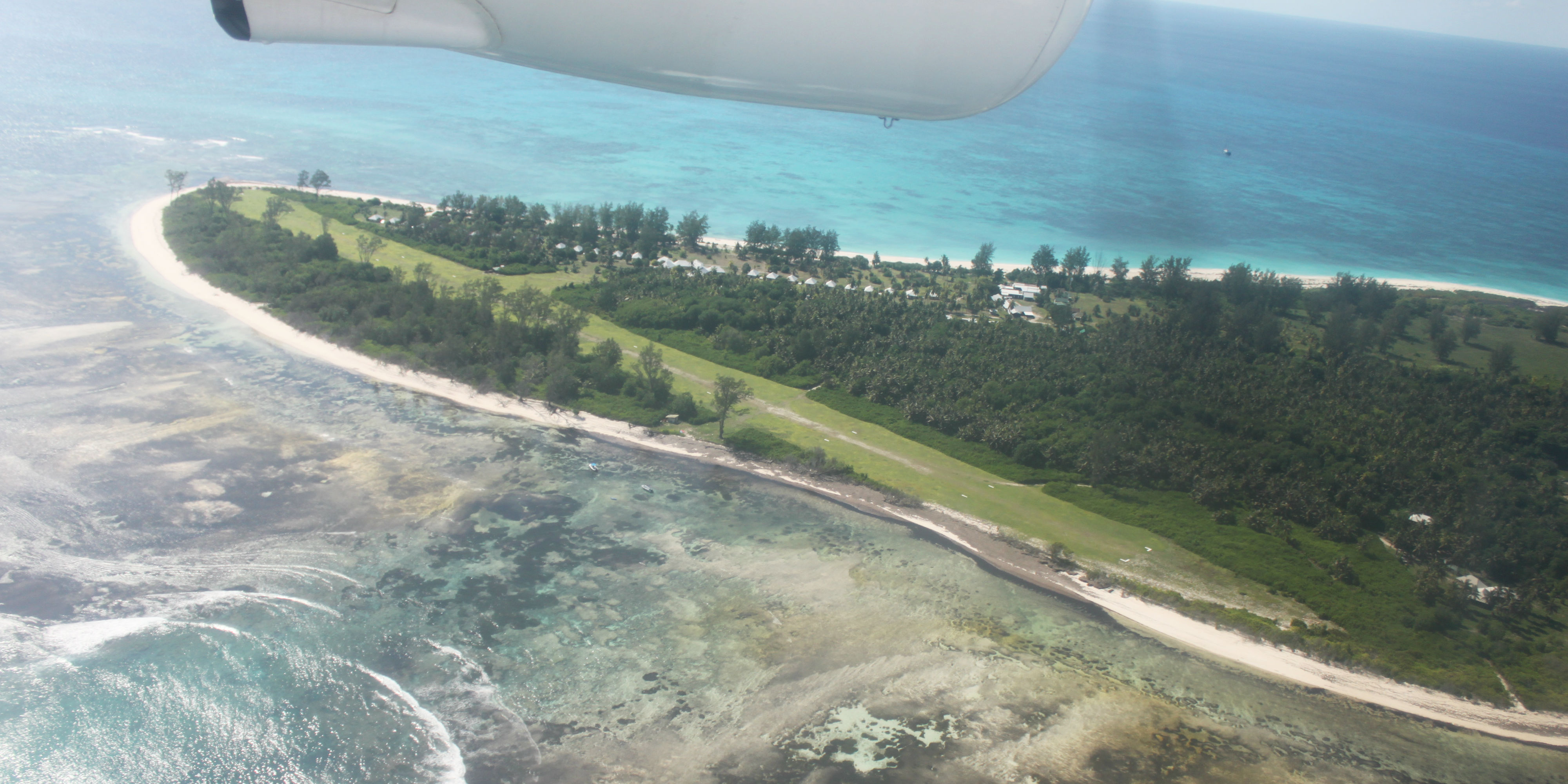 Original photo: "Bird Island" by Gerwin Sturm is licenced under CC BY-SA 2.0
It was going to be a wildlife delight! 
But what I wasn't prepared for was the unusual balance between humans and wildlife in this conservation utopia. 
Bird Island is described as "an ornithologist's haven". It's home to approximately 1.5 million nesting sooty terns: a vast increase from just 15,000 pairs in 1967, as a result of one of the world's first ecotourism projects.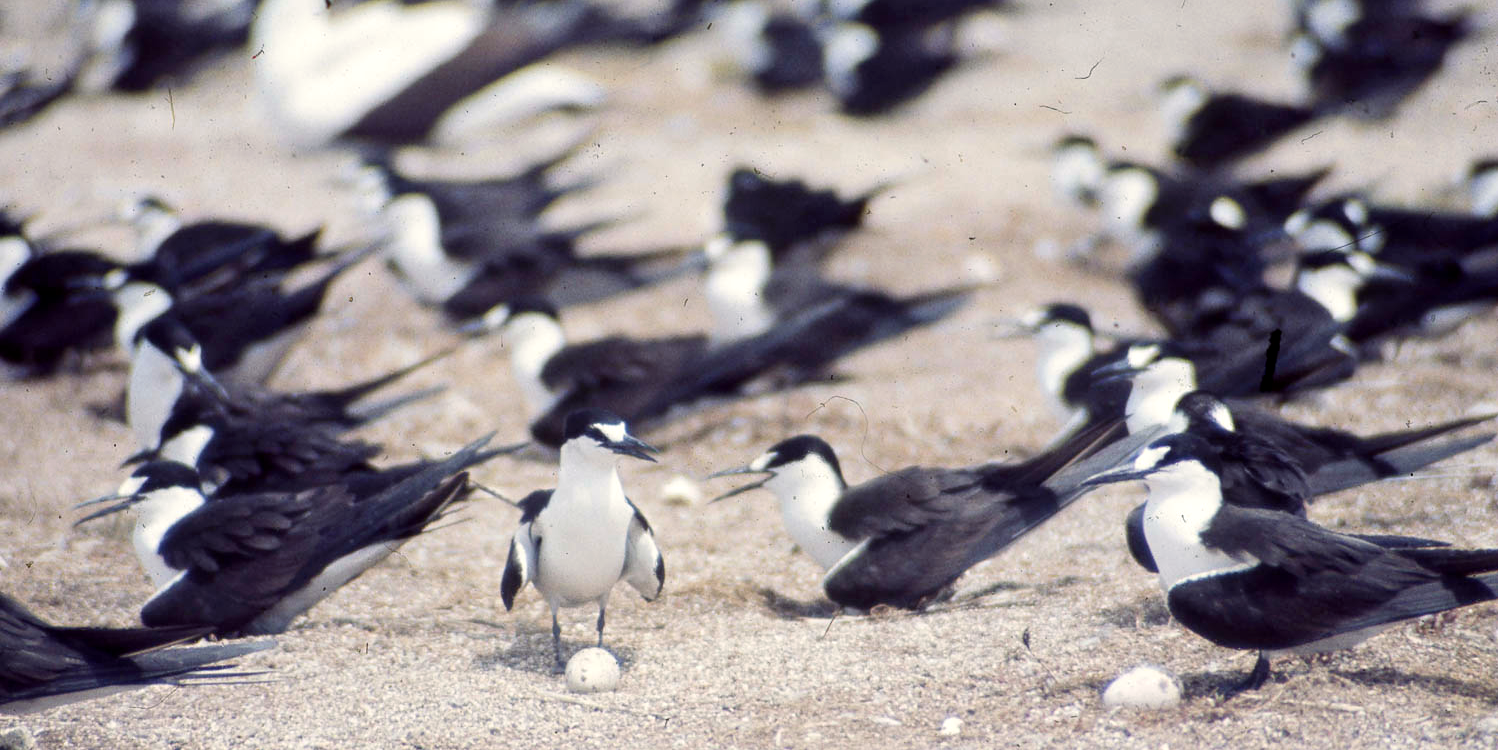 Original photo: "Sooty terns and eggs" by Dr Mary Gillham Archive Project is licenced under CC BY 2.0
This huge colony shares its home with 20 other protected bird species, as well as spinner dolphins, 92 species of plant, sicklefin lemon sharks, and Aldabra giant tortoises roaming free. 
But, it was my encounter with a particular nest of green turtle hatchlings that showed me the need for us, as global citizens, to redress the balance between human development and nature.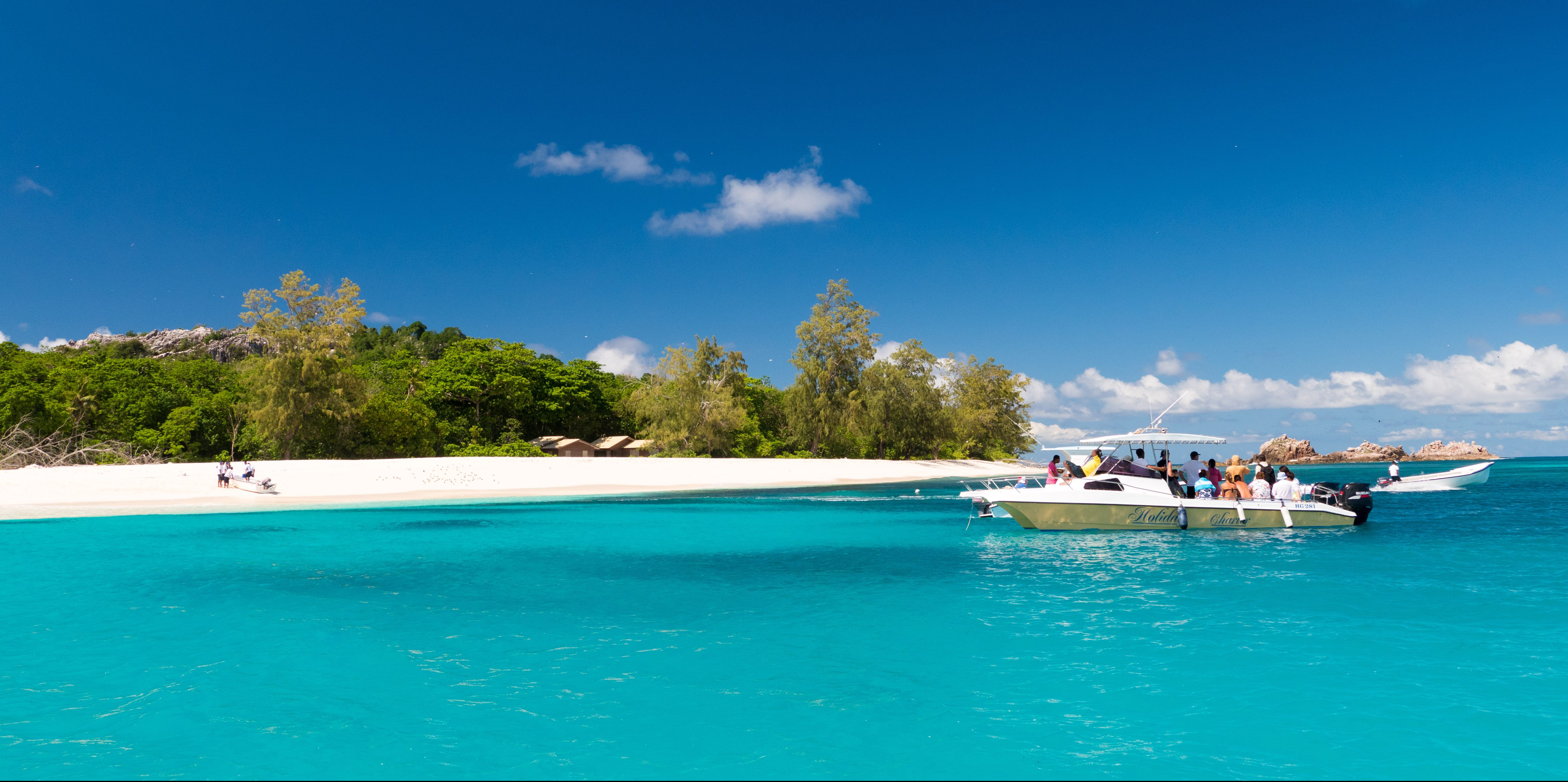 Original photo: "Bird Island, Seychelles" by seychelles.org is licenced under CC BY 2.0
Digging to save lives
"Dig!"
"Keep digging."
"Dig harder and round here!"
A few hours earlier, I'd woken up to the deep, throaty groans of several giant tortoises outside my airy eco bungalow at Bird Island Lodge. 
A nature walk round the wing-shaped island introduced us to the swarming sanctuary of bird colonies, nests and the conservation efforts they inspire.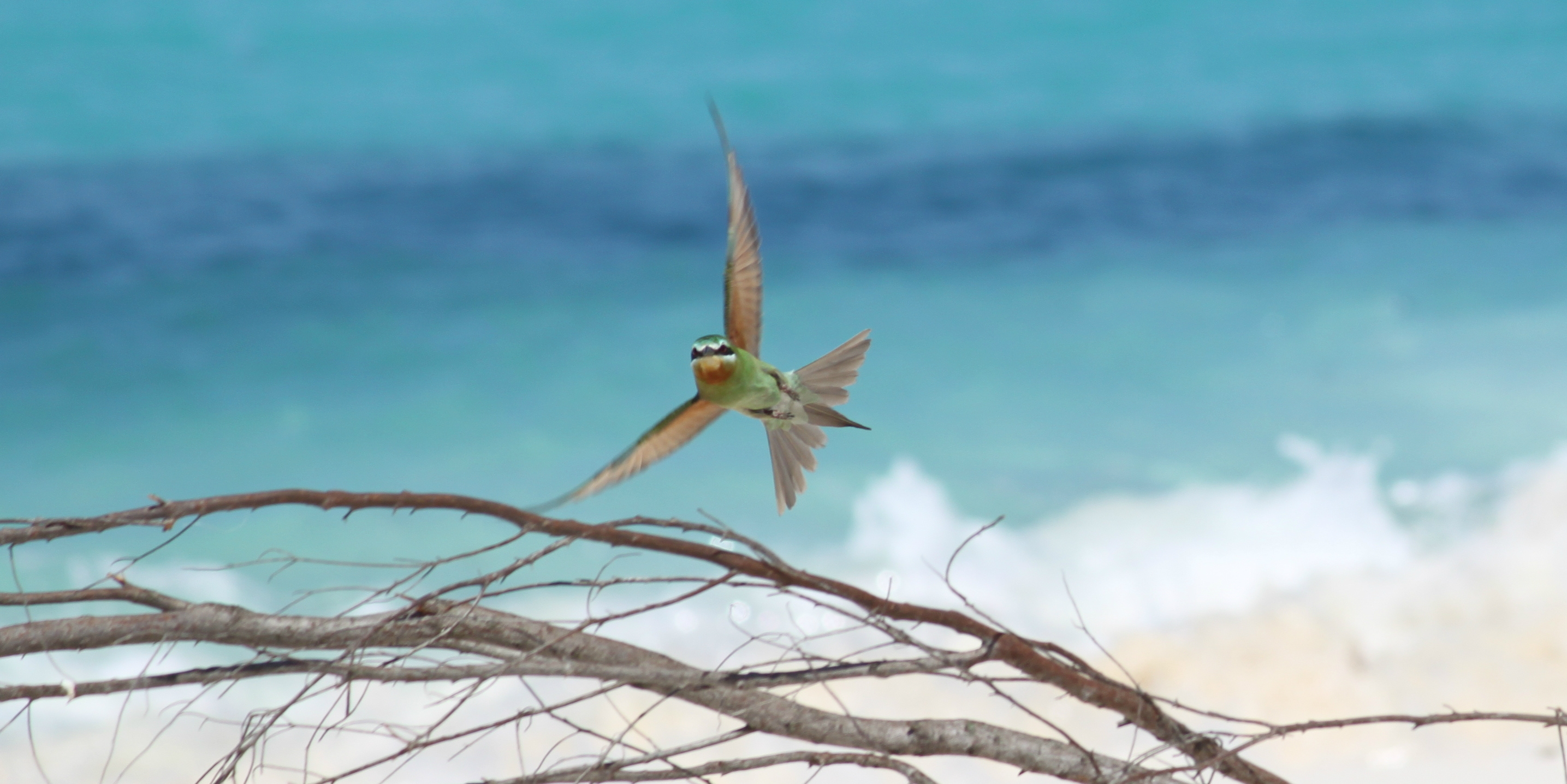 Original photo: "Bird Island" by Gerwin Sturm is licenced under CC BY-SA 2.0
Bird Island is proud of its Sooty Tern Project, which has rescued the species from decline. The Whitetail Tropicbird Rehabilitation Project has increased numbers from just one breeding pair to 90 pairs in a decade. 
And, the Seychelles Sunbird Translocation Project has allowed these chirpy birds to blossom and breed all over the island, since their introduction from Mahe Island in 2006.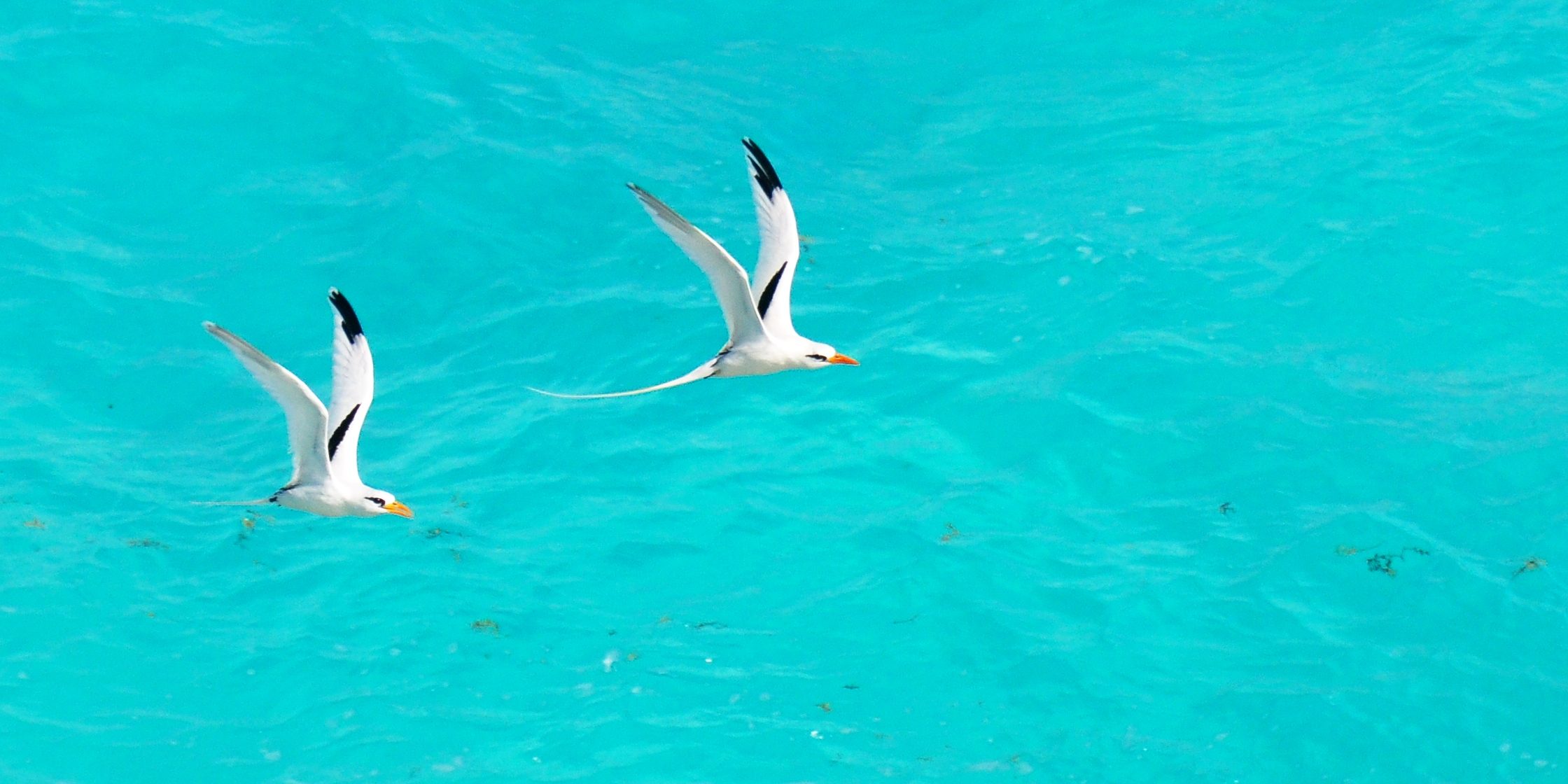 Original photo: "White-tailed Tropicbird" by kansasphoto is licenced under CC BY 2.0
It was a real joy to watch the courtship and calls of these otherwise declining species, as they flit and flap across the vast blue skies, free and healthy.
We strolled through the lapping blue shallows, spotted an abundance of tropical fish and hawksbill turtles, and felt quite rested and fulfilled with our weekend break.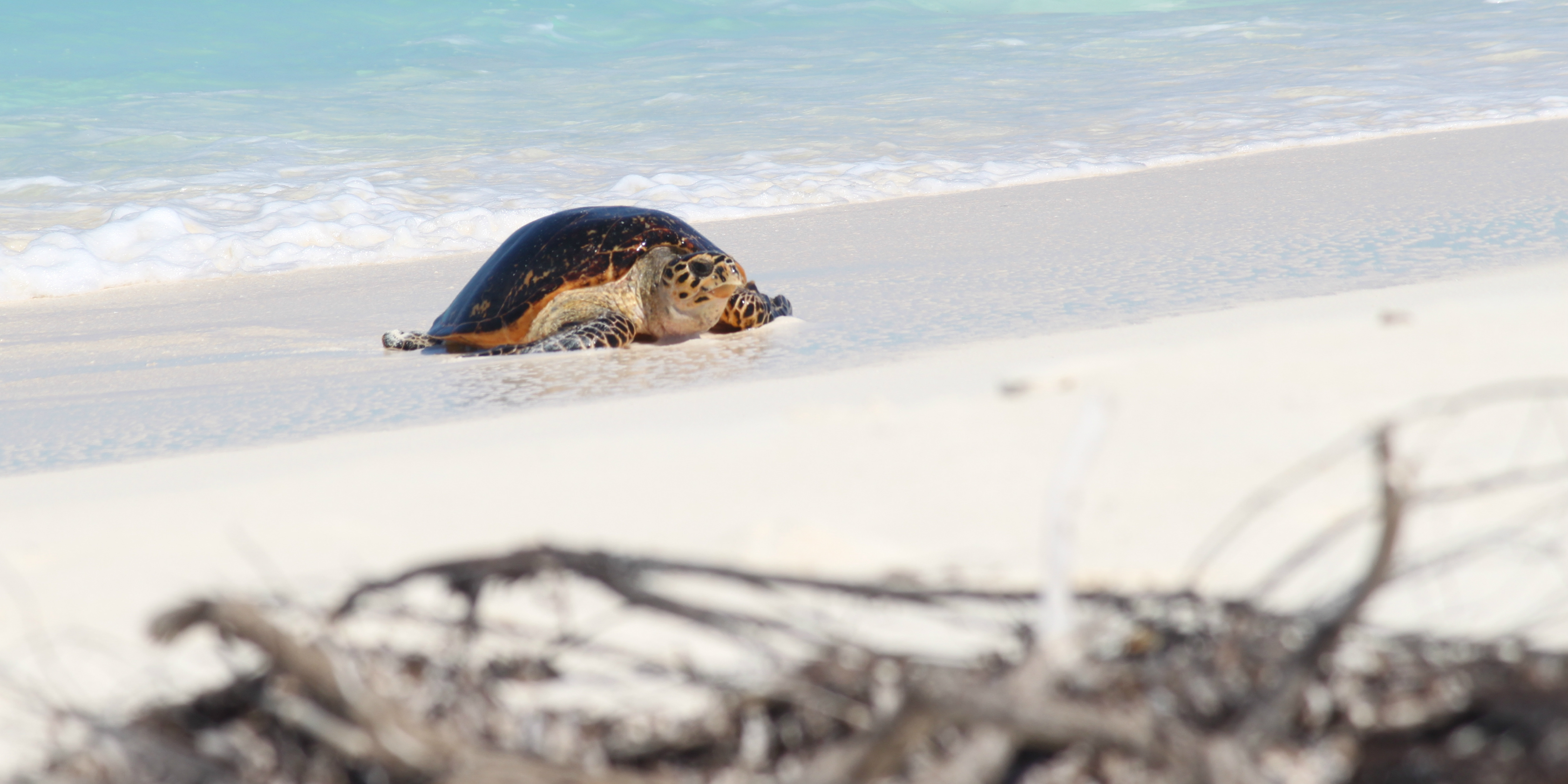 Original photo: "Hawksbill turtle" by Gerwin Sturm is licenced under CC BY-SA 2.0
Humans are the visitors
But up ahead, a gathering of human activity seemed suspicious. 
Nature reigns on this island. Humans are just visitors. There is never more than a handful of people ambling along the shores at any one time.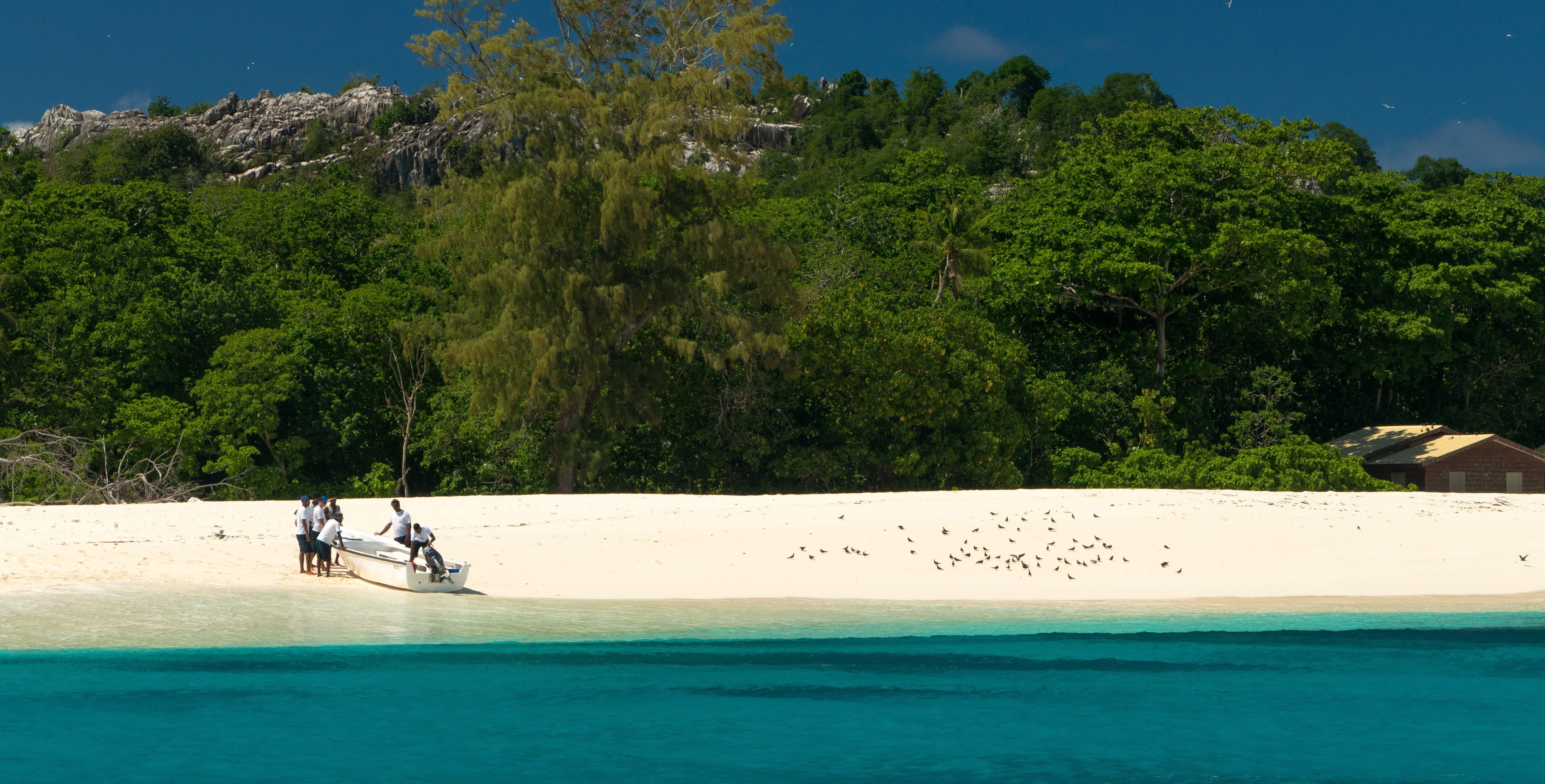 Original photo: "Bird Island, Seychelles" by seychelles.org is licenced under CC BY 2.0
The island's eco lodge manages tourism in this way to minimise human impact and tries to maintain the ecosystem just how nature needs it. 
There is even a "no artificial light" policy at night, in order to avoid nesting turtles becoming disoriented when finding their way back to the sea. 
Feeling my way back to my bungalow in the shadows each night, I was learning about the need to "redress the balance" and just let natural habitats live.
Original photo: "Bird Island, Seychelles" by seychelles.org is licenced under CC BY 2.0
A sense of urgency
So, what were these people doing? 
I could see some puzzled faces. Frowns of concern. A hole. But hands, fingers and arms were hard at work. Sand was flying up and getting scattered in the equatorial breeze. 
"It's a green." I heard someone shout.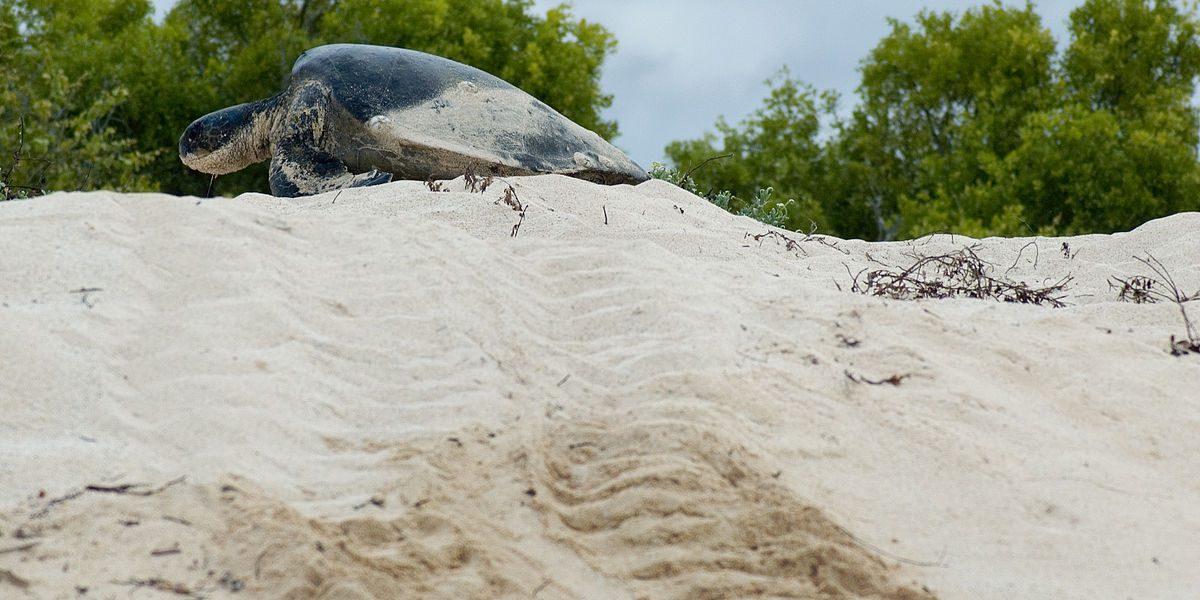 I'd learned enough about Indian Ocean conservation from my GVI experience to know that green turtles are a rare sight, despite their numbers, and are also endangered. They're bigger than hawksbills and carry an air of majestic elegance in their slow rambling movement. 
But it wasn't the actual nesting turtle they were pursuing. 
"Get digging," they urged. 
Without hesitation, I was on my knees, soon slipping about, a foot deep in dusty white sand. Scooping fine, sugary handfuls up and out on a blowy beach seemed futile. The wind whipped it back in our faces. But slowly we made progress. Scratchy hands fought one another as sand slipped back in and orders were made to try to the left, or the right. 
Dusk started to simmer over our project, casting a pinky time warning.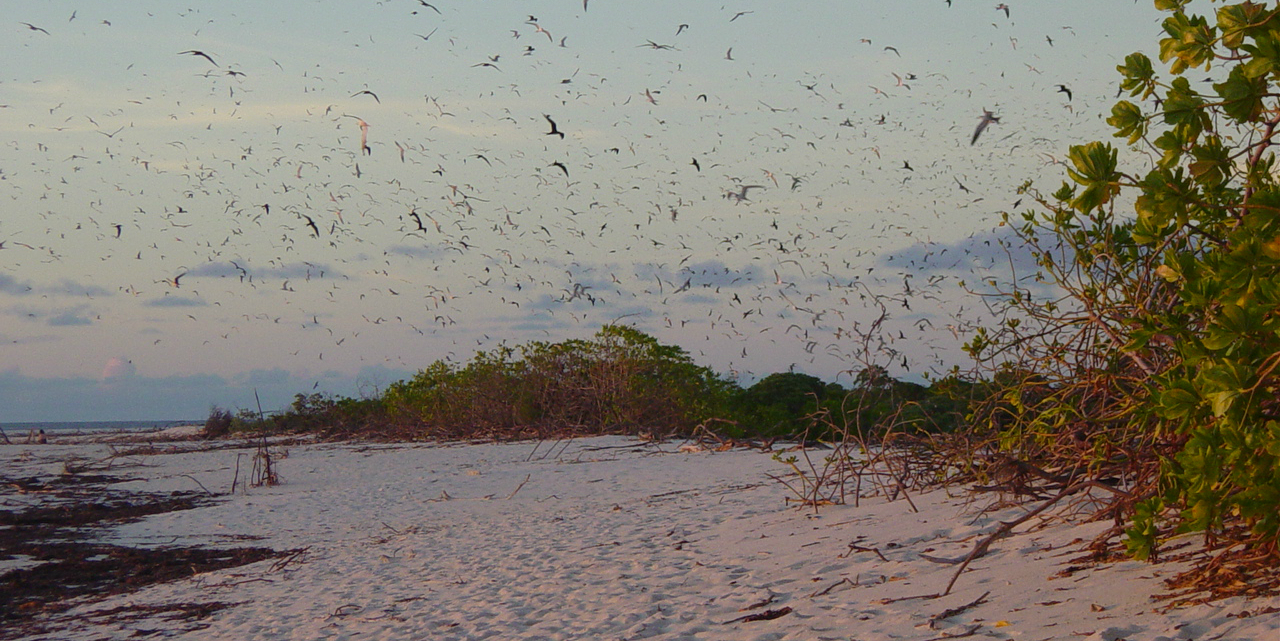 Original photo: "Birds on the Bird Island, Seychelles" by Phil Guest is licenced under CC BY-SA 2.0
Eventually, there was a shriek. "Here!"
As eyes peered deep into the left hand side of the slippery sand chamber, an egg, shaped like a ping-pong ball, showed its pale shell. 
"This nest is too near to the ocean edge to survive," Robbie Bresson, wildlife conservation officer on Bird Island, explained. "We have to get them out and up along the beach for any to have a chance to live." 
Robbie monitors and tags all turtle nesting activity on the island: where and when they lay, how long they stay on shore, dates of predicted hatchings, numbers of adults and babies, and the rising or lowering of population rates.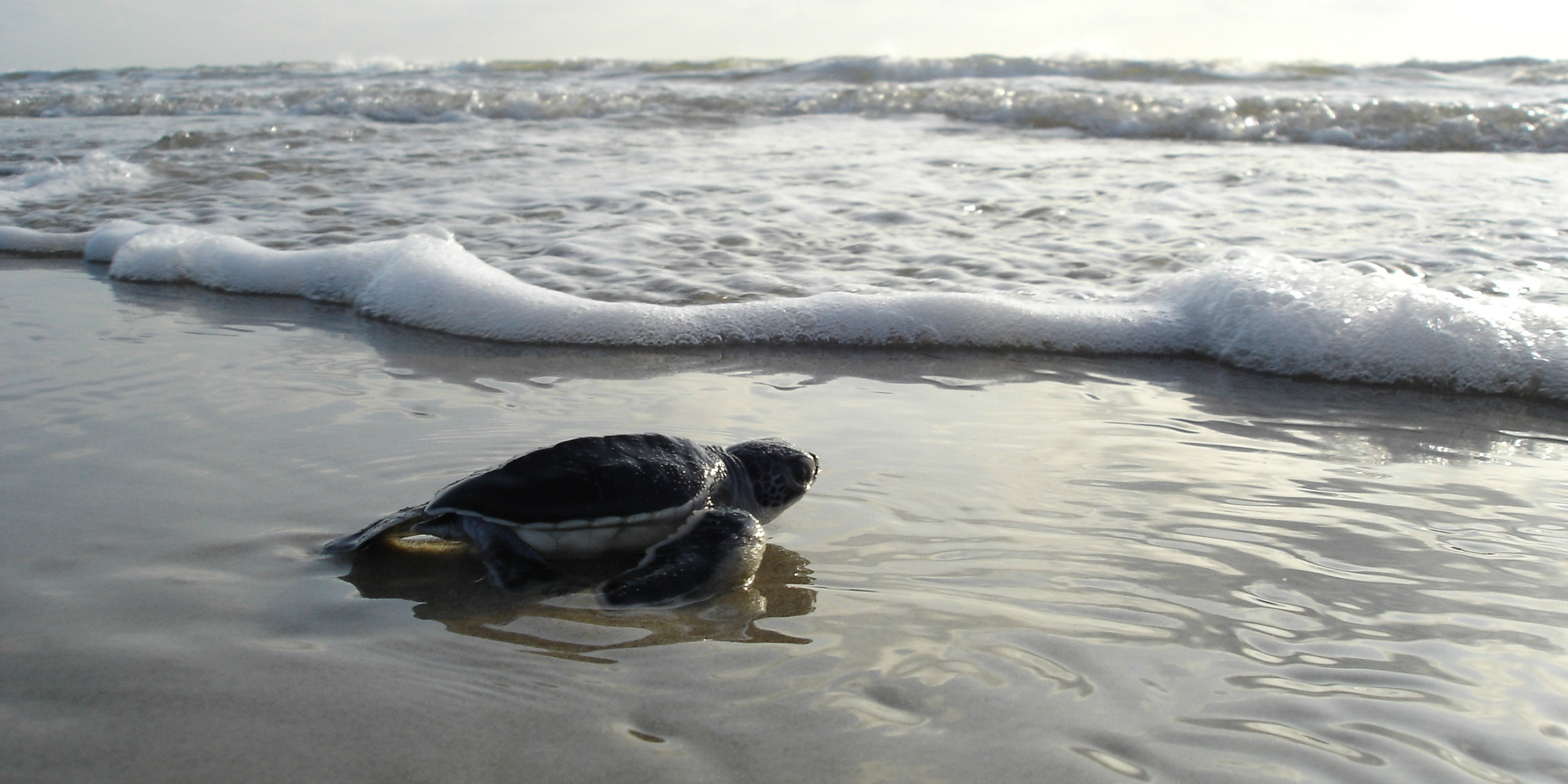 His eagerness and urgency was clear by the pace and wobble in his voice. We had to move fast and with delicate care to give these tiny creatures any hope of life.
One by one, via a human hand chain, we maneuvered over 150 eggs from sandpit chamber to safety. Each one's frosted glass appearance reminded us, with every scoop, just how defenceless they were. 150 little pockets of nature sat there waiting for the hungry tide to whip them prematurely out to sea.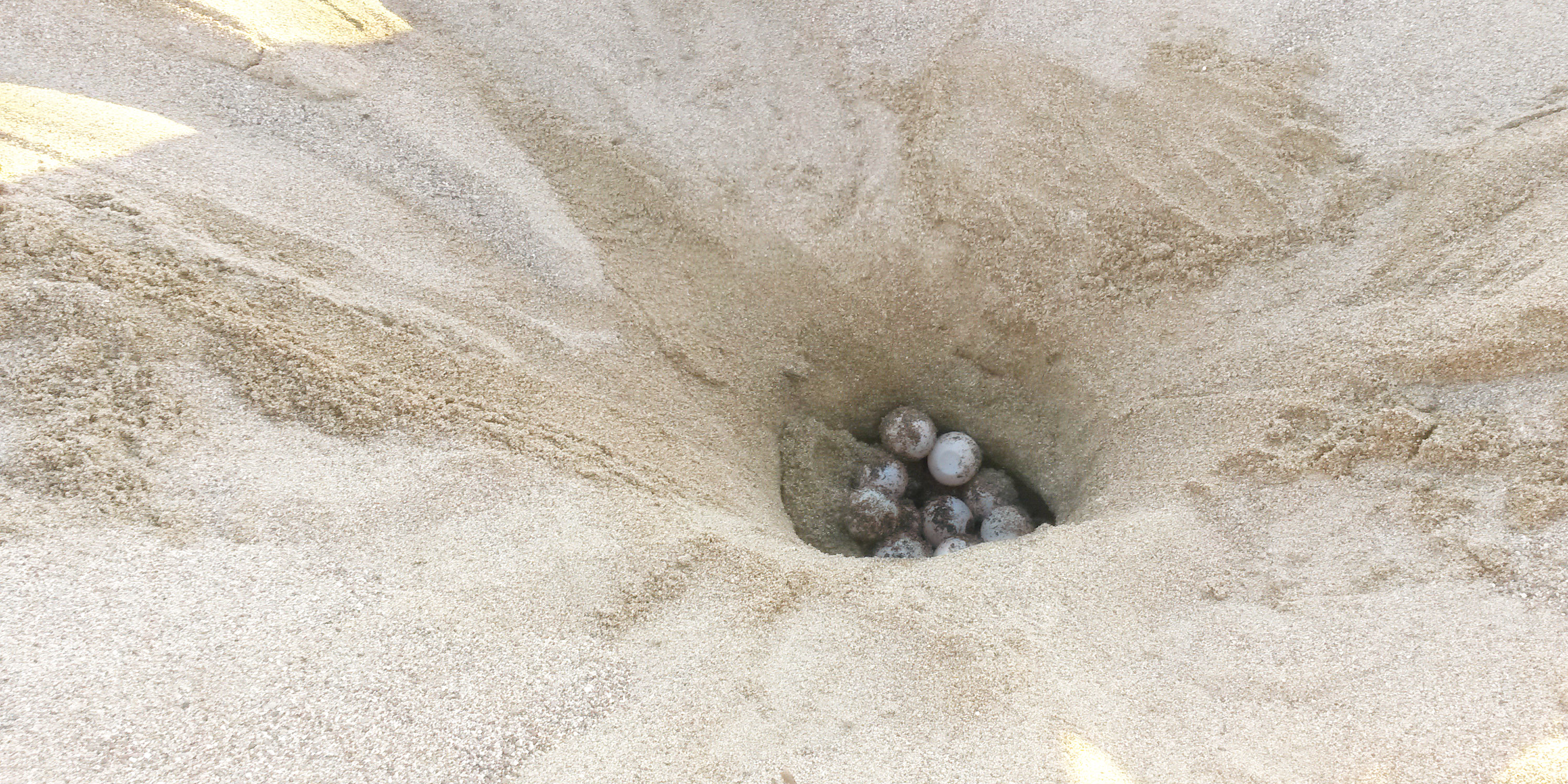 Grey-pink light loomed eerily over the darkening water, which licked at our efforts just a metre away. 
These little turtle eggs would never know the danger they were in. If the mother had just chosen to make her nest a little further away, we could have left them alone. 
Sweaty but satisfied we filled the hole back in and scanned the horizon for the beedy watch of any lurking adult turtle worrying, or waiting to intervene. None were to be seen. 
Out there, isolated in a huddled bunch, we were the visitors, humbly assisting nature. Perhaps the ocean is a few green sea turtles stronger thanks to Bird Island.
What turtle conservation volunteer opportunities await you, on land or below water? Find a program and apply today to see where you might make a real impact.
Emily Shelton is an intern at the GVI Writing Academy. The Writing Academy is a skills-development program that pairs development editors with budding travel writers. Learn more about the program here.