On the 29th October, King's Coronation Day is celebrated in Cambodia as a public holiday. This year, it commemorated King Norodom Sihamoni's 15th Anniversary of taking the throne. Making it a great milestone for the monarchy and opportunity for Khmer people to celebrate with fireworks, parades and cultural displays. Cambodians have a lot of love, respect and adoration for their monarchy, which is deeply ingrained in their history and culture, and so this public holiday is of significant importance to the country. At the Kampong Cham hub, we decided the best way to celebrate this national holiday was to fundraise in the name of the King and "crown" our victors of the scavenger hunt.
Before organising a fundraiser first, we have to decide how to allocate, how and where the potential funds will be utilised – which then helps us decide our target. There are many options and ways to help our partners, and so it can take a lot of deliberation before settling on our fundraising campaign. For this fundraiser, we believed any money raised would be put to the best use by improving the learning environments of the students we work with. This decision was made on the basis that we want our students to feel even safer and more encouraged to learn, both of which are significantly impacted and improvedby their educational surroundings. Our next focus was our volunteers and potential donors – we wanted our volunteers to have fun whilst feeling a sense of satisfaction and for donors to be invested in the set challenge. Hence, the idea of a bicycle scavenger hunt around Kampong Cham seemed like the perfect idea!!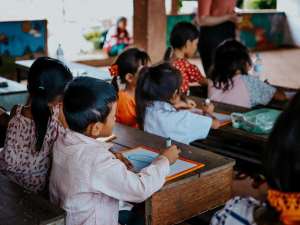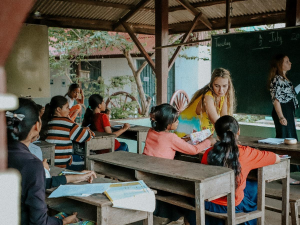 We wanted to use the scavenger hunt as an opportunity to get our volunteers familiar with Cambodia's history, culture, language and the area of Kampong Cham – all in the name of a good cause and King's Coronation Day. In order to achieve this, over the few weeks of build up to the fundraiser we (and by that I mean our Program Manager) created numerous challenges, riddles, tasks and activities for our volunteers to complete. Most of our challenges were set off base, meaning bicycles were required (and of course helmets – don't worry health and safety!!) to get around and take photos as proof of solving riddles or completing photo challenges. In anticipation, we had to set up our fundraising page and ensure we had everything prepared including; creating riddles based on locations around Kampong Cham, writing a quiz on Cambodia, creating Kampong Cham base puzzles, setting tasks around the city and buying crowns – which oddly was the hardest part of the fundraising preparation. Having wondered from shop to shop armed with photos of plastic crowns, the looks of bewilderment and concern soon made it apparent that this was a lost cause… More about that later.
The day of the scavenger hunt finally came round, leaving us worried the challenges would be completed within an hour or would be impossible to get, or even worse that the volunteers just wouldn't get into it at all… Over breakfast names were drawn from a bowl to decide the teams, then handouts and the breakdown of the day were carried out. The teams were informed each correct answer would gain them a point, timed challenges on base would award 3/2/1 points (dependent on your time position), and that bonus points were up for grabs for; the best team name, the best fancy dress, the funniest story about Moonriver staff, best illusion picture, funniest story of the day and most importantly the most donations gained before 6pm. Volunteers quickly ran off to "drastically" change their appearance, ranging from E.T with FBI escorts, Bananas in Pajamas, to wearing clothes backwards – which somehow went completely unnoticed. It soon became clear the competition was on, with teams huddling around tables away from each other to work out their strategies.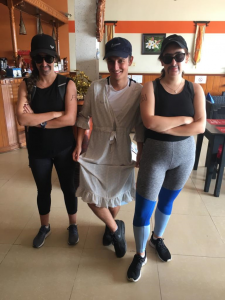 Soon enough the teams grabbed "the best" bikes and cycled off to begin taking their photos all around Kampong Cham. This gave me the opportunity to solve the crown dilemma, by making the most elaborate template I could find – where's the fun in keeping things simple!? It definitely took longer than I'd like to admit… In between crown creating, at base we were on hand to provide each team with 3 hints via message as well as waiting to time and judge base challenges. Teams came back at varying times, with various levels of frustration at particularly difficult riddles, but the hardest challenge of the day was remaining resilient under the pressure of the sun. Around 3pm, all of the teams had returned back to base to hide it out from the sun and start the base challenges. This is where the competitive natures were really seen, with teams competing directly with the word search and timed one after the other for the anagrams and jigsaw puzzle.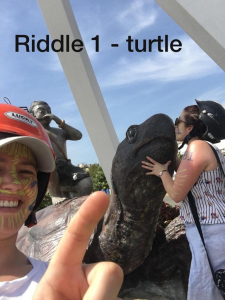 Once the base challenges were completed, this is where the fun really began, with the judgement of photo submissions and bonus tasks. Some were so entertaining we had to introduce a last minute bonus category, which was only fair when our laughter resulted in slightly confused looks directed at us. After marking quizzes, allocating points for speed and judging bonus tasks we finally had our winners. The scores were close at 29, 33 and 37 – showing the tremendous effort and dedication put in by all teams. As a group we went through all submissions and stories together, before announcing that the beautifully handcrafted (no bias) crowns would be awarded to… ET and his FBI Agents! We had a great day at GVI Cambodia, and really appreciate the commitment from our incredible volunteers and the ones that donated on their behalf. Thanks to this we are closer to our target and will be able to improve the learning environment of our students. And the best thing is, it's not too late to make a difference – please click on the link and show your support for our amazing students and volunteers! https://uk.virginmoneygiving.com/fundraiser-display/showROFundraiserPage?pageId=1109543