When you see snowy peaks glowing like embers, in a still quiet lake, you'll know you're in Pokhara, Nepal. A gateway of the Himalayas. Nepal's natural beauty is astounding, but people often overlook the coolest part of visiting Nepal. The incredible cultural diversity.

The Nepali population consists of 125 distinct ethnic groups that speak 123 different languages. Buddhism has roots in Nepal as Lord Buddha was born there. However, 80% of the population ascribes to Hinduism.  Trekking through the Himalayas, you'll encounter the cultures and lifestyles such as Sherpas in the Everest region and the Gurung Villages in the Annapurna's. 
Do you want to experience cultural diversity in Nepal?  There is plenty to discover in Pokhara.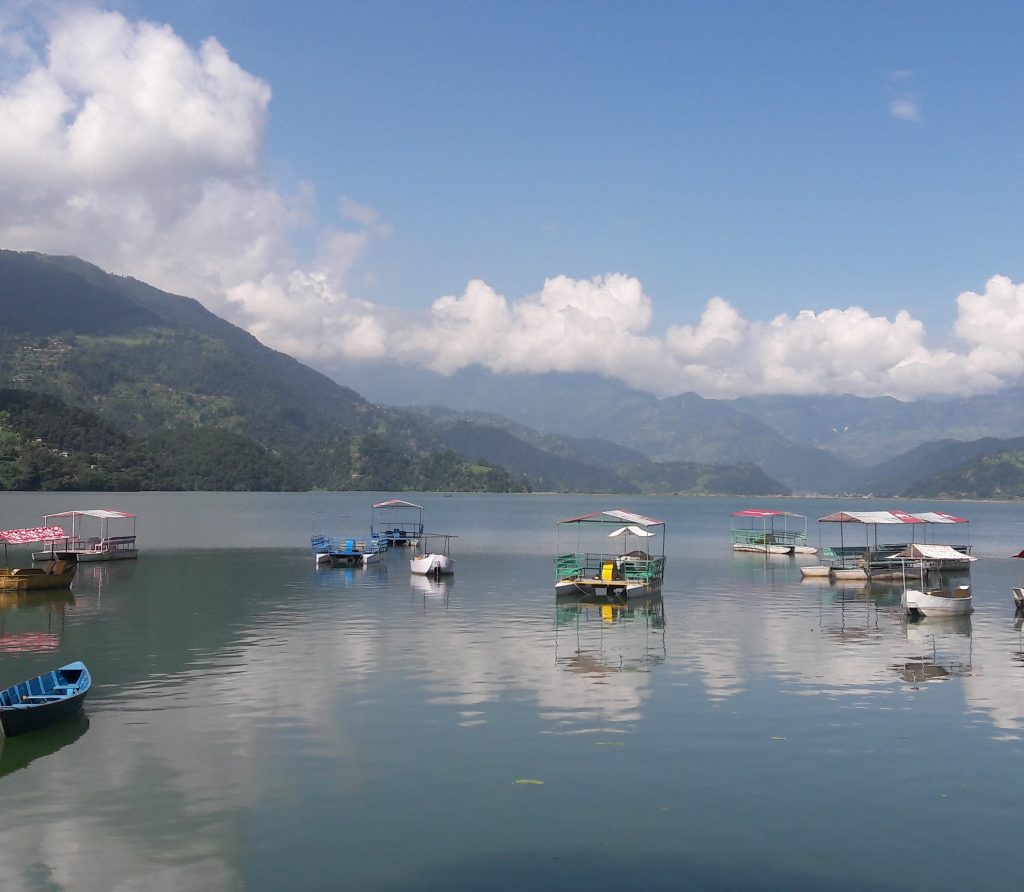 Get festive! 
Visiting during a festival is an exciting way to immerse in Nepali culture. Here's a shortlist of annual festivals in Nepal:
March- Holi:   You may have heard of it as the

'Festival of Colours' in India.  People take to the streets and shower each other in coloured powders.  In the Hindu religion, Holi celebrates the arrival of spring and triumph of good over evil. 

September to October- Dashain:

 Dashain is Nepal's largest Hindu festival. It Follows the end of the harvest season, Dashain involves a spirited 15 days of feasts, parades, and family gatherings. Some families set up a 16-metre tall bamboo ping (swing)- watch a video of it

here

. 

October to November- Tihar:

Tihar corresponds to India's Diwali, the festival of lights. The festivities last for five days. Each day features a unique celebration. The second day is known as the '

day of the dogs'

.  

Visit the birthplace of the Buddha
Lumbini Park is a three-mile-long complex of dazzling temples, monasteries, and Buddhist heritage sites.
Start on the Southern end with the Maya Devi temple. This modest white brick fortress is the birth site of Siddhartha Gautama, the Lord Buddha, in 623 B.C. Next, head north to the Lumbini monastic site. Explore a complex of temples representing the cultures of different nations.
If you visit,  keep in mind the key rules for visiting Buddhist monasteries:
Dress modestly with covered shoulders and wear pants or a long skirt.

Greet monks with a bow and prayer hands.

Do not point your feet at anyone, especially Monks or emblems of the Buddha.
From Pokhara,  Lumbini is accessible via a 20-minute flight. Or, a winding five-hour bus ride through mountains, prairie, and villages. You'll need to spend two days in Lumbini to make your trip worthwhile. 
If you don't have the time to visit Lumbini, Pokhara has a few heritage sites that are accessible by canoe!

Canoe to the World Peace Pagoda
During sunset,  Phewa Tal (Lake Fewa) reflects the fiery glow of Fishtail mountain. Canoeing on the lake is an inexpensive way to sightsee around Pokhara.  You can't miss Tal Bahari temple. This  Hindu temple on a tiny island is a stone's throw away from Pokhara canoe rentals.
Paddling across Phewa Tal will bring you to the base of ' Shanti Stupa' the World Peace Pagoda. A steep 45-minute hike will bring you to the hilltop monument. You'll be rewarded with a panoramic view of Pokhara's patchwork farmland and the vast Annapurna range.  
Shanti Stupa is a Buddhist monument for kindness, consideration, and the global community. As travellers, we should think about spreading positivity wherever we go. 

Volunteer abroad in Pokhara 
For an experience centred on kindness, consideration, and global community, consider volunteering abroad in Nepal! 
There is no better way to immerse in Nepali culture than by living and working with communities in Pokhara. With GVI, you can make an impact in areas such as education, community development, and women's empowerment. If you are keen to learn more check out GVI's volunteer expeditions in Pokhara.  
Hannah Mehling is a graduate of the GVI Writing Academy. The Writing Academy is a skills-development program that pairs development editors with budding travel writers. Learn more about the program here.