When you volunteer in Peru you will notice the explosion of colour that permeates the local communities. Bright reds, azure blues and canary yellows everywhere. In the birdlife, the food but especially the traditional clothing and textiles.
Textiles have cultural significance for Peru. It also contributes to the tourism industry and provides income for local communities. Two of our volunteering programs in Peru focus on professional skills development and women's empowerment. Understanding the cultural value and importance of Peruvian textiles can help us drive greater impact in the communities. Here are five interesting facts to consider as you embark on your time volunteering in Peru.

Original image: "Indigenous weaver" by  Joe  is licenced under CC BY-SA 2.0
Lucky yellow underwear
In Peru, yellow is considered the colour of luck. Should you find yourself volunteering in Peru on New Year's Eve, do not be offended or surprised if you are given a pair of yellow underwear! Wearing them is thought to bring good luck. You wear them inside out, underneath your clothes, before midnight on 31 December. Then, at midnight and the start of the new year, you turn them the right way round. This will ensure you have good luck and prosperity in the year ahead. You will find vendors selling yellow underwear in the run-up to New Year's Eve. Support the local community businesses and try your luck with some yellow underwear.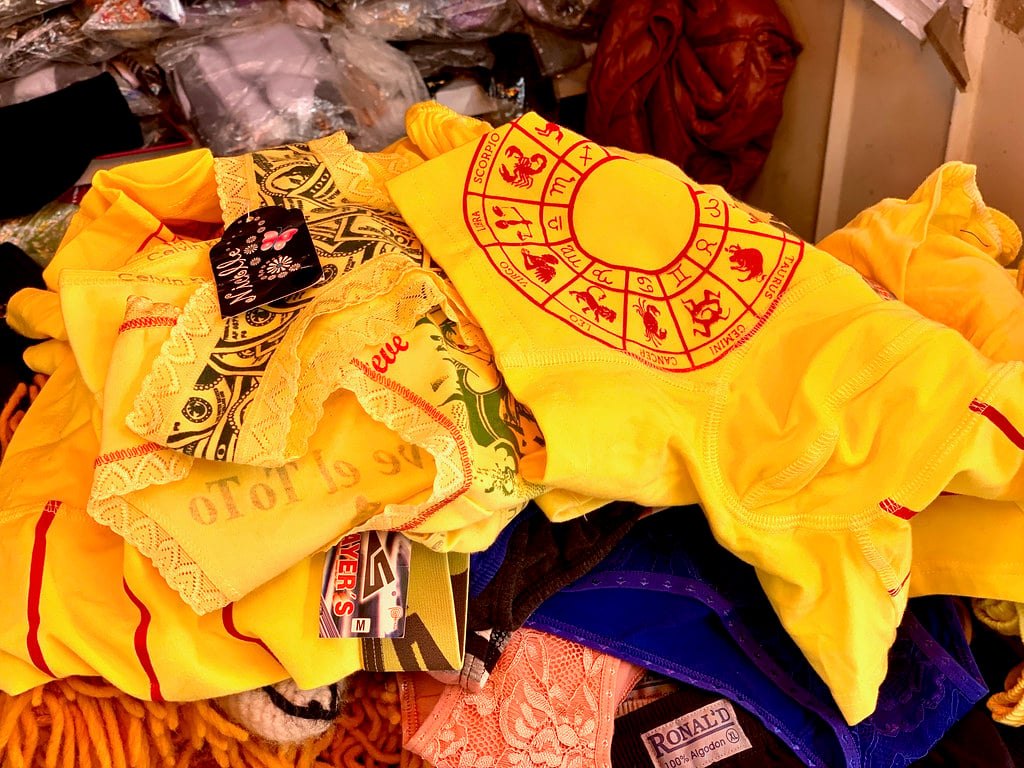 Original image: Wear Yellow Underwear for the New Year   by F Delventhal   is licenced under CC BY-SA 2.0
A poncho is for life
It is not uncommon for a traditional poncho to take the handweaver 600 hours to craft. This equates to two and a half months weaving, at eight hours a day, seven days a week! A poncho is designed to last for life and is a warm outer layer of clothing. Most often they are woven from local alpaca wool and given as gifts or sold at markets to generate income. They are traditionally only worn by men. Each colour and pattern is symbolic and has cultural meaning. As you work alongside communities in Peru supporting local businesses and entrepreneurs, you may find yourself supporting a handweaver to develop her valuable poncho micro-enterprise.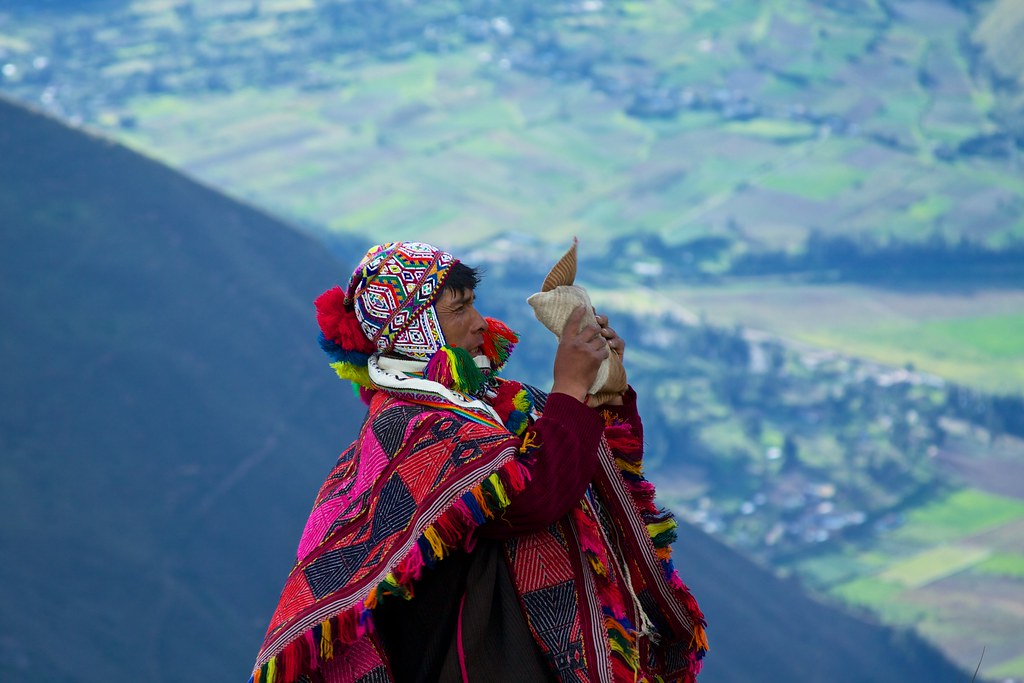 Original image: Peru – Day-hiking Ollantaytambo to Inti Punku Sun Gate  by McKay Savage is licenced under CC BY-SA 2.0
Creating colours
Using nature to produce the vibrant colours of Peru is steeped in tradition. Colours often have a symbolic meaning to Peruvians so it is important the weaver has the right colours available to them. Most colours are produced using the many plants found in Peru. Except for their most important colour, red. To create the red dye, Huilloc women dry, then crush the cochineal beetle to create a fine red powder. This is then added to the fibres soaking in water along with a fixing agent, like salt, to lock in the vibrant red colour. Through cultural immersion in Peru you will likely have the opportunity to experience the importance of preserving their natural resources and honouring traditional methods of colour production.

Original image: by Steta
Weavings and colours distinguish villages
The colour and pattern represented in textiles and clothing in Peru are symbolic. Patterns and colours often represent the village you are from.  They can also reflect any special status of the wearer. The best textiles were considered more valuable than gold or silver during Inca times. Many were burnt rather than have them fall into the hands of any conquerors. Helping local communities to market and drive income from textiles will have a great impact but also help preserve this ancient custom.

Original image: "Sacred Valley NGOs 052 – Awamaki weaving tour" by McKay Savage  is licenced under CC BY-SA 2.0
The colourful wedding
There is an age-old tradition of giving colourfully decorated sandals instead of a wedding ring in Peru. The men wear these with their most prized and colourful poncho. The women wear layers of colourful skirts. There is seldom any white, just lots of bright reds, yellows, pinks, blues and oranges. They also use colourful ribbons on the wedding cake. On one of these ribbons is a ring and the young single lady who finds the ribbon with the ring is said to be the next to marry. The use of textiles is evident throughout the wedding in a number of traditions. Evidence again of its cultural importance and value.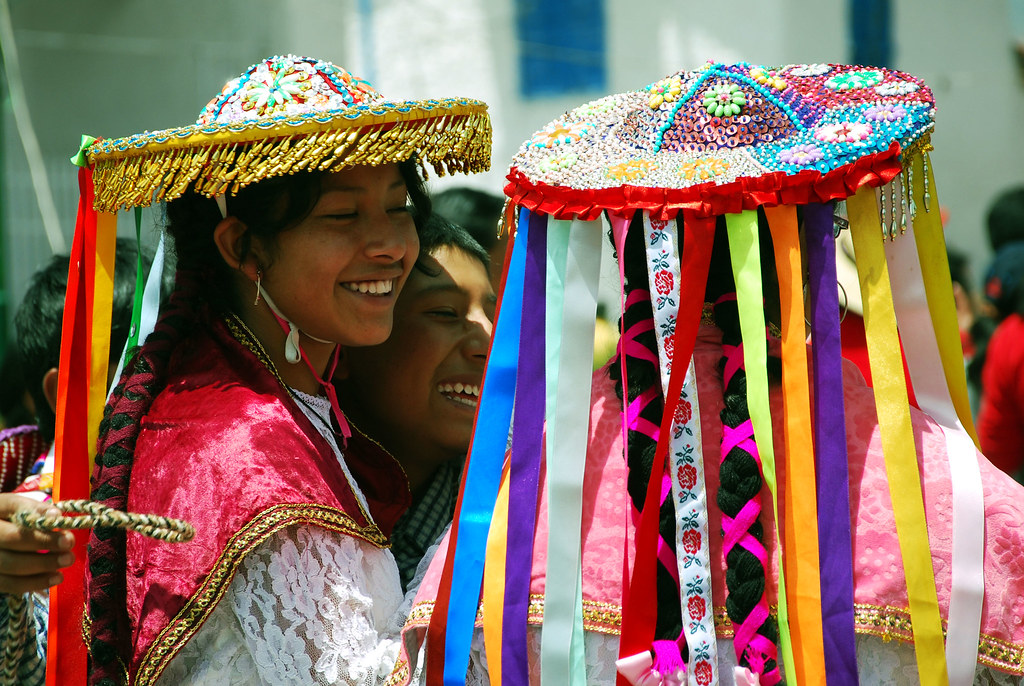 Original image: "Festa de San Sebastian" by  Ling Wang Marina  is licenced under CC BY-SA 2.0
There are many interesting facts about Peru's ancient culture that can still be seen today. Many are tied to their use of textiles and colour in unique and fascinating ways. As you work with local women and communities you will appreciate all the nuances associated with them. Helping communities to showcase their traditions through tourism helps keep traditions alive. It also supports income generation. The empowerment of the people of Peru and the preservation of tradition and environment are intrinsic to our volunteer programs in Peru.
Rayleen Hillman is a graduate of the GVI Writing Academy. The Writing Academy is a skills-development program that pairs development editors with budding travel writers. Learn more about the program here.